Lucy's Letters
Nancy Partridge Miller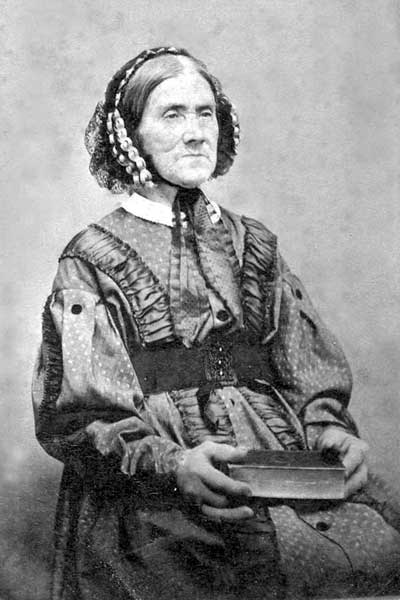 Charles Franklin Miller and his Sister - Harriet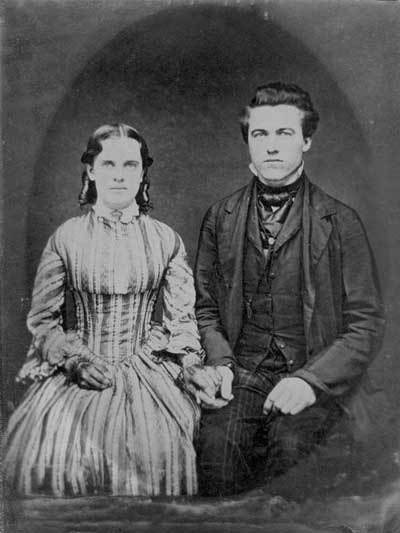 These 58 letters were written between 1870 and 1935. Four letters were written by Nancy Partridge Miller to her son, Charles Franklin Miller. Most of the remaining letters are from Louisa or Charles Miller to their daughter, Lucy Clewett. There are a few other authors: Lucy's sister, Celia Chamberlain, and several cousins -- Alice Craven, Ned Hoxie, George Hoxie, and Ester Witherell.
An account of the discovery of the letters and their preservation project is available here.
Illegible words are designated with a series of underscores like this: _______.
Nancy Miller's letter of 22 Aug 1870 to her son, Charles
Nancy Miller's letter of 28 Sep 1873 to her son, Charles
Nancy Miller's letter of &nbsp 2 Jan 1877 to her son, Charles
Nancy Miller's letter of &nbsp 2 May 1878 to her son, Charles
Charles Miller's letter of 7 Oct 1894 to his daughter, Lucy
Louisa Miller's letter of 24 Jul 1895 to her daughter, Lucy
Charles Miller's letter of 1 Nov 1896 to his daughter, Lucy
Charles Miller's letter of 17 Feb 1898 to his daughter, Lucy
Louisa Miller's letter of 14 Aug 1898 to her daughter, Lucy
Louisa Miller's letter of 18 Dec 1898 to her daughter, Lucy
Charles Miller's letter of 24 Mar 1899 to his daughter, Lucy
Louisa Miller's letter of 30 Aug 1899 to her daughter, Lucy
Louisa Miller's letter of 18 Dec 1899 to her daughter, Lucy
Louisa Miller's letter of 11 Jun 1900 to her daughter, Lucy
Louisa Miller's letter of &nbsp 3 Nov 1900 to her daughter, Lucy
Louisa Miller's letter of &nbsp 9 Feb 1901 to her daughter, Lucy
Charles Miller's letter to his daughter, Lucy
Alice Craven's letter to the Millers
Louisa Miller's letter of &nbsp 8 Mar 1901 to her daughter, Lucy
Louisa Miller's letter of 13 Oct 1901 to her daughter, Lucy
Louisa Miller's letter of 12 Dec 1901 to her daughter, Lucy
Louisa Miller's letter of 14 Feb 1902 to her daughter, Lucy
Celia Chamberlain's letter of 12 Dec 1903 to her mother, Louisa
Louisa Miller's letter of &nbsp 1 May 1903 to her daughter, Lucy
Louisa Miller's letter of &nbsp 6 Jul 1903 to her daughter, Lucy
Louisa Miller's letter of 24 Jul 1903 to her daughter, Lucy
Louisa Miller's letter of 31 Jan 1904 to her daughter, Lucy
Louisa Miller's letter of 23 Aug 1904 to her daughter, Lucy
Louisa Miller's letter of &nbsp 3 Mar 1905 to her daughter, Lucy
Louisa Miller's letter of 29 May 1905 to her daughter, Lucy
Louisa Miller's letter of 22 Sep 190? to her daughter, Lucy
Charles Miller's letter of 19 Dec 1905 to his daughter, Lucy
Louisa Miller's letter of 13 Feb 1906 to her daughter, Lucy
Louisa Miller's letter of 16 May 1906 to her daughter, Lucy
Louisa Miller's letter of 23 Dec 1906 to her daughter, Lucy
Louisa Miller's letter of 16 Feb 1907 to her daughter, Lucy
Louisa Miller's letter of 28 Jul 1907 to her daughter, Lucy
Celia Chamberlain's letter of 5 July 1907 to her mother, Louisa
Louisa Miller's letter of 17 Feb 1908 to her daughter, Lucy
Ned Hoxie's letter of 26 Nov 1908 to his cousins, Louisa and Fidelia
Louisa Miller's letter of 24 Jan 1909 to her daughter, Lucy
Louisa Miller's letter of 12 Apr 1909 to her daughter, Lucy
Louisa Miller's letter of &nbsp 4 Jul 1909 to her daughter, Lucy
Louisa Miller's letter of &nbsp 8 Aug 1909 to her daughter, Lucy
Charles Miller's letter of 8 Aug 1909 to his daughter, Lucy
Louisa Miller's letter of &nbsp 5 Oct 1909 to her daughter, Lucy
Louisa Miller's letter of 19 Dec 1909 to her daughter, Lucy
Charles Miller's letter of 1 Mar 1910 to his daughter, Lucy
Louisa Miller's letter of &nbsp 4 Apr 1910 to her granddaughter, Blanche
Louisa Miller's letter of &nbsp 6 May 1910 to her daughter, Lucy
Louisa Miller's letter of 10 Jun 1910 to her daughter, Lucy
Louisa Miller's letter of 12 Dec 1910 to her daughter, Lucy
George Hoxie's letter of 1 Oct 1934 to his cousin, Lucy
Esther Witherell's letter to her cousin, Lucy
Esther Witherell's letter of October 1934 to her cousin, Lucy
Esther Witherell's letter of &nbsp 1 Nov 1934 to her cousin, Lucy
Esther Witherell's letter of 21 Mar 1935 to her cousin, Lucy
Esther Witherell's letter of 10 Jun 1935 to her cousin, Lucy