===============================

Subject: From Chiang Mai to Kolkata
Sent: Wednesday, May 14, 2003 9:06 AM
From: Bill Sundstrom
To: Betty Cassady
CC: Birgitta June Sundstrom; Dain Sidney Sundstrom
Well, I'm in India. The weather is a bit drier but it is just as hot. And guess what? Suddenly Thailand doesn't look so bad. After all, Thailand has basically clean cities with clean hotels, and fairly efficient businesses and government agencies. More on this later.
Yesterday, the 13th of May 2003
It was my last full day in Chiang Mai and Thailand. I got things cleaned and packed. I packed up a box for Jason to take back to the States for me. I went to see Davis at the tailor shop and he showed me how to measure up folks for suits, shirts, and dresses. Jason came to my guest house about 4:30 with some cheese and crackers. We talked, ate and drank an excellent bottle of Shiraz that I had brought with me from Australia. After that we walked to Tha Phae Road, and tried some Mexican food. It gave me bad heartburn. After a beer and a pool game at Double Six, Jason convinced me to try a Thai massage, which concentrates on the feet and legs. The masseuse knew her stuff, zeroing in on the pains in my lower left leg and the stiffness in my right thigh. After the massage, I called it a night.
Today, the 14th of May
I was up at 6:00 AM to be off to the airport shortly after 7:00 AM. The flights to Bangkok and Kolkata (the new name for Calcutta) went off without a hitch. The ride into the city was a culture shock and was the taxi ride I took in the late afternoon around the city. My first impression of Kolkata: This is a filthy, filthy place, where the roads are nearly impassable; the vehicles are ancient and belch tons of black soot and other pollutants into the air; it has the architecture of the mid-nineteen century British colonial world with building that have seen little or no updating since they were built; and, of course this is a poor city. Another note is the bureaucracy here. Almost beyond belief - it makes Mexico not look bad at all. Case in point: I bought a train ticket to Varanasi. Not only did they have to see my passport, I had to prove where I got my money by showing the paperwork from a money exchange that would pay the 800 Rupees. All the info was dutifully noted by hand in a ledger that someone would check by hand latter. Of course, no one will ever do any cross-referencing to ensure that I am not dealing in black market currency. Like who would care anyway? Totally, insane!! I had to look at five hotels before finding one clean enough to stay in. The cost is 60% more than Bangkok at $23 USD per night.
I am taking the train out of here on Friday night. Two days will be more than enough time in Kolkata!
Will write and send pictures in a couple of days.
Love,
Bill

===============================

Subject: Last day in Kolkata
Sent: Friday, May 16, 2003 6:54 AM
From: Bill Sundstrom
To: Betty Cassady
CC: Birgitta June Sundstrom; Dain Sidney Sundstrom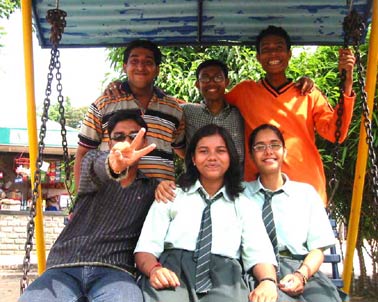 I will be leaving Kolkata this evening.
Here is a bit more of description of the city:
I have seen the heat (99f); the humidity (dew point of 72f); dusty due to open roads and sidewalks; smells of sourness, charcoal fires, food frying, urine and shit; crumbling buildings everywhere; beggars everywhere; rickshaws; millions of funny little yellow taxis; trucks and buses belching black soot; and humanity flowing from every crack in the city. Note: that $1 USD = 45 Rupees (Rs).
This is what I have been up to.
Thursday, the 15th of May 2003
I got up early looking to join a tour at the Indian Tourist Office. The guidebook was wrong: First, the office didn't open until nine and they do not sponsor tours of the city. I wasted quite a bit of time wondering around and waiting to find all this out. But I decided to roam about myself. Transport is extremely cheap here. The Victoria Museum was interesting, but with more history than I could take in at one shot. It really showed that this was once the British capital of India. Then I went to the Kali Temple on the south side. I guess the one to see is in the north of the city. A Brahmin priest me around. I declined the offer of going into the temple, because I had to take my shoes off. Being the ground was very filthy, I decided not to go in. But I saw most of the rest of it all. The priest then asked for money for the poor. I gave him a bit and probably too much. Hitting up people like me is almost a scam - and maybe it was. From here I walked to the Metro station. Almost hidden, it was hard to find. Once in the station, I could hardly believe my eyes. The place was clean and the cars weren't bad either all for a maximum of eight Rs. I walked around a bit. I saw the governor's residence and office. I ended up in a very nice, little park along the river, called Millennium Park. I got into a conversation with six high school students. They were fun and a little crazy like most 12th graders. After of chatting with them for an hour or so, I tried to get a look at the main Moslem mosque in the city. I got close but really only got fleeting glimpses of it. I thought the neighborhood quite terrible - but far from the worst. So I grabbed a taxi and went on one of those crazy, wild rides one gets here back to near my hotel. Then I stopped to check my email and, praise be, Sanj wrote me note say that his first cousin lives here in Kolkata.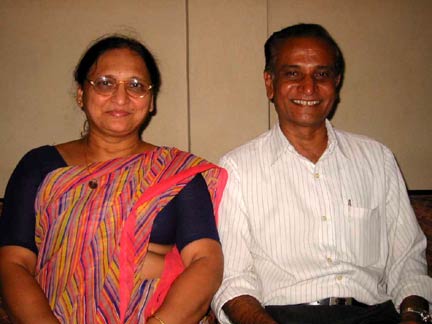 I called him right away. I had a wonderful diner with him and his wife - Atul and Bharti. He owns a small (eight employee) ice cream factory on the north side of Kolkata whose products are mostly sold from push carts in the city. This is the oldest part of the city and it is the most rundown too. Some of the factory workers sleep in the factory. And Atul's and Bharti's living quarters are on an upper floor of the factory. This is where we ate. And the food was great and all typically Indian food. I'll be darned if I can remember the names of any of the foods - but I like everyone of them. This is how I would describe them: potato curry; green beans & spices; two types of flat bread, the soft one was really good; two types of pickles, one made of mango and a medium hot chili, the other made of more than 30 herbs and spices; there was rice and dal, which I think is made of chick peas; a liquid curry made of curd; and four deserts - a milk product cake, a donut hole like thing soaked in a sweet sauce, Atul's saffron-pistachio ice cream and fresh leatchies. Fresh saffron is use a lot here as a sort of sweetener that tastes a bit like honey. I was stuffed beyond belief. We talked about India, our live, and our children. They said to comeback and visit anytime. Given how little I will see of India on this trip, I will likely be back one day. They send you their greeting and greetings to the kids too. I get the impression that all of us would be welcome to visit. The evening broke up about eleven. I had a great time!
Today, Friday the 16th
I slept a bit later this morning. After packing and breakfast I went to the Indian Museum. This is the best museum in Kolkata. It was pretty good, especially the part with Indian antiquities. Another interesting part was the cultural anthropological exhibit that gave information about the major groups of people in India. There were parts that were of no interest to me, so instead of taking four hours to go through it, I was only there two.
The rest of the day, I am trying to stay cool in restaurants, bars and internet cafes. My train leaves at eight. Although it is a short distance to the station, I will leave about 6:30 because traffic can be real bad here and I need to cross the river.
Well that's it for today. I will try to write from Varanasi.
Love,
Bill

===============================

Subject: Xtras for you
Sent: Friday, May 16, 2003 7:12 AM
From: Bill Sundstrom
To: Betty; Birgitta; Dain
CC: Birgitta
Here are some extra photos
| | |
| --- | --- |
| Atul and Me | The Cabs of Kolkata |
| View from My Room | Crumbling City |
| The Kali Temple | All Is Washed on the Street |
| Holy Men the Temple | Bathing in the Temple |
| The Poor of the Temple | Prayers for the Living and Dead |

===============================

Subject: From Varanasi to Bollywood
Sent: Monday, May 19, 2003 4:20 AM
From: Bill Sundstrom
To: Betty Cassady
CC: Birgitta June Sundstrom; Dain Sidney Sundstrom
The ride to the train station was even more harrowing than most. The streets that approached the bridge over the Hoogly River were teaming with people on their way home. I was early and the train was not. It didn't come until after 8 PM. The station was huge and confusing. Like everything else in India, the huge station had thousands of people in it. Eventually, it came and In found my place. Basically a train car is made of more than a dozen compartment areas. Each has room for eight people. Two benches face each other where three people can sit across the isle two more can sit. So each compartment area holds eight people. And they turn in to two sets of three high sleeping berths and one two-high set of berths. Now I agreed to switch places with a guy so he could be with his family. I ended up across from a nice Indian family on their way to a new home. I talked with their 20-year old daughter about India. Her name was Joyeta and her father was B.L. Bhattacharjee. They shared a bit of food with me. I was about to put down for the evening when two passengers arrived. One claimed the lower bunk. I had to renege on the trade at this point. No way could I sleep in the middle tier. I got my original lower bunk back; chained and locked my gear, and I actually got some sleep.
Saturday the 17th of May 2003
At 6:30 AM I got up to view the countryside. Fields and villages lined the route. Some farmers seemed to be working at this early and cooler hour. The village and buildings were brick or some type of clay and they were small, often with a thatched roof. I saw ruins of buildings and buildings about to collapse. This is the hottest month. Temps have been over 100f for weeks. The ground is dry and little green can be seen. Along the way, I started talking to Nick and Trina - Kiwi's who work in England.
We hooked up and found a hotel. My room was very nice and about $12. They took a nap. I was already over 100f. I looked into airline tickets, because there would be no more long train rides for me. I was shocked to discover that Indian airlines have the highest domestic fares about twice what they would have been any place else. Worse they are completely discriminatory towards foreigners here. We pay 30% more than Indian citizens. Not that they are getting any special deals, because the fares are so high to begin with. The food and people can be great here, but their institutions and rules of business and laws suck. So, I bought a fly anywhere ticket over 15 days for $500. It ends up being cheaper in the long run, and who knows, maybe I'll see a few extra cities.
Nick, Tina, and I went to the Ganges. We took a boat out and saw many ghats including a cremation ghat. A large special ceremony was taking place along the river. Five priests were singing, ringing bells and dancing. They used fire and incense in the dance. I was mesmerized by it all. The river was crowded with boats and candles floating on the water. There were some bathers. When we got back to the landing ghat it was pitch black. We took an auto rickshaw back. I went to sleep about 10 PM. By the way, Varanasi is only slightly better than Kolkata. Beyond the normal garbage, there is so much dung here that it makes me sick. I saw huge piles of cow dung that people formed into patties and dried to burn like the settlers used to do with buffalo chips. It is strange to see a cart of the stuff being pushed down the street.
Sunday, the 18th
I was up about 5:15 AM. The rickshaw driver came at 5:45. The three of us were off to the river again. At this hour on Sunday there were many people on the move taking advantage of the early morning temperature. At the river there were many bathers. We walked south to see many of the ghats on this end of the city. We saw the end of a cremation and just enjoyed the warm glow of the early morning light on the river. From here we went to two temples: an old one and a new one. We were back at the hotel about 9:30. I had breakfast, packed and got ready to fly to Mumbai (Bombay). It was 1:30 when the taxi picked me up for the airport. As usual, it didn't have AC, which we could have used in the 43c (110f) heat. There is so much haze here the ground wasn't visible except for the first and last ten minutes of the flight to Delhi. What I could see was dry fields everywhere. The flight to Mumbai was uneventful. My first impressions of this city, also known as Bollywood, are very different. It is clean. The roads are in good shape. It is not dusty and dirty and devoid of cows and other barnyard animals. The only drawback is that it takes an hour to get into town from the airport. It is a beautiful city and the first that I have seen in India.
I got sick just as I was checking into my hotel. I was up every other hour as the night passed by. I haven't felt good today. Oh well, I guess that I should have expected it - Varnasi was particularly unclean.
I am sorry about no pictures being attached. I hope to send some next time.
Love,
Bill

===============================

Subject: South India - Bombay to Thrissur
Sent: Tuesday, May 27, 2003 4:28 AM
From: Bill Sundstrom
To: Betty Cassady
CC: Birgitta June Sundstrom; Dain Sidney Sundstrom
Tuesday, 20 May 2003
I was better. I thought that I had arranged a tour of Mumbai (Bombay), but it was really a taxi that I got with a driver that spoke just barely expectable English. I saw most of the sites listed in the Lonely Planet guide. The views of the city from the water's edge are great. The only place of note that I visited was the Gandhi house, where he lived from 1915 into the 1930's. The other thing was the taxi driver wanted me to stop at some stores as he gets a commission. In one way I should have skipped doing it and gone to a museum. But maybe it was for the best. One can buy a nice 4+ by 7 foot wool rug for $300 delivered to the US and about twice that for silk. Of course, I know nothing of rugs. But for that price I may get one anyway. They had a great burgundy and gold one that I nearly purchased. After about six hour of touring, I rested in the AC, went out for diner, returned to watch TV and hit the sack.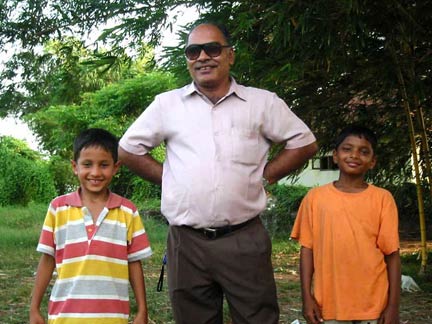 Wednesday, 21 May
The only problem with going to Cochine (now Kochi) was the general strike. Luckily, it did not deter airport taxi drivers - and with the roads clear, the travel time to Thrissur was fairly quick. Simon met me and helped me find a hotel - the Casino. It cost $20 per night: big rooms with all the amenities. About 5PM we went for a drive through the town. We looked at the main Hindu temple and several Catholic churches - 30 to 40% of the people here are Catholics including all of Sebastian's (Sibi's) family. Eventually we made out way to his house. It is a beautiful two-story house. This town is a trading center and richer than much of the surrounding area with many nice homes. I met Simon's wife and Sibi's sister - Valsa - and his daughter Minu (pronounced minnow). He also has two sons: Arun (27) living in Bangalore and Kiran (25) going to school in the USA. We talked a lot about our families. They gave me sweets and a fresh coconut drink - and all was delicious.
Thursday, 22 May
I learned about the roads and traffic in India and I got a chance to see some historical sites in Kochi. First, it took two hours to travel 80 km (42 miles). This is the average speed on the highways of south India. There are many slow vehicles on the roads: push carts, ox carts, low-powered motor scoters, auto-rickshaws, other small three-wheeled transports, and lots of slow moving monster trucks. Every vehicle has a special, super loud horn that constantly is assaulting my ears. They engage in insanely dangerous passing techniques. They often drive without lights in the cities at night. I was told yesterday that ten years ago the average speed was 20 kph, half today's speed.
Kerala is green and basically clean. It is quite beautiful there. It is humid and the temp ranges from 27 to 33c (92f). When we finally got to Kochi and got our boat tickets it was midday. We saw a 500-year old synagogue. Yes there are 14 Jews in Kochi. There families migrated to this area 1900 years ago and most moved back to Israel in 1948. There was a page of a 2000-year old torah that I saw. We visited some other old buildings, a great museum of the Raja of Kerala. I talked to some children (see picture of Simon) on the goat. I was pleasantly surprised that they could speak such good English, better than most adults I meet. By the way, a large portion of the population speaks no English. We were done with the tour about 5:30 and on the road back by 6 PM. It was almost 8 when we got back. We ate a typical India meal. Everything was very good. I had rice, another type of curd curry, pickles (very hot), chicken boiled in an excellent sauce. By 10 Pm I was exhausted and ready for a good night's sleep.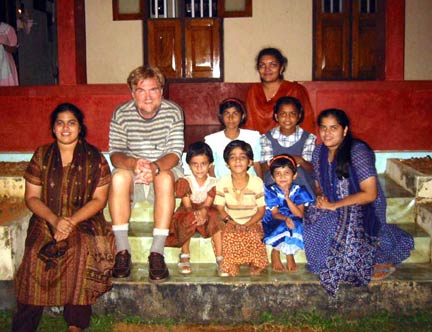 Friday, 23 May
This was a very special day for me. Simon, Valsa, Minu and I traveled the 80 km south to the village and childhood home of my friend, Sebastian Cherayil. Here I met most of his family. Three brothers live in India - Vincent, John and George. John and Vincent were here and I met their wives (Leena and Lissy) and George's wife (Sindhu). All the children were there. They are all girls, except the newest one. Georges children are Anu Rose(5) and Mathew (3 months). John's children are Diya(22), Divya(18) and Ann Marie(11). Vincent's children are Reesa(10), Jess(6), Teena(4) and Alphonsa(2). I also met his amma (mother) Rosa. I got a good tour of the farm with rubber trees, nutmeg, papaya, coffee arcia (beetle nut), rice paddies, etc. I saw how they collect and process the latex. After that we went on a two-hour boat ride up a river canal. And we hiked a bit to see the devil's work by the river. On the way back to the homestead, I saw the cocoa bean fermenting operation run by Vincent and his cousins. I met Sibi's uncle Jacob and later his son Mathew. In the evening we ate more typically Indian food. There was so much it was near impossible to even just try it all. I chatted a while but we had to leave on the two-hour journey back. I promised to return for a proper visit one day. South India has turned out to be a great place to visit.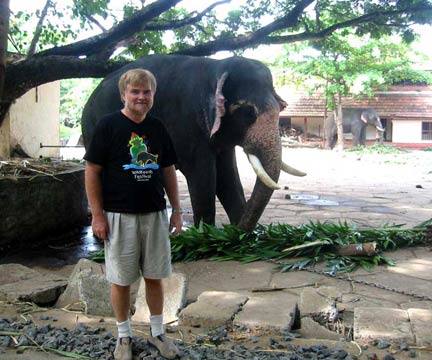 Saturday, 24 May
In the morning Simon, Minu, Divya and I went to the only elephant yard in the world. There were more than 60 elephants. They are used around the country for pageants and parades. Some had killed people. They are fierce when you're up close to those six tones of muscle that eats 250 to 300 kg a day. We also stopped at a fisherman's beach. Even it looked good. They say Kerala's beaches are some of the most beautiful in the world.
Some notes on women:
They appear to be highly sheltered. Young women seem immature due to a lack of hard or bitter experiences. Indians are extremely protective of their women. In today's world such protection seems unwarranted. The dowry has given way to a very large, voluntary gift from the bride's parents upon marriage. Given how slowly things appear to change here, not much is likely to change in the next 30 years. I don't know if it is true of all families but in Sibi's family, the current generation has few children that those of the previous generation.
You will receive another email very shortly.
Love,
Bill

===============================

Subject: More photos
Sent: Tuesday, May 27, 2003 5:37 AM
From: Bill Sundstrom
To: Betty; Birgitta; Dain
CC: Others
A few more photos are attached.
| | |
| --- | --- |
| Another Family Portrait | John, Alphonsa,and Vincent |
| Sebastian's Mother | Vincent and a slab of his Rubber |
| The Children | An Elephant Bathing |

===============================

Subject: Bangalore
Sent: Tuesday, May 27, 2003 5:34 AM
From: Bill Sundstrom
To: Betty Cassady
CC: Birgitta June Sundstrom; Dain Sidney Sundstrom
Late Saturday afternoon, Arun picked me up at the airport and had found an expectable hotel for me. After resting and cleaning up, he picked me up and we went out with several of his friends. They were all from Thrissur and most had gone to the same school. There was Paul - an electrical engineer, Thomas - a real estate leasing agent, Mathew (?) - who did marketing for a bank, Radish and Jacob - both software engineers like Arun. Radish had heard of Dain's JBOSS program. It was fun to get to know these guys. There were all about Dain's age and really nice guys. We drank beer till midnight then had a bit to eat at a late night Moslem run restaurant.
Sunday, 25 May 2003
Arun works way to hard - 12 to 14 hour days, six days a week and 4 more hours on Sundays. I was only able to convince him to take Sunday off, because Monday was Memorial Day in the states. His primary client is located in the US.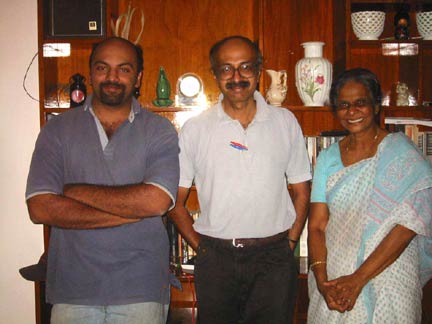 So we had a great day together. After a good breakfast, we made our way on his 125cc motorbike to most of the places worth seeing here in Bangalore. The only thing I missed was seeing all the software companies and their campuses. At least one of the places, the Bull Temple, Arun had not seen before. We also got to see a bit of the old India in a great market. By mid afternoon all that had played out, so we went to visit Sebastian's aunt and his cousin Binny. He is a theoretical researcher in organic chemistry. We had a very pleasant discussion about his work and then American politics - a topic that almost everyone wants to talk about. In the evening, Arun and I went to a very good north Indian restaurant. The food was great! The conversation was also very good and it did turn to politics once again. They all want to know how ordinary Americans see things. This is a very difficult area for me, because my ideas are so not mainstream.
Bangalore is a lovely city. It might be the most developed in India. The weather is much cooler here compared to the rest of India, ranging from 70 to 90f in the hottest months. And it is relatively dry here. The streets are broad and clean. It has many good parks. Yes there is some of old India here in parts of the city. But this place shows what India could be.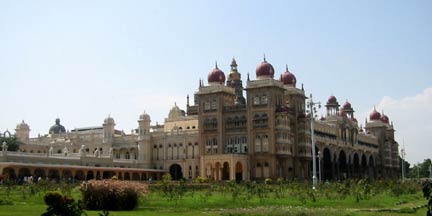 Monday, 26 May
I did a very long day trip to Mysore. I was up before 6 AM and ready to travel by 6:30. I was on the bus before 7. The 120 km (75 miles in three hours) journey to Mysore was not that interesting. There were some beautiful temples and public buildings around Mysore. We started with a Moslem temple. The most spectacular site was the Mysore Palace, a Raja's very-grand, turn of the century palace. It is truly the most lavishly built palace that I have ever seen. I think that it is better than Versailles in France. We drove to the of Chamund hill, whish is at least 1000 feet above the local surroundings. The Sri Chamudeswori Temple was there. I finally saw a colony of monkeys. We drove to a number of temples and historical sites. The biggest waste of time was the Brindavan Gardens that lay on the down river side of a huge dam. I was the only non-Indian on this tour and everyone else seemed to enjoy the gardens. Finally about 8:20 we were off. We stopped for 30 minutes along the way for dinner and finally arrive back at 12:30 AM. What a day!

| | |
| --- | --- |
| Monkeys at the Temple | Sunset at the Brindavan Dam |
Today is a rest and get ready for tomorrow day. I will probably be traveling to Jaipur.
If I cannot take the heat, I will be leaving India sooner that planned. Temps in that part of Indian are running 100 to 110f every day.
I am getting tired of travel. I hope I get a bit of rejuvenation spurt when I get to Europe.
I will try to write again soon.
Love,
Bill

===============================

Subject: Greetings from Jaipur
Sent: Friday, May 30, 2003 1:58 AM
From: Bill Sundstrom
To: Betty Cassady
CC: Birgitta June Sundstrom; Dain Sidney Sundstrom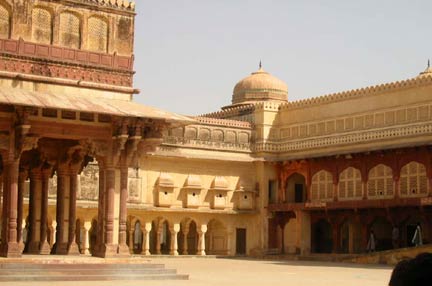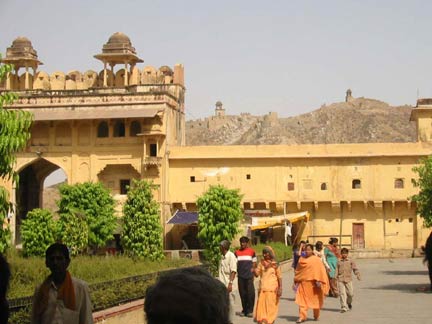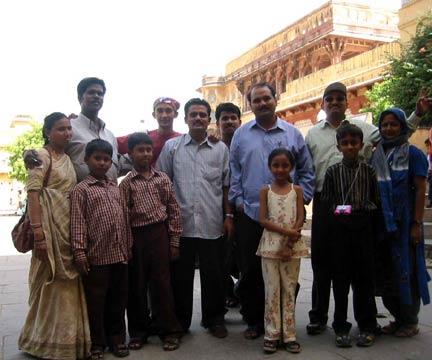 Wednesday, 28 May 2003:
It was really just a travel day. Air travel here is not only expensive, but its systems are extremely inefficient and the service is a long way from international standards. However, you can cover a lot of distance in a short time. Security is labor intensive and uses the military to do a lot of had hand searches, frisking, etc. And they tend to do it more than once. Planes are commonly 30 minutes to more than one hour late. Delhi is the main hub. Transfers are tough due to poor scheduling; I waited more than four hours for the 30-minute flight to Jaipur. I checked into a nice hotel. It even has a pool and with temps over 100f, it really has been great for cooling off.
Thursday, 29 May:
I did a full-day tour where I saw most of the things worth seeing here. I saw a new temple, a couple of good museums, two forts, from 300 years ago and a fantastic 400-year old palace. I took lots of pictures, but cannot send any due to hardware problems. The tour was also good because I got to meet lots of interesting Indians: the tour guide, Ajay, and two Indian families - one from Hydrabad the other from Rajasthan. I continue to be surprised by how well the educated Indian children can speak English. Of course, in the poorer north only 50% at best are educated compared to more than 90% for the south.
At the end of the day we stopped at a state run handicraft store for a demo of the cloth printing and to buy stuff. I decided to buy two rugs mad of yak fibers. There are supposed to be 720 knots per inch. They cost about $15 psf, about $5 more than I expected. There is a money back guarantee but I didn't get that in writing.
In the evening Ajay picked me up and we went to a pub to talk. He was loaded with questions about travel and the USA. I asked questions about India. He reinforced how conservative it is here. He is 28-years old, and will marry a woman in the next month that his parents chose for him. Of course, he has since met her and approved. I also met three Brits at the pub. They were great to talk to. One had been in India four months and only spent 450 Pounds. The others were his brother and sister-in-law. They had only been here two weeks and all will be heading back next week.
Today, I have been unwell again. Maybe some of the water I drank yesterday was bad. This sort of thing really has made it hard to enjoy every day. Oh well, I guess that is just the way it goes here.
Tomorrow, I will be in Delhi. I will be looking into flights to Europe starting on the 6th of June. One day next week I will see the Taj Mahal.
That's it for now.
Love,
Bill

===============================

Subject: In Delhi
Sent: Wednesday, June 04, 2003 9:27 AM
From: Bill Sundstrom
To: Betty Cassady
CC: Birgitta June Sundstrom; Dain Sidney Sundstrom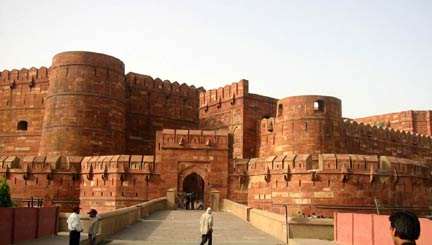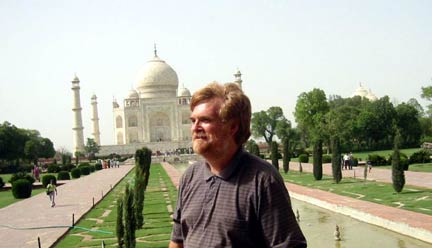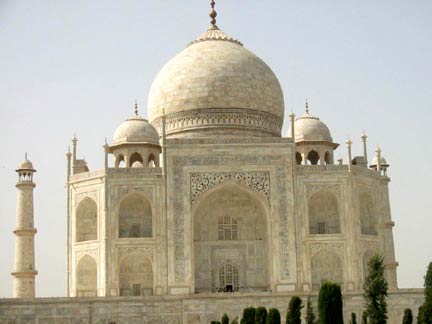 Very little has gone right in the past five days. Delhi has been a complete screw up, right from the beginning. I was to the airport in Jaipur early Saturday morning. Indian Airlines cancelled the flight, so I waited eight hours for a 30-minute flight. Into to Delhi late, I had trouble with the taxi driver and ended up in a hotel that would have been fine - except the AC was so loud I couldn't sleep all that well. The next day, Sunday the 1st of June, I found another hotel, and checked on trains to Agra - but couldn't get a ticket. I tried to arrange a city tour, but couldn't do it on Monday because the monuments were closed. At least in the evening I found an OK Tex-Mex restaurant called Rodeo. The food was good.
Monday was another lost day. I bought tickets for the train to Agra. I looked for cheap flights to the USA. I went to a kid's movie, Jungle Book 2. The place was air conditioned so I enjoyed it. By the way, despite the heat many place do not have AC. The highs have been over 110f since I go here. If it were not for the 40f dew points, I would have died.
Tuesday was both very good and bad. I took the fast train to Agra - home of the Taj Mahal. The train was the best class, yet the cars were old, worn and in need of a good cleaning. The back of the seats, for example, had not been cleaned in months. The town was much dirtier than I expected. It was better than Varanasi, but not much. Once again I saw people making by hand cow dung chips for burning. The site always revolts me.
We visited three major sites. First was Fatehpur Sikri about 40 km or one hour plus from Agra. The AC bus ride cooled the 115f temps down into the 90s. The complex is about 420 years old and in excellent condition. There was much to see. During the day I drank more than two gallons of liquids. Next we went to the Taj Mahal. It is a super impressive, 350-year old structure of the most exquisite beauty. It was built out of love in memory of the Raj's wife. After that it was to Fort Agra. That was much like the Fatehpur Sikri site except it had many more marble structures. The palaces were great, but the real beauty of India is the people who can be so kind and generous. Yes there are the beggars and hawkers and totes who drive you mad but they are not the real India to me.
Today was another bust. Something I ate on the train made me sick. A guy can only be so careful. I am tire of getting sick all the time.
Well that's it for now.
Love,
Bill