===============================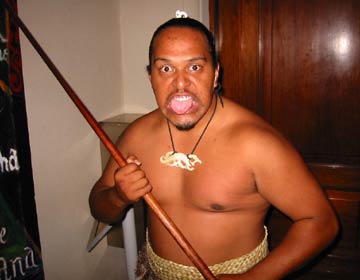 Subject: From NZ to glorious Sydney
Sent: Sunday, March 30, 2003 9:11 PM
From: Bill Sundstrom
To: Betty Cassady
CC: Birgitta June Sundstrom; Dain Sidney Sundstrom
Sorry, for the lag time between messages.
I will be sending two messages today, so that I can send six photos.
I have also switched to Yahoo, because Hotmail has too many restrictions for sending messages copied to lots of people. You can still send mail to my Hotmail account.
I am now in Sydney and eight time zones from Minneapolis, at least until you go on CDT - then we will be nine hours apart. Pleas note that like in NZ I will always state prices in Australian dollars (AUD) and not in US currency. The rate is $100 AUD = $ 60.5 USD. So, this is what I have been up to.
Last Tuesday and Wednesday were pretty uneventful. I did get an offer that I unfortunately had to refuse. My cousin, Merv is off to DC to do a show at a museum. I could have used his beach cabin and car while he was gone. Just more bad timing on my part and I had to say 'No.' On Wednesday night I caught some live Brazilian music at the Mexican Cafe. Speaking of Brazilian, it must really be easy for them to get visas to NZ and Australia, because I have seen so many of them along the way - especially here in Australia.
Thursday, the 27th of March
Thursday was all tied up in getting to Sydney and a place to stay. Everything went well until I got to the Rocks. I had thought that I could get a room for less than $50 a day but the cheapest was $80 for a nice room above a pub that included breakfast. Now the problem was that I was determined to find cheaper. This was a mistake because I was lugging 20 kg around on my back. Then I ended up taking a room at the first place that I had come to. After checking in, I rested, ate, and got a great night's sleep.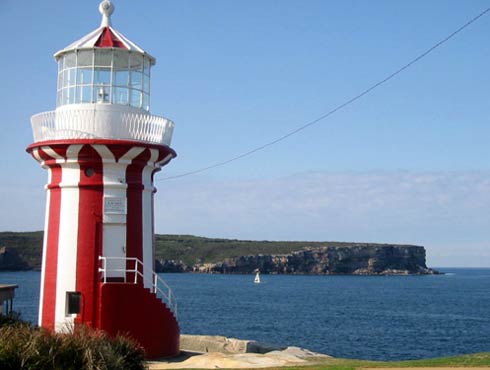 Friday, the 28th of March
First I picked up lots of good info and figured out what I was going to do. I got a really good walkabout pamphlet for things to see in Sydney. I did the one around the opera house and went to the NSW governor's mansion. I bought a weeklong ferry/train/bus pass for $32. Then I was off to Watson's bay. I did a long hike out to the lighthouse at the end of the south entrance to the bay. One of the pictures I am sending has Watson's bay on the right and Manly on the left. The ferry ride was enthralling. The harbor is a dreamland of fabulous real estate and ships of every order, but especially the sailing ships. I think is was Craig Plathe that once told me of the harbor's wonders and how much he wanted to move here. Since he was a sailor, I can now totally understand the sentiments. However, real estate is expensive here. Maybe not as steep as CA but still nothing like BA. The hike to the end of the headlands was great. I passed by two beaches. Topless is OK on the beaches but full nudity is allowed only on some public beaches. I passed by one of each. Tired after hours of hiking, I decided to hitchhike for a ways. Dave and his friend, but not lover, Katerina, picked me up. This led to a strange side trip.
They had been drinking and just from the nude beach. They actually brought me into the Rocks. I bought a round of beers and they bought another. Dave flies but has no license. He might be able to come up with a plane for me to use. I let them know that I was looking for a cheaper place to stay. They put me on to a place in Glebe then we headed there to ostensively look at the place. But we only got as far as Dave's favorite watering hole. I met a number of the locals and ended up being totally sloshed. It was a good time, but I wish that I had stayed in the Rocks and explored the nightlife there a bit more.
Saturday, the 29th
I took the ferry to Manly - simply a hidden treasure in Sydney. It is a suburb, but more like a little town. It has a great beach that I walked. Then I hiked up past the college by the old quarantine station (think Ellis island) to the headlands on the north side of the entrance to Sydney harbor. Again exhausted after hours of hiking, I thumbed my way half way down the hill to the ferry terminal. It was late afternoon by then, so I went to Glebe to check out the Forrest Lodge Hotel. Again it is over a pub but only costs $45 but with no breakfast. Back to the Rocks, I cleaned up for diner and then ate Italian. I spent most of the evening in the Orient Hotel, which is really a pub on one floor, dining on the next and a pool hall and nightclub on the top floor. I had great fun mixing and meeting folks. When I headed back to the Mercantile, my digs, I happened to hear great Latin music coming out of a nightclub, Vivaz, across the street. I only caught the last half-hour of the show, but the music was delicious.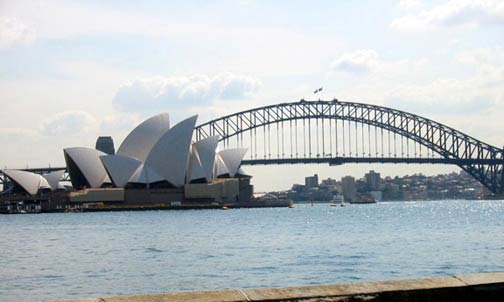 Yesterday, the 30th of March
I slept 'til 9:30, ate breakfast, and then slept another hour. When I got to the Quay, I discover that they had switched to standard time in the night and gained an hour - so to speak. I took off on the Taronga Zoo ferry and did a great hike around Bradley's and Chowder Head. Then I hiked another 5 km to Balmoral Beach. Now it had been clear, hot, and sunny until I got to the beach where upon old sol disappeared behind a bank of clouds. I lay on the beach 40 minutes then pulled the plug and caught a bus then the ferry back to the Quay.
The evening brought a meal of German food. I check out a couple of the nightspots. They were not so busy as Saturday. I went over to Vivaz to listen to music and watch the dancing.
I moved to Glebe today. I hope it works out. If not I will head back to the Rocks. At least the Internet places here are cheap.
Well that's all. I will also send a few more pictures today on a second email.
Take care and much love,
Bill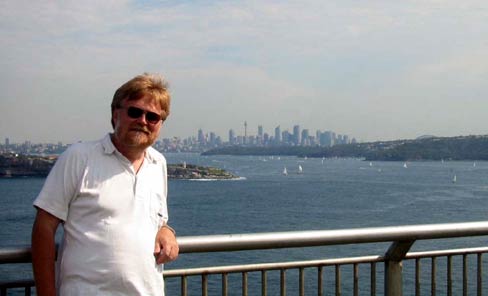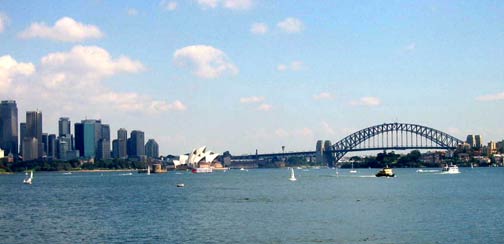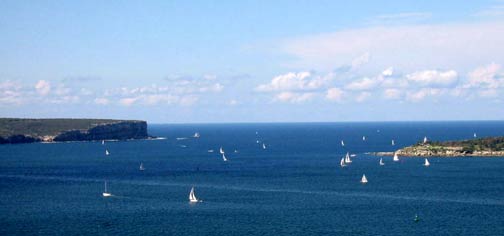 Subject: More photos
Sent: Sunday, March 30, 2003 9:40 PM
From: Bill Sundstrom
To: Betty Cassady
CC: Dain Sidney Sundstrom; Birgitta June Sundstrom
As promised,
three more photos.
Bill

===============================

Subject: The second from Sydney
Sent: Thursday, April 03, 2003 8:06 PM
From: Bill Sundstrom
To: Betty Cassady
CC: Dain Sidney Sundstrom; Birgitta June Sundstrom
Monday, 31st of March
It was moving day; I went from the Rocks to Glebe. Glebe is 20 minutes from the Quay (pronounce key) by bus and it is near the University. After checking into some even more spartan accommodations, I took care of my laundry, checked on airfares, and wrote home. With all that done and because of the lateness, I traveled to Darling Harbor. There I discovered that I had left my discount coupons for the museums in my quarters. And it began to rain. I went back to Glebe. Famished, I had a fabulous and inexpensive diner of pork covered with a wonderful mustard sauce. Having nothing better to do, I watched the locals play pool. Before I knew what was happening they signed me up for the Monday night competition. Now I never play pool, just a couple of game in the past month and before that a couple of games in the past 30 years. Only by luck did I make it into the second round. But I did have fun and I met lots of nice people. The Australians are truly a friendly lot.
Tuesday, 1st of April
I took the River Cat to Parramatta. The first farms in Australia started there. I visited some historical houses from the very early 1800's. The old government house was particularly good because the 'restoration' had been minimal because there had not been major updating to the building over the years. I also took the river cat back. I got to Glebe Point Road and walked over to the Excelsior to catch Dave. Eine was there too. She suggested that I eat a Thai restaurant, Thai on Wok. I headed back to the Forest Lodge to wash up and rest a bit. I got into a great conversation there. The group was fairly intellectual. We talked politics and books. I headed back over to the Excelsior, a ten-minute walk from my digs. Dave wasn't there and Eine was there for about five more minutes. I met a couple more regulars, Martin and Cate. Martin told me a couple of good stories the first being a total fabrication and the second may have some truth to it. Martin is a blonde, clean-man in his 30's and a Scotsman. I asked what he did and the answer was a milkman. I asked him about his dreams and ambitions. He wanted to be the fastest milkman in town and win the annual competition!? Meanwhile Cate was going on about how he was really out there as a gay man. It was clear that he had traveled extensively in Thailand and the rest of Asia. I was trying to lean as much as I could from him. He told me that the Thais were the friendliest and easiest to get to know and that the Chinese were the worst, even difficult. As we talked it became more and more clear that he was not gay and that he like to enjoy the pleasures of heterosexual life in Thailand. He had told Cate some time ago that he was gay so that she would lay off him. Then he tells me that he is not a milkman that he is really a banker working for Barclays. Gullible Bill was once again led down the garden path. He continued to tell me about his apartment in Prymont and his flat mates. This is when his second story got out of control. He claims that his flat mates are two Chinese escorts. He loves these little Asian women that work nights while he sleeps and around the house during the day while he works. On the weekends, I think he is playing with the ladies. He says that due to immigration rules that he gets two new flat mates every three months. With this out I began to howl. He fooled me once but not twice. Later I confirmed the story. Just unbelievable! I really did get to know Cate that night. She did tell me that she was a writer and a journalist, but wasn't really working. Before I headed, she agreed to show me around the city a bit on Wednesday.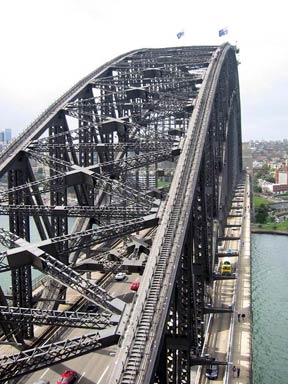 Wednesday, the 2nd
It was a great day, indeed. After breakfast, I bought my ticket to Melbourne for $100. Then I called Cate. She walked down and met me at a coffee shop on Glebe Point Road. Her hair was up and she was dressed in slacks and a white blouse with a blue oriental motif embroidered on the front. She seemed a bit off, later I discovered that she had stay out much later and was a bit hung over from the night before. We bussed into the city and walked through Hyde Park to the War Memorial. She wanted to show me a brilliant sculpture inside. Unfortunately, it was closed due to the war security and probably the anti-war demo we passed while cruising in the bus. From here we went through the catholic cathedral and then unto the art museum. I really enjoyed the Australian art. We even got a dijurydo show. After some time there we got a bite to eat. I gave here some Tylenol and she started to feel better. We walked through the botanical gardens. I saw the large fruit-eating bats that inhabit the park and well as many tropical plants I did not know. Then we walked by the opera house and on to a nice wharf-side restaurant for a couple of glasses of wine. Late afternoon now, we headed back to Glebe. Eine got on the bus half way back. I left the ladies at St. Johns Road. A little after 7 PM,I met up with Cate at a nice little restaurant. The seafood was excellent. I had the blue-eyed cod and she had the salmon. She had a totally different look in the evening: a tight fitting flower printed skirt and a black blouse with her hair down and a grey scarf. She seemed like a totally different person. It was really nice to finally really talk all day with a native Australian. I discovered that the writing gigs were not all she did. She has been working as an actor for the past twenty years. We really had a nice evening of teasing, debate, and sharing of who we were.
During the day, I had picked up a card with a message from Henry David Thoreau. It seemed to fit me perfectly. I thought that I would send it to you too:

If a man does not keep pace with his companions perhaps it is because he hears a Different Drummer let him step to the music which he hears however measured or far away.. ..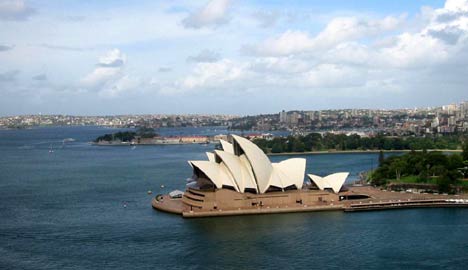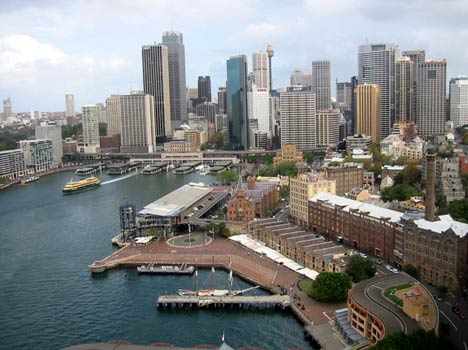 Thursday, the 3rd
It was not as good a day but still interesting. I was not feeling well in the late morning and early afternoon. It must be the eggs that I have been eating. I had planned a bridge climb, but it was raining when I got to the quay. So I doubled back and went to the Sydney Aquarium. The shark and Great Barrier Reef exhibits are extraordinary. We I left the aquarium it was no longer raining so I took off for the Sydney Harbor Bridge. I got there only to discover the bridge walk cost $145. A thousand people a day do it. What a concession. There is a pedestrian crossing of the bridge. I took this route instead. In one of the concrete bridge peers, I climbed about three-quarters the way up that one goes on the steel bridge supports. The cost here was a mere $5.
I ate at the Forest Lodge and retired early for once.
I ate those eggs again today. I am just too beat in the mornings. I ought to spend a day on the beach doing nothing.
It is likely that I will write one more time before flying off to Melbourne.
Until then with much love,
Bill

===============================

Subject: Last days in Sydney
Sent: Sunday, April 06, 2003 7:36 PM
From: Bill Sundstrom
To: Betty Cassady
CC: Birgitta June Sundstrom; Dain Sidney Sundstrom
Things have definitely started to slowdown. In some ways that's good in other ways it is a sign that it really is time to move on to Melbourne. I am getting ready for the move, as I will be flying out of here tomorrow. The last few days looked like this:
Friday, the 4th of April
Again I wasn't feeling all that great after breakfast. The eggs that I have been preparing were probably contaminated. I dumped them and haven't felt badly since. I have had a bit of a hack too. I figured it was due to sinus problems. I must be getting a bit of hay fever. I started on some Sudafed and my symptoms have pretty much disappeared. About midday I hiked through the campus of the University of Sydney, a nice old-fashion campus. I took a nap and felt better, so I went to a movie in the late afternoon. I say Steve Martin's new movie with Queen Latifa. It is really nothing to write home about. Even with good acting, a mediocre script rarely ends with a good show. After diner, I headed over to the Landsdown Hotel to listen to Latin music and watch the dancing. The dancing they do here is well beyond my meager skills; I should take lessons when I get home.
Saturday, the 5th
I wondered through two street markets. First, there was the Glebe market. It had a wide range of mostly second hand goods. I got a bar of soap with the essence of a local flower that I smell along the sidewalks of the city. The second was a Chinatown market of mostly new Asian made products. I stopped for a massage. They seem to have these massage booths everywhere in Sydney - even the local malls. While passing through Chinatown I was on a street on restaurants and where I was encouraged to try the Yum Cho, which is a bit like dim sung. Still a bit worn out, I went back to my digs for a nap. In the evening I drank wine, ate cheese and later had drinks with Eine and Cate at the Ancient Briton. Still early, I watched an old Bagdonovich movie on TV before sacking out.
Sunday, the 6th
Again I have been toning down all my movements. I took a bus ride to Coogy Beach. The last few days had been very autumnal, so it was good to get a really bright clear day without the blustery and cool southeast wind. Still there was a slight breeze and the sand was not summer-hot. So, rather that spend all day in the sun it was more like a few hours. The beach had a good number of visitors: people laying on the beach, or families picnicking or playing on the grass. In the evening I ate Indian. Except for the few things that I have had a Gay Lynn's, I have almost never eaten these foods before. I really liked the few things that I tried. My diet has clearly been getting better. I saw an old Steve Martin and Eddie Murphy movie called Bowfinger on TV after diner. I actually got to sleep before midnight for a change.
I have been looking into flying here. I was going to fly yesterday when I discovered that I need an Australian certificate. I am going to try to get one tomorrow. They want an original logbook and only brought a copy of about 90% of mine. I got the impression that what I have may be expectable. If so, I will rent a plane in Melbourne or Adelaide.
You take care.
With much love,
Bill

===============================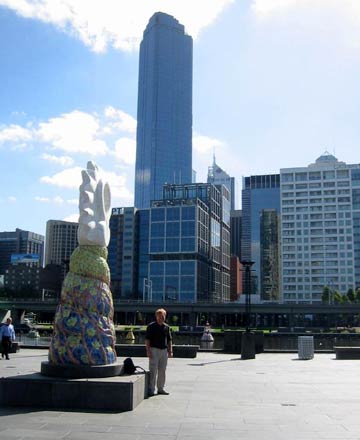 Subject: Last days in Melbourne
Sent: Saturday, April 19, 2003 11:51 PM
From: Bill Sundstrom
To: Betty Cassady
CC: Dain Sidney Sundstrom; Birgitta June Sundstrom
It's hard to believe that it has been so long since I have written last. Some of what I did a week ago is already a little hazy. I will be sending two messages so that I can put more pictures in the emails.
Saturday, the 12th
I hiked around Melbourne during the day. I went to some outdoor markets that had all kinds of clothing, wares, food, wine and who knows what else. Then I walked through on the city's nicest parks. In the evening I saw an Australian Rules football game. It is somewhat similar to rugby; however, it is not as physically rough and appears much more elegant. The crowd was fun and the game was great. The teams were from Brisbane and North Melbourne. In the last second of the game a kick was made toward the goals. As the ball soared through the air the buzzer sounded and the game ended in a tie. A tie is highly unusual in this game but there it was. As the crowd loved that the game was so hard fought and so close.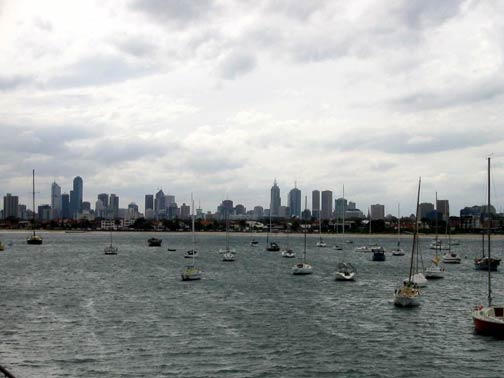 Sunday
I started to get ready for drive to Adelaide by getting some laundry done. But I quickly moved on to seeing a new part of Melbourne, St. Kilda. St. Kilda is an older suburb on the coast of the large bay that Melbourne sits on. The bay is so large that it is almost as big a San Francisco's Bay. There are has many smaller bungalows built in the 1920's and earlier. Much of the fenestration is wrought iron. It has a lovely center right on the beach. I walked to the end of the jetty to view the city, the gigantic harbor, the moored sailing ships and St. Kilda's shoreline. I left St. Kilda just at the right time, fifteen minutes later it was pouring rain. Unfortunately I still was caught in a bit of it - when I stopped to pick up my clean clothes. In the evening I saw another comedic revue of light jokes and funny songs. The lead performer had a bit of an Elvis look and demeanor, but his Klesmer style of music and humorous lyrics were both middle European and Australian.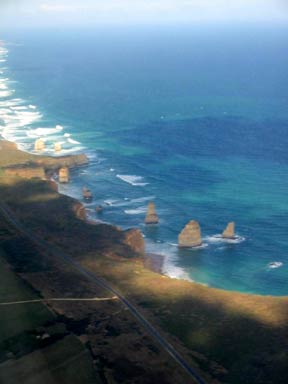 Monday, the 14th
I got a car rental and started driving toward Adelaide. The journey seemed to take forever, because of the winding costal road. Along the way I stopped a wildlife reserve to see kangaroos, wombats, koala bears, etc. A few days earlier it had only taken a little over an hour to reach the Twelve Apostles, but driving there took more that four hours. The Apostles were even more impressive on the ground. I took some good pictures. Finally, as the sun began to set I stopped in Port Fairy for the night.
To be continued,
Bill

===============================

Subject: Here I am in Adelaide
Sent: Sunday, April 20, 2003 12:45 AM
From: Bill Sundstrom
To: Betty Cassady
CC: Dain Sidney Sundstrom; Birgitta June Sundstrom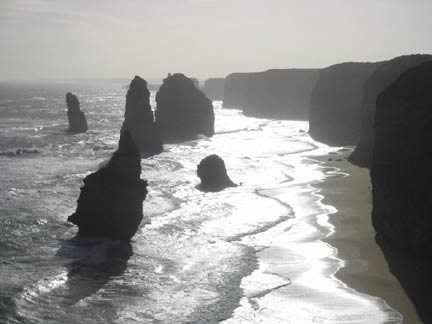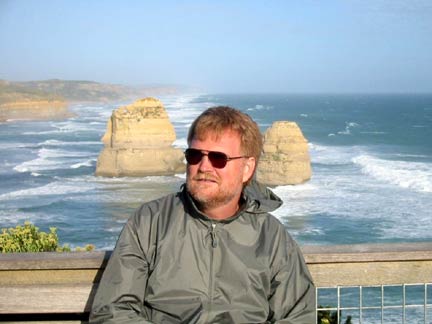 Tuesday, the 15th
With straight roads, I drove the rest of the way to Adelaide. The terrain reminds me of eastern Colorado and the western Dakotas, but even drier. Where I drove right on the cost, it was different from any coastline that I have been on. The mix of dessert and some dunes on the coast was new to me. When I finally got to Adelaide, I found a small motel in Glenelg, which is right on the coast. In the evening I had a great meal at a good hotel just a few blocks away.
Wednesday, the 16th
I booked my flight to Perth in the morning. Then I spent a leisurely afternoon walking through the botanical garden. And after that I walked down the main commercial street, called Rundle Mall. I made an early evening of it.
Thursday, the 17th
Up and on the road fairly early, I made my way to nice little B&B in Gawler where I left my gear. Then I drove the 20 km to the Barossa valley. I visited between eight and ten wineries. They are best known for their Shiraz here. To tell the truth, it was hard to find a good tasting wine and when you did it was often too expensive. Shiraz is not one of my favorite varieties. The wine has too much tannin and not enough of the kind of flavors that I like. Finally near the end of the day I found one good Shiraz for $20 and I bought it and should have bought two or three. Late in the afternoon I made my way back to the B&B. I bought some steak and did a great barbecue under a wonderful veranda. I just did not expect all the nice amenities this place had.
Friday, the 18th
I went to a Gemboree in Gawler. It was clear that rock hunting is a big pastime in South Australia. The stuff I saw was pretty amazing. I finally bought a few pieces including some opals. Mid-afternoon I headed back for Adelaide. I took a nap after checking in. Later I went out to see an Australian film, called Ned Kelly. Despite the bad reviews, I liked the movie a lot. I learned a lot about what life was like for the early settlers (1870's) here. The movie scenery, the forests and rolling barren hills, was a lot like the stuff that I saw in Victoria and South Australia.
Saturday, the 19th
What a day! Almost too much!
I left early and that was a good thing. I drove an hour-and-a-half south to the catch a ferry to Kangaroo Island. I discovered that I was extremely lucky to arrive just when I did, because I got a booking and was on my way in a little ferry that took an hour to sail the short distance to the island. I had hoped to see lots of wildlife on the island. I did, but it was all road-kill. I was really glad that I didn't hit any of those giant roos. I did visit a number of tourist attractions: a honey farm, a eucalyptus farm that distils the oil, a sheep farm with a cheese and yogurt making operation. I actually liked the sheep cheeses. I thought that they would taste like the dreaded goat cheeses, but no, they were much better. And I went to three beach areas. The last one I took the time to stretch out and enjoy the heat (mid 70's) and the sun, however swimming in the cold waters was just not possible. Getting late, nearly sunset I stopped for a burger. Then I headed back to the ferry and the long drive back to Adelaide. I got back after 10PM, exhausted and ready to call it a night.
South Coast of Kangaroo Island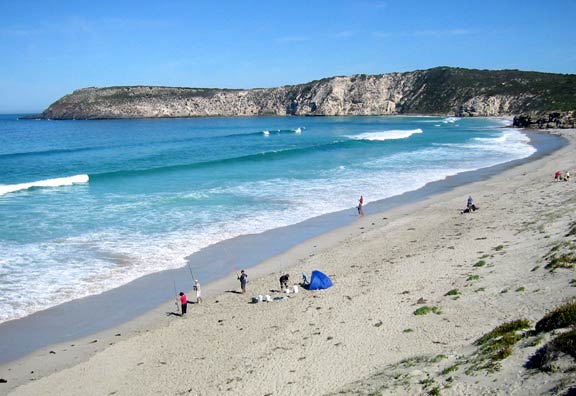 Today is Easter. There is not much to do here. I didn't find out about the horseraces until it was really too late to go. So this will be a laid-back day.
Australian is a lot more like the States than I ever imagined. Other than driving on the left, the streets, the stores, the layout of the homes, and commercial districts, the candies, the drinks, the dance, and the music are much like home.
I will try another wine tour tomorrow to the south of Adelaide.
Take care,
and with much love,
Bill

===============================

Subject: Last days in Adelaide
Sent: Wednesday, April 23, 2003 10:50 PM
From: Bill Sundstrom
To: Betty Cassady
CC: Dain Sidney Sundstrom; Birgitta June Sundstrom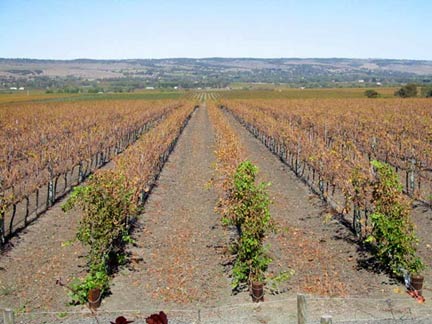 Monday, the 23rd of April
I did another tour of wineries, this time south of Adelaide in the McLaren Valley. Here the wineries are smaller, more hospitable and with much better wines than the Barossa Valley. The valley was really picturesque. The vines' leaves have all turned color to a dusky yellow-orange. It is fall here most of the trees have begun to change color, some even to a brilliant burgundy. Feeling a bit over the top, I stopped at a lovely winery to eat a very nice lunch. Despite the good food, I developed a splitting headache after my return to Adelaide; and that was the end of an otherwise excellent day.
Tuesday, the 24th, my last full day in Adelaide
I picked up my travel itinerary from the agent I booked with. I enjoyed an hour or so by the ocean, soaking up the rays of the sun and listening to a good book. Then I drove up into the hills southeast of the city. The roads are poorly marked and I got turned around at least twice. But it didn't matter all that much because the scenery was so beautiful. Finally I made my way to Hahndorf. It was one of the early settlements in South Australia; and it was settled by German immigrants. I spent the afternoon wondering through the shops and museums. I stopped for coffee and cake. When I got back to Adelaide, I treated myself to an expensive Italian meal.
Wednesday, the 25th of April
I dropped the car off at the airport and boarded a Qantas flight to Perth. I saw the movie Frida. It was far better than I ever imagined it would be. I would give it 4 out of 5 stars - be sure to see it. I am now ten hours behind or 14 hours ahead of you now. Perth is about six miles from the coast and sits on a wide part of a river. It is a fairly new city and just doesn't have the character of Sydney or Melbourne. I would gladly return to Sydney or Melbourne any day. Perth is the capital of Western Australia and has 1.3 of the 1.8 million in WA.
The next few days, I will be getting ready for Thailand and for India and maybe Nepal. I will try to get a visa today. I will leave Australia on Sunday and will be staying in Thailand about three weeks. If all works out then it will be on to India for four to five weeks. Then I will try to find my way home, probably through Europe.
Take care of yourself.
Love,
Bill

===============================

Subject: Last days in Australia
Sent: Saturday, April 26, 2003 10:36 PM
From: Bill Sundstrom
To: Betty Cassady
CC: Birgitta June Sundstrom; Dain Sidney Sundstrom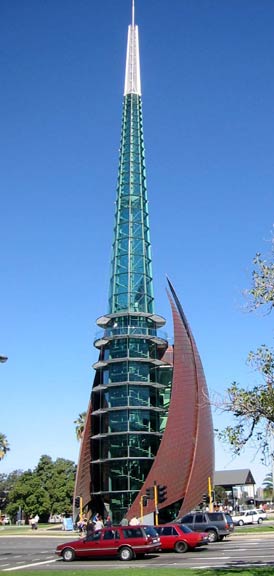 Thursday, the 24th
Most of the day was taken up with getting a ticket to India and figuring out how to get a visa. Then in the evening I found the Rocks (club area) of Perth, its called Northbridge. I had an Italian meal then found a club known for Blues and Jazz. A group called 'Mousier Camembert' was playing some tunes that seemed to come from the 30's with a lot of swing. They said they were form Sydney. It must be the time change, but I could hardly stay awake and called it a night fairly early.
Friday, ANZAC Day, the 25th of April
It was sunny, and I expected it to be raining again on the morrow. So I made the most of the weather and took a bus to the beach. Now getting around on ANZAC Day is a bit problematic. I waited nearly an hour for the bus to the beach. When I got to the beach, I had planned to hike south about five kilometers to the City Beach. Well I did just that but I had forgotten how hard it is to trek through soft sand. And the sand was beautiful, soft, and white. I got my first look at the Indian Ocean. What a gem! I stopped every half-hour to rest on the beach. I had forgotten to bring water so I got real dry along the way. To my relief, I finally got to a place that had a kiosk and restrooms. I drank heartily from the blackcurrant-apple drink. My hike was nearly over. It was only a short walk to the City Beach from here and even shorter distance to the bus stop. Luck was with me this time, because the wait was only twenty minutes.
Back in the City I rested, checked out the sunburn, and called home. I ate Indian in the Northbridge area. Then I sat listening to music at The House of Blues and Jazz again. I like the place and the crowd. I made it until almost midnight.
Saturday, the 26th
I took the 20-minute ride to Freemantle, which is the coastal port for Perth. It is a small older town with lots of older (1880-1910) buildings. I wandered around looking at the architecture, the markets, the galleries and the crowds of people there to enjoy the town. I saw a Mexican place so I just had to stop for tacos. They weren't bad but the spices weren't quite right. When I got back to my hotel I took a nap, and did the laundry in preparation for my flight on Sunday. I saw the Sandler/Nicholson film 'Anger Management.' Adam sure hasn't made a really good film for a long time and this one was just fair. I just cannot imagine how they got him to play straight man to Jack Nicholson's humorous insanity. After meat pie at a nearby tavern, I spent a couple of hours listening to music over in Northbridge again.
Today is Sunday and I will be heading to the airport, and flying to Bangkok. I should arrive in Thailand just before midnight.
Australia has been great. I had a great time and enjoyed myself much more than in New Zealand. I like Sydney and Melbourne a lot and would love to visit them again someday. And I would like to see the other parts of Australia that I missed; especially Queensland. I'm surprised that there aren't more people clamoring to immigrate here. The lifestyle here is so similar to the USA that it is downright surprising. I would say the biggest difference is the extremely low crime rate. They have a nice one-year work visa here and I guess if you want to become a permanent resident it isn't all that hard.
I'll call from Thailand.
Love,
Bill