===============================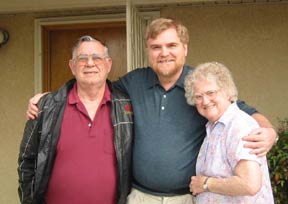 Subject: California
Sent: Tuesday, February 18, 2003 3:20 PM
From: From: Bill Sundstrom To: Betty, Dain
I arrived at LAX last Wednesday. My cousin, Steve Busch, picked me up at the airport. It was raining. In fact, as we drove to Victorville on the high desert above San Bernardino, there was flooding on the road. It rained on Thursday too, but it has been clear ever since.
It has been great to visit with my aunt Tiny and uncle Loren. Steve retired recently from the fire department so we have been doing quite a few things together. We saw two movies. We went out to the a couple of the local bars on Saturday night.
We also went flying. I got checked out in a Piper Warrior at the Apple Valley airport and we took off for a little over four hours. We flew to Santa Theresa then flew up along the coast for 100 miles or so then headed back over the mountains to the high desert. It was a bit different to fly a lighter and slightly faster plane than my Beech Sport..
My cousins Chuck and Mary came for dinner on Sunday and we had a great visit. I wish I got out here a bit more often - they are a good bunch to hang with..
Well, my flight leaves for NZ tomorrow night. Because I will cross the date line, six hour time difference to NZ turns into a 30-hour time difference. I didn't know it, but I do now that the Americas Cup yacht race is taking place right now. That will be an interesting twist..
I will write again in a few days..
Love,
Bill

===============================

Subject: Saturday in Auckland
Sent: Friday, February 21, 2003 4:12 PM
From: Bill Sundstrom
To: Betty; Dain

This is the first report of my journey to New Zealand.
On Wednesday the 19th, Steve and I left the high desert. We drove into Anaheim then to Hollywood seeing the sites as we went. Hollywood was great. We stopped at the Chinese Theater to see the hand and foot-prints of the stars. After a drink and a snack Steve dropped me at the airport.
Here I learned another of those hard lessons. You must have a going-on ticket before they will let you on the plane. I wish that I had known that because the ticket I was forced to buy was very expensive ($490 to Australia) if they charge me in USD. If I turn the ticket in they will charge me $75. The usual cheap fares to Australia are about $300 NZD. From now on I will refer to all money in NZ dollars. $1.00 NZD equals $0.60 USD.
The flight lasted about twelve hours. The plane left a little after 10 PM and landed about 7:30 Friday morning. Yes, I crossed the international date line. It is five hours earlier than the Twin Cities, but a day later here.
Both at the airport and central city info places, they said there wasn't a room to be had in Auckland. One suggested I go to a backpacker hostel to see if someone was checking out. This I did and eventually I got a room. I cannot say much for the place: no towels, shared baths, no breakfast, I pay for the internet. I thought it would be fun to spend the weekend in Auckland, then I will head south.
Yesterday held nothing fantastic. The best part of the day was going out for lunch for a big pot of steamed mussels and a bowl of french fries. Two people could have eaten the mussels - I couldn't finish them. It along with two beers were $27.50. After lunch I wandered down to the docks to watch the boats sail by.
I was back in my room by mid afternoon. And I was tired. I thought that I would take a nap and head out later. I never made it out. I woke about midnight to shower and get my PJ's on. Then I slept another six hours.
The hostel is very international: Italians, Germans, Chinese, Swedes and Danes. Two Swedes offered to sell me their car for $1900. It would be risky for me alone at that price. $1200 is the most I would want to pay. Car rentals are about $33 a day. A thousand NZ for a month - but it covers everything.
I'll be looking a bit around this city today and hit a bar tonight.

===============================

Subject: Swedes and a Car
Sent: Sunday, February 23, 2003 12:21 AM
From: Bill Sundstrom
To: Betty
CC: Dain
Yesterday afternoon I went to have lunch at Auckland's Skytower. The rotating restaurant is 225 meters up or 700 feet above the ground. As a flyer I have come to appreciate seeing the world from this altitude. Armed with guide I was able to identify a large number of landmarks. I also so the preparations for the America's Cup race, that was sadly delay until Monday for lack of enough wind. The lunch was good and I spent two hours rotating.
When I returned to the host I ran into the Swedish boys, Michael and Gabriel, who wanted to sell me a car. After a lot of thinking I had decided that it was too risky at their price. I let them know that I didn't think I could get it as the most that I would risk was $700 USD or about $1250 NZD. They were in fact open to the figure. I suspect because they had visited a car auction earlier in the day.
I joined them and two of their friends, Daniel and Magnus, in the kitchen where we drank a large number of fosters. While there the boys met two Swedish girls, Camila and Marianna, that had just arrived in NZ. After cleaning up a bit, we all headed out to a pool hall and then later to a bar/dance club. The crowd was mostly young and NZers but with a good sprinkling of foreigners - like me and my friends. A little before 2 AM I called it quits.
I only avoided a severe hang-over with tylenol and lots of water. By noon I was up and about. I met Michael and Gabriel a little after two this afternoon. I test drove and check out this 1986 Honda Accord. Driving on the left is weird but doable. We drove out a ways to a winery where they had a jazz band. Excellent wine, I bought three bottles. The boys really enjoyed it too, but I think that they are still hung over.
Tonight a pub for a bit. Tomorrow up and out of this city.
Love,
Bill

===============================

Subject: From the Middle of the North Island
Sent: Wednesday, February 26, 2003 5:17 PM
From: Bill Sundstrom
To: Betty
CC: Dain
Monday morning in Auckland, I went with Gabriel to transfer the car to me. By eleven I was on the road. There was a traffic jam to begin with but seven km. out things returned to normal. I guess there are only a few freeways in NZ. They are short and only give access to Auckland. I was quickly in the countryside, driving by cornfields and herds of cattle. I stopped for fruit and fresh apple juice at a farm.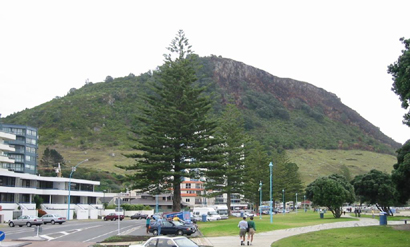 When I came to the Coromandel Peninsula I headed north along the west coast. The road hugged the sea that lay just a few meters to the left and large hills or mountains to the right. With this narrow, winding road and driving on the left (the wrong side) of the road - I found myself challenged and driving quite slowly and cautiously. I stopped once to take the pressure off and enjoy the view. I was astounded by the cicadas whose calling was so loud that it was hard to believe. After 60 or 70 km the road wound up into and over the mountaintops. I stopped at a shop in a little village to buy smoked mussels and fish. The mussels are so chewy that it reminds me of chewing gum, and they are so fibrous that they always fill the gap between my teeth. Finally I was on the east side of the peninsula. I was driving south. I stopped at Hot Water beach, the only place where one finds warm water in the seas about NZ. While I saw people swimming, the water is cold, like a Minnesota lake in late May or early June. The surfers are always in wet suits. So, why is the water hot here? Simple, at low tide dozens of people arrived with shovels. They dug holes in the beach to find the volcanically heated sands. And they were hot! I met people from all over the world on this beach: Canada, Holland, Germany, Denmark and NZ. I spent the night in a little B&B above this beach. I took the backpackers bed, and had the little cabin to myself. It was $25 plus $10 more for breakfast. I drove to a near by village that night to eat. The entrees were expensive ($24 to $30), and I got a sandwich and a beer for $20. I have to say the sandwich was outstanding. The old gent that runs the B&B invited me up for a chat after diner and a Bailey Cream.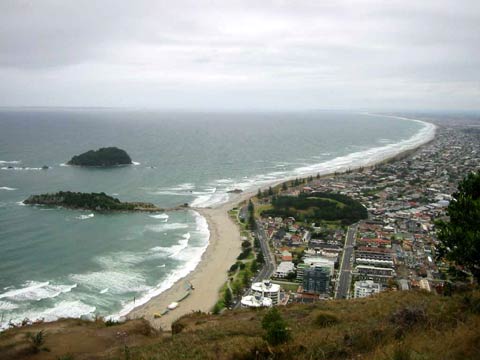 After a great breakfast Tuesday morning, I worked my way out of the Coromandel with its forests and mountains terrain. Again the cornfields and pastures full of cattle reappeared. And in short order, I was in Tauranga - with its immense port. Next to Tauranga is Mt. Maunganui and its beautiful little town. I hiked to the top of the 232-meter (700 plus feet) mountain. The wind blew maddingly with little bursts of rain droplets. The view from this altitude is always a joy (see attached photo). I checked into a campground cabin that night. I ate at a great and inexpensive restaurant on the bay. It is a Sportsmen's Club that is open to the public. After that I saw a movie - The Hours. The storyline was a bit disjointed but the entire cast gave acting performance of outstanding quality. My final stop of the evening was a little pub. It was not going strong, so I only had one beer before heading back to my cabin.
Yesterday, first I drove to Rotorua. It didn't take long to get there. The odor of sulfur permeates all in the city. I sat for a while on its beautiful lake. Then I drove to a park full of steam vents - blowing their hot, steam, sulfurous streams upward. I continued south. As I neared Lake Taupo, I stopped to view the beautiful Huka Falls. While it does not fall very much, it passes through a narrows. The increased speed and fall makes for a beautiful sight. When I got to Taupo, it took forever to get a room. The town is full of competitors for an International 'Iron Man' contest. I did some grocery shopping, and then did my laundry. In the evening I went to an Irish Pub that was really hopping. The live music was great. I headed for my rooms fairly early, just about midnight.
I have a slight cold. I just came down with it yesterday. Traveling alone has not been as much fun as it was in SA. Except for its NZ has not been anything like I thought: huge numbers of foreign tourists and high traveling costs. But I also get the sense that it is a glorious place to live and raise a family. There is a slowness and peacefulness that is easy to see.
I read Cold Hear Canyon. That has got to be the weirdest book I ever read: ghosts, monsters, and weird sex. Is Clive Barker the same guy that wrote the Harry Bosch stories? I also fished the first of those Ludlum books. I am really glad that you copied those 20 books for me.
Well I'm off. I will try to attach a couple of photos. Unfortunately, I could not reduce their size.
Take care and lots of love,
Bill

===============================

Subject: From Nelson - Sunday, 2 March 2003
Sent: Saturday, March 01, 2003 9:07 PM
From: Bill Sundstrom
To: Betty
CC: Dain
Sorry, once again I seem to foiled on getting pictures on to the PC at my disposal. And forgive the spelling errors, once again no spelling checker on this machine. I guess that I have a lot to report. I'll roll through it day by day.
Thursday the 27th:
I after sending off my last message, I drove to Lake Taupo and just enjoyed the view. It appears to be about 50 km. long. Then I drove south along the lake stopping here and there to enjoy the views. Soon after breaking from the lakeshore, I wound my way up to plateau that was dominated by the majestic Mt. Ruapheu. On the west side I turned up a road that lead me 12 km. up the side of the volcano. Although I did not reach the top I know there is a crater lake there. The ski lift running to the top was not working due to high winds. But the area I reached was amidst a lava field, strewn with sharp angular rocks that were still un-weathered. It was clear that an eruption in the not too distant past was the cause. From here I worked my way through some beautiful river valleys. The pastoral scenes were peaceful and beautiful as any. The traffic on this road was light, so I did not feel the need to hurry. About six km. fro the sea I found the town of Wanganui. The room I took has a good view of the Whanganui River that widens as it approached the sea. This was another of comfortable little towns in NZ. I went out for a couple of beers in the evening. The bar was full of the usual suspects: the young, restless and uncertain.
Friday the 28th:
The road to Wellington was of little interest. Wellington is the second largest city on the north island. It does not have the sprawling look of Auckland, because locked into a small land area between the sea and the mountains around it. I heard that much of Wellington was a swamp until an earthquake in 1855 raised the basin six meters and the swamp drained. I looked all over for accommodations; it was impossible again to find what I wanted. Finally I took bed in a dorm room at Beethoven House. With no security (no locks) and the dorm room lay out I went look for accommodation for Saturday and found none. I met some Swedes that I met in Auckland who knew the guys I bought the car from. They are Oskar, Niklas and David. We walked a few blocks to Courtney Place. The street is about five blocks long and is crowded with bars, restaurants, clubs with live and disco music. The streets that abutt Courtney Place are much the same. From early evening on the sidewalks teamed with people out to enjoy the evening. The bars and discos filled quickly and where there were dance floors, everyone seemed to be gyrating. David and Niklas disappeared. Oskar has a wonderful way with people and a charming approach to meeting them. He was fun to be with and drink with. But after four beers, and much dancing was tired about 1:30 - so I headed back to the hostel and left Oskar to party until dawn. As I lay in my bed with those four other souls in the room, I just could not sleep. I swore that I would look for another place again - even if cost five times the $20 that I had put out for Friday night.
Saturday, first day of March 2003 Unlike most other backpacker places this one included breakfast between 8:30 and 9:00. It was strange to see so many of the residents of this not so big house in the garden at that hour. Even Oskar showed up on a couple of hours of sleep. I must have slept some in the night but I have no idea when. I was tired and felt hung-over not from the beer but from the lack of sleep. I had a nice talk with Annette, a German nurse who was taking a long holiday. Speaking of Germans, there are so many here that they are at least half of all the tourists here. After breakfast I called the Bluebridge ferry service to book on the cheapest ferry to the south island. Most crossings cost about $280 (outrageous, no?), but there service is $150 ($110 car and $40 per person). The Swedes who often take the ferry to Denmark agreed with me that most of the fares are quite high here. But Bluebrige wasn't to bad. The ferry booking solved my accommodation problem: it was either 3:00 am Sunday (18 hours hence) or next Wednesday afternoon. I decided to take the night ferry. I packed and loaded the car. I could return to the house anytime before I left to use the facilities.First thing I did was drive to the top of Mt. Victoria (196 meters or 643 feet). From here you can view where most of the 210 thousand soles of the city live. The bay widens as its long slender inlet wraps around Mt. Victoria. The city with all is large and small buildings can be seen along with incredibly beautiful bay. I loved to see the planes landing at the airport, as their flight path brought them so close to the mountain and they were always below on final. While I was watching a jogger arrived. She spent just 45 minutes running and climbing the sixty stories from the bottom to the top, amazing!
From the mountain, I went to the Te Papa National Museum. I skipped the Harley-Davidson and Lord of the Rings exhibits and concentrated mainly on the Maori exhibits. It took more that three hours to move through the Maori and other NZ exhibits.
As I headed back toward the hostel I once again was on Courtney Place full of late afternoon shoppers and those enjoying a coffee or drink at the many outdoor tables. On a side street I found a block party going on. Food stands abounded and in the center of the block was a talent contest. I watch two groups of dancers contenting. One was a group of teenage girls doing a fun synchronized dance routine. Then I saw a group of costumed Chinese children dancing some traditional dance.
Back at the hostel I broke out a bottle of wine, some cracker and sausage to take the edge off. I played a couple of games of Chess with Nathan. And I talked and talked with some of the folks I had met in the hostel: Gabriella the Czech, and Hanna and her man from the UK. Oskar and I exchanged email addresses. At 9:00 I headed into town to eat at Chevey's (do you believe it). After I headed to the same street where I had seen the talent contest. A Latin band was play dance tunes. Dozens of couples danced while hundreds watched. I danced and had a lot of fun. Just before midnight I headed for the ferry.
So far on Sunday: I got in line a little after midnight and got my boarding passes. I fell asleep in the car. They woke me about 2:30 to drive on. I found a berth and slept from 3 to 5 AM when they woke me. After a cup of coffee and a meat pie we docked. I was driving in the night air to Nelson by 6 AM. The dawn came quickly as did the light of day. But I was too tired to drive much more that one hour. I pulled to the side of the road and slept and hour or two. Feeling better I made my way to Nelson to find a B & B. This place is more expensive, but I will sleep well tonight. After a shower, again I dozed and hour and a half. I have been working on my journal since then. I will walk to the center soon. Nelson is the second city on the south island with some 53,000 inhabitants.
Take care.
Love,
Bill

===============================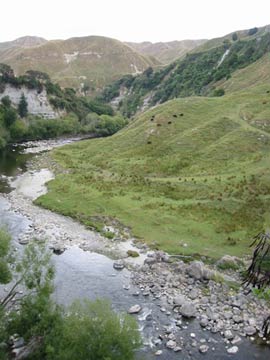 Subject: Two photos
Sent: Monday, March 03, 2003 12:07 AM
From: Bill Sundstrom
To: Betty
CC: Dain
Got it to work here.
See attached.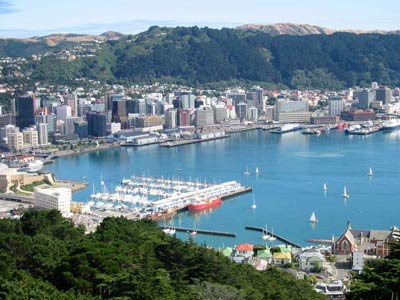 ===============================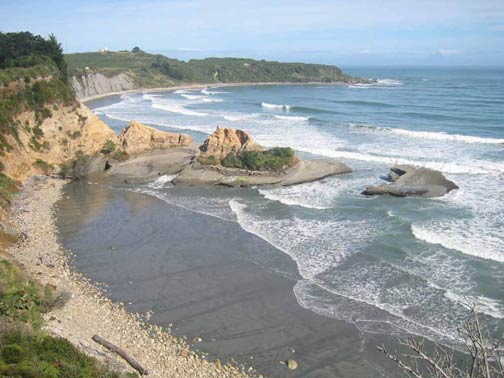 Subject: 6 March 2003 - Greymouth
Sent: Wednesday, March 05, 2003 10:52 PM
From: Bill Sundstrom
To: Betty
CC: Dain
Just a note about the weather: It has been glorious since I got to Nelson.
While I have seen an occasional shower, it has mainly been very sunny and warm in the 20's celsius every day.
I am going to stop say how beautiful everything is because the natural beauty of this county is overwhelmingly present in every moment.
Here's what I've been up to the last few days:
Monday, 3 March 2003 in Nelson
All day long I toured a dozen or more wineries. They were located to the west of Nelson and Richmond, some 20 to 40 km from my B&B. I enjoyed it a lot. I seemed to be talking a lot about wine with the clerks running the cellars. The wine is good. They are particularly proud of their Chardonnays and Pinots. I have no idea what they cost back home, but they are reasonable to inflated in price here. No cheap, good wines like in SA. It started to rain about 5:30, so I headed back to Nelson. I ate at the pub across from the B&B, my second night there. Roasts are getting to be my daily fare here, not the healthiest but cheap and tasty. I had some great chats with the locals and a visitor from the UK. I've noticed a lot more folks from the UK on the south island and a lot fewer Germans.
Tuesday, to Westport
I drove to Westport. I picked up a big bloke of a hitchhiker called Joe. He represented a typical mentality in NZ that I have noticed, that being not very concerned with money and the modern world. I thought him to be an extreme case, but it is clear that folks here are concerned with the good life and that does not necessarily include wealth. The road wound its way through the valleys and ravines the cover the landscape. In the end it followed the Buller River to the coast. After getting a nice room for $35, I drove 30 or 40 km. north. The country was pretty but nothing special for NZ. I notice that the cows graze right to the beach. Yes, the beach is barren here with little or no development. The sea looks incredibly powerful here. Huge waves are always pounding the shore.
Wednesday, to Greymouth
I really took my time to cover the 60 or so km. I covered going south. I stopped at a lighthouse, a seal colony, and where the sea blows at the pancake rock site. In Greymouth I ran into Oskar. We exchanged info about our trips. He is head for the glacier on Thursday and then to Queenstown for the weekend.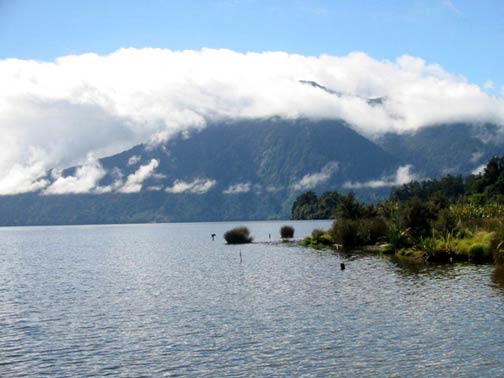 Thursday, Lake Brunner
The sun has been brilliant all day long. For the young looking for a bit of adventure NZ has loads of it from bungee jumping off cliffs and bridges to whitewater rafting or climbing glaciers. And due to your advice I might try something but no bungee jumping. I really don't see it as an adventure capital. Today I drove to lovely valley dominated by Lake Brunner. I often stopped along the isolated south shore to enjoy the views. One thing I noticed was the lack of birds here. There are so few that fly and I rarely see a flightless bird. The cicadas sing all the time, but one rarely hears the call of a bird. The lake had no fishermen on it. This could be due to the $80+ annual license fee or the low trout population. On the north side of the lake I stopped in the only village on the lake, Moana. I had a nice lunch and spent a long time just enjoying the view of the lake and the mountains. I did see one boat as I ate.
Got to run. I will write again soon,
Love
Bill

===============================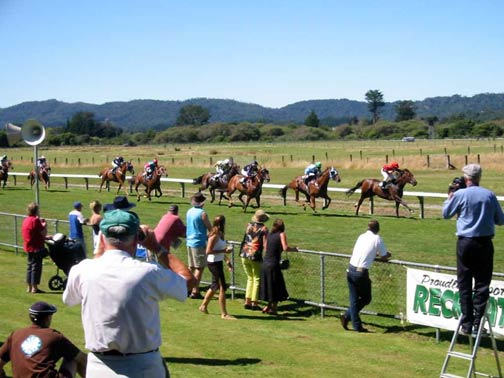 Subject: Wildfoods Festival
Sent: Sunday, March 09, 2003 6:24 PM
From: Bill Sundstrom
To: Betty
CC: Dain
I have finally warmed up to NZ. Each day on the south island has been nicer - at least 'til I got to Queenstown.
Friday, 7 March 2003
Glorious weather continues. I couldn't find a river trek so I decided on Shantytown and a race meeting. Shantytown is another of those tourist villages that shows life at the turn of the century here. They had lots of artifacts and building either moved or built on site. The best of it was a steam locomotive used in the local coal mines and the rest was good.
The race meeting was super. I arrived during the 3rd race. There were a few hundred people there. It was laidback and really fun. I watched one race, looked at the horses as all could be viewed. Then I saw the next group in the paddock. I asked questions and listened to what folks had to say. I picked my winners and started betting. I bet on nearly every race to win and some to place. Some I lost and some I won but it was always fun. And the view of the mountains, clear sky and people just added to my enjoyment. I ended with winning a $10 bet to take home $43. Great!
In the evening, the pubs in this little town were rocking. I'm sure it was partially due to some of the people in town for the racing on others for the food festival. But it was fun - live music, dancing, and drinking!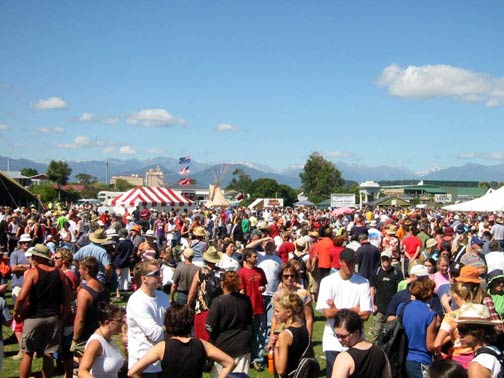 Saturday, 8 March 2003
I had another great breakfast in the guesthouse; probably a mistake because of all the food where I was headed. Another little town of the west coast is Hokitika with 4000 inhabitants. It sponsors a Wildfoods Festival every March. Some 21,000 visitors descend on the town square for a wild time eating wild food. Admission was $12.50. Once on the grounds there were ten or so circus-style tents, each with dozens of vendors. For $3 to $6 one could find dozens of wild taste treats: venison, woodworms, wild boar, fish, abalone, scampi, etc. NZers love their brew and beer was the favorite drink - but some wine is up-and-comer here. There were two stages with music. People sat on the ground picnic-style for the most part. They enjoyed the company of their friends and the accidental encounter of an old friend. The food and music was great. The crowd was beautiful. NZers seems to have more tattoos and piercings than any place. Perhaps it's the influence of Maori. Some clowns and actors worked the crowd. In the mid afternoon I stretched out in a spot with my eyes closed to rest a bit. Next thing I know a ten-foot ferry was squirting me in the face. Kathleen, a woman sitting near me has convinced the stilted clown to surprise me. I talked a bit with her and Donna then they invited me to hang at her place at the end of the festival. The high point of the day in music was a Rolling Stones look-a-like group. They sounded great and looked good too. Throughout the day I talked to a number of people and had a great time.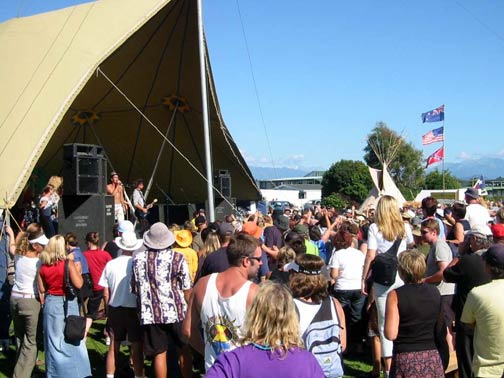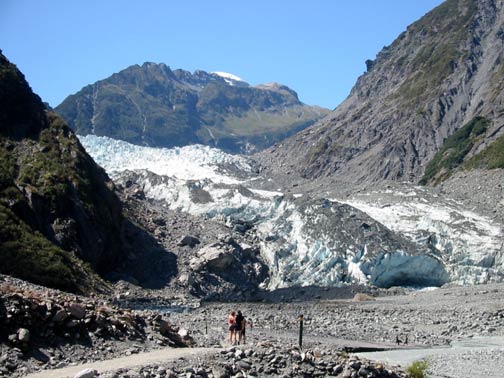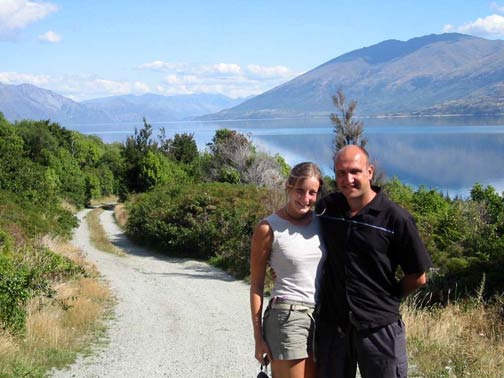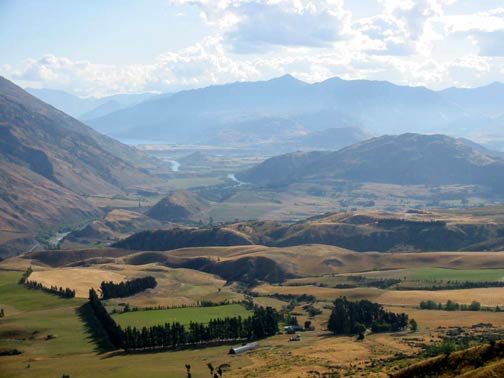 I arrived at Kathleen's about 6 PM. I had intended to hang until the festival dance started. Donna was there, as was Tricia and Red, Kathleen's sister and her husband. Another of Kathleen's sisters was also there who one might have thought at first must be a lesbian with here short cropped hair, purple t-shirt with a womyn's saying and then here saying something about needing a wife. But later I thought not. She had several children and grandchildren, and she worked as a handyman. Like many in NZ she only wants to work part of the year. Kathleen had been working at a car-rental place the last two years. The only way that was possible in such a small town was the huge number of tourist now coming to the west coast. I really enjoyed talking to them. The conversation and music was extremely relaxing. Red was a real trip, a biker in the scrap metal trade from North Palmerston. He had graying reddish-blonde hair and a Mitch Miller beard. Like all bikers he had some righteous weed. Not to be the ungrateful guest, I felt obligated to give it a try. I so seldomly partake that the few hits I had got me real wasted. He had some good stories too. I especially liked his talk of the road trip he took to Sturgis and throughout the western states in the USA. Later Jerry and his girlfriend joined us. Another biker he was a bit more conventional than Red. He was a building inspector with three years to retirement - almost a kindred spirit. He also builds homes for additional income. Donna told several good stories including the best of the evening. She and her husband own a hobby farm of 25 acres. They rent most of them to a nearby farmer. Anyway, it seems they were inundated with a flock of wild turkeys that were laying havoc to their digs. So they got out the shotgun and proceeded to massacre the lot of them. In the end there were a flurry of feathers and dead caucuses. It was an unhappy mess for them. We just laughed and felt a bit bad that they didn't even eat one of the birds. She also mentioned that the possums were a problem - I see dozens of them dead on the road every day. Red gave me a peek at his and Jerry's Harleys. Jerry's was particularly cherry. He had manufactured some nice trim pieces that no one else has. Later we ate fish and chips. Unfortunately I was too loaded to go to the dance as planned.
But about midnight I head down to the beach. The beach was incredible. More than a thousand were camped out here. About every 30 or 40 yards in a zigzag pattern and for more than three kilometers I could see bonfires of huge logs and small groups keeping warm around each fire. Near one of the bars close to the beach was a band playing hard-core rock. I listened and danced a bit. Then I check out of the several pubs still going strong. I met Jacky from Christchurch. She said to look her up when I get there and I probably will.By 2 AM I had had enough. I headed for the car to sleep 'til morning. It was cold with just one blanket - but I made out. At 7 AM I was so cold that I decided to drive.
Sunday, 9 March 2003
I headed south again. This may have been a mistake, because I have been really enjoying the west coast. I drove a couple of hours but I was too tired to drive anymore. I pulled over and let the warmth of the day put me to sleep for a couple more hours of sleep. I stopped at both the Franz Joseph and Fox glaciers. I picked up a pair of hitchhikers, Ben and Becka along the way. The lakes and mountains and valleys on the way to Queenstown were magnificent. The place has the feel of Wyoming only with large lakes. The valley where Queenstown lies is extremely beautiful.
Again accommodations in my price range were tough to find. Strange the town has 15,000 guest beds and only 7500 residents. The place has so many tourists that you'd think you were in Disneyland. Yes, there are lots of rather expensive things to do here. And it is picturesque with steep hill you might say it was like San Francisco with homes hugging the hillsides.
Well, I just cannot hang out here. Perhaps I can find something nice nearby. It is just touristy.
Well that's it for now. Take care and write me.
Love,
Bill

===============================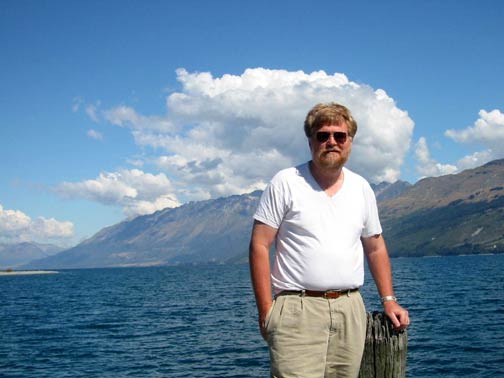 Subject: Five days to Christchurch
Sent: Friday, March 14, 2003 7:44 PM
From: Bill Sundstrom
To: Betty
CC: Dain; Birgitta
Having problems with Hotmail - had to use Yahoo. Don't send messages to this account, use the hot mail account.
Last Monday after I sent you the last long email and before I headed south again, I drove about 40 km to a lovely little village called Glenorachy. The way along the lake had stunning views of this highland area. While passing back through Queenstown I picked up an Israeli hitchhiker. He rode with me to Te Anau. Along the way we stopped to look at the Kingston Flyer a great old steam engine the carried travelers about 20 km to Kingston in a train from the early 1920's. Te Anau was another disappointment. It is another city the just services tourist on their ways to the fjords. I met Yaron, the hitchhiker for diner in the evening for some good food and conversation.
Tuesday, 11 March 2003
I find that it is extremely expensive to be a tourist here. Here are three examples of things I would have done but the prices were quite high: (1) Forty-minute scenic flight - $180 per person; (2) Cessna seaplane to Milford Sound and back - $360 per person; and (3) a daylong excursion to the Doubtful Sound by boat and bus - $180 per person. It was a beautiful, almost lonely, drive to Invercargill. I passed through the villages of Tautapere and Rivertown, and I occasionally left the main road to find a quieter side of NZ and see a lake or a place like Monkey Island. The place that I booked into was a nice B&B for $45. Diner was good and the pub after was better. I met a couple of locals and then a strange bunch of sales people. They were selling some sort of holiday packages. There was Garret, Rochelle, Liz, Julian, and Kiri. I also met a swiss guy called Patrick. I got his email. we may travel together in Australia.
Liz is an interesting mix, the product of a Jamaican and a Canadian Indian. She told the best story of the evening about her adoptive father, now 79. It seems that during WWII he was about 21 and fell in love with a 16 or 17-year old girl. They married and she got pregnant just before he went to war. When he returned she was gone and her father would not say to where. Later he discovered she had gone to America and he searched for her in the states for years. Finally, he move to Canada to marry another young girl. Eventually this couple adopted two children. One of whom was Liz. Liz and family moved from Canada to Florida then some 20 years ago, her father moved the family to New Zealand. Then a couple of years back the 53-year old progeny of the first marriage decided to find her father - and she did! She and her mother came to visit in New Zealand. They had been living in Alabama after immigrating to the USA. Well, the old couple - it seems - still had feelings for each other. So after 50 years they remarried. He says that when they are in bed together at night he feels like he is 21 and she is 16 all over again. What a great, great love story!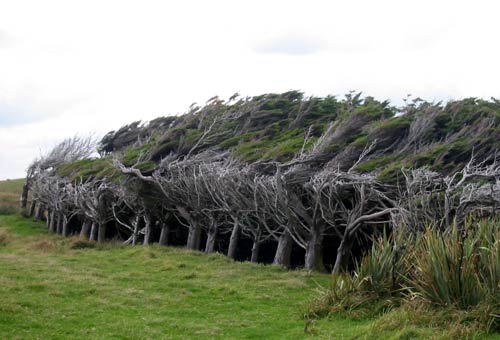 Wednesday
I drove the scenic route north through the Catlins to Dunedin. The way hugged the coast for the most part. Someone told me that just about 5% of the NZ population lives in the Southland and they produce more than 20% of the GNP. If true, it has to be mostly from the agriculture. All the land is used for pastures, principally occupied by millions of white woolly lumps called sheep. Yes, I saw lots of cattle too. The natural beauty of the land and sea is never ending here.
I arrived in Dunedin about 5 pm and got a room at the Kiwi Nest with TV and bath for $50 a night. I went to a pub and ran into Allan - who I met in Invercargill. We chanted and drank and exchanged email addresses. I talked to several people in the pub and was harassed twice about Bush's impending war. Once again, the ugly Americans are at it. Someone asked if I wasn't worried for my family. I said no that I thought most of the fear mongering was just a way to whip up war hysteria. But I am a bit concerned for Birgitta and the family in NY. The war will make us the enemy of many like during Viet Nam and they just might come to NY again.
About midnight I was going to call it a night. Then on the way home I discover that this was a University town. A huge crowd in front of student bar drew me. I had a great time dancing. About 2:30, exhausted I called it a night and slept late the next day.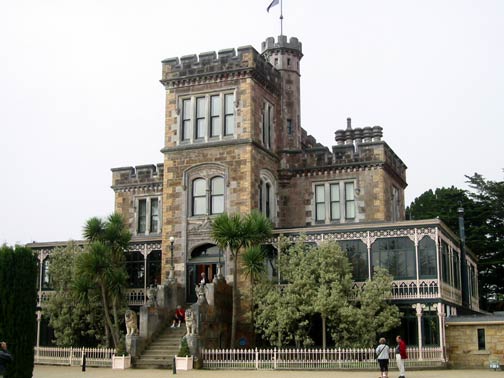 Thursday, 13 March 2003
I drove to the Otaga peninsula to see the sights. One of which was a castle or - at least - what NZers call a castle. $14 admission and it was more like a 1890 mansion. But the view from the roof was incredible. You could see the entire 30 km long peninsula. Due to a very small fender bender I damaged the bumper of my car.
I had planned to pack it in the evening, but things did not quite work out that way. I was sitting in the Kiwi Nest lounge relaxing, chatting, and watching TV. There was a group of women there planning to go out, and soon I found myself invited along - an offer that I rarely refuse. There were Dinica (Holland), Nu (Samoa), and Kate (NZ); all of whom work as cutters in a local salon. Then there were Dinica's two Dutch friends, Josie and Renne. On our way out I ran into the Swedish boys, Oskar, Lukas and David, again. They didn't join us but head for one of the many crazy student bars. In any case, I left the ladies at the bar to their partying ways at 1:30 AM.
Friday, 14th of March
After getting the car fixed, I headed north the five hours to Christchurch. This route was filled with farmland, mostly flat pastures - but I saw some cornfields as I neared Christchurch. I got in about 3:30. Once again it was impossible to find a room, but finally three hours later I located a room for $65 a night. I called Kiri a woman that I met in Invercargill - she was suppose to be in town and would show me some of the city and we would watch a rugby match. We talked and she was to ring me back with where to meet. But some how it didn't happen. So I headed out to see the second half of the match at a huge and great Irish-style pub at the Warren Hotel.
I ordered the lamb-chop roast. As I waited for the food, a group asked to sit at the other end of my table. No problem. Then I noticed the 'father' of the group had a 'Point' t-shirt on. 'Hey,' I asked, 'are you from Wisconsin?' And they were! Later I went to the Loaded Hog - great bar with a slightly older crowd. An hour or so later as I walked toward my hotel - I saw lots of people in the streets and I passed dozens of bars full of patrons drinking and dancing the night away. They really like their spirits here! They love to dance and sing along with the tunes. Before packing it in I stopped at one more bar, Sticky Fingers. Great bar names, eh? At 2 AM I was done in and left the revelers to their just rewards.
I have no idea what I will do today. I will let you know how it turns out. I will stay here one more night then head north. I think that I will go back to the north island for one more week. I probably have seen enough, but I would like to visit with Merv for a couple of days before going to Australia. And it will probably be easier to sell the car in Auckland.
I will call on your Saturday or Sunday.
I think they will start a war next week. Try to call the reps and tell them no. I guess we will have to take it to the streets again. I was hoping those days were over.
Well take care and much love,
Bill

===============================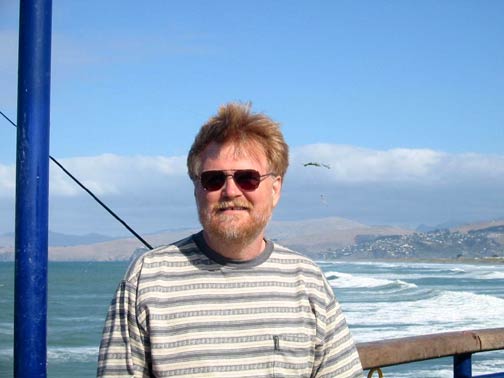 Subject: On my way to the north island
Sent: Wednesday, March 19, 2003 2:42 AM
From: Bill Sundstrom
To: Betty
CC: Dain
I continue to have problems with hotmail.
And I cannot get yahoo to attach photos.
Saturday Afternoon, 15 March
I took three French girls on a short drive through the Christchurch and then to Brighton beach. The city is the largest on this island with about 350,000 people - but it really isn't all that big. Outside the center are a number of very nice suburbs. Most homes are post WWII bungalows, with metal roofs and no basements. They are just as likely to be stucco as wood clad. The beach was beautiful with a few swimmers, surfers and kayakers. I even saw three guys riding water skido's over incredibly big waves (8 to 12 feet). They would go airborne as they crested a wave. After dropping the ladies off in town, I drove to another beach on my way to Lyttleton, which is a great little port town.
The evening was pretty much a repeat of the night before, except I diner with the French ladies (the two Stephanies and Kristineau). I hit the bars after diner and packed in fairly late. Near the end of the evening I ran into Oskar for the last time here in NZ. Some drunk destroyed their car in Dunedin. They are flying out of Christchurch on Monday.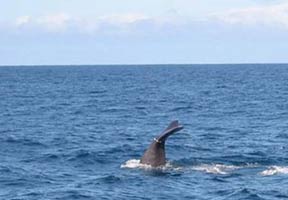 Sunday, 16 March
I drove north to Kaikoura for the whale watching. The excursion was expensive ($110) but I wanted to see what I could see. We saw three large sperm whales, a pod of Orcas and a huge pod of Dusky dolphins. The Orcas were hunting the dolphins. The boat ended up being in the middle of the pod of dolphins with 60 to 100 frantically swimming about while I am sure the Orcas were feeding below as they had disappeared. I drove on to Blenheim for the night.
Monday, St. Patrick's Day
I did a tour of my own to a dozen or so Marlborough wineries. I love visiting wineries. I was pretty toasted by 2:30 so I ate at the last winery's restaurant. The fish was great and helped settle my stomach and mind.
Then I drove to the ferry in Picton. On the boat I met Anthony, a jazz drummer. He was headed for a big jam session with a bunch of player who were giving a farewell party for one of their own. He invited me to come listen.
In Wellington I checked-in and headed down to Courtney Place to drink some Guinness. The beer was great and the Irish bars were full of drunken would-be Patty's. It was not as good as I had thought it would be. Eventually I made my way to the Bar Bodega, where Anthony was playing. The music was great and the crowd was very different.
Tuesday, 18 March
Before leaving Wellington, I checked the electoral roles for Aaron's sister. I had no luck in the Wellington area. I also drove through Lower Hut to get a feel for the place she once lived in 1975. I continued my way north and eventually diverted a bit to Palmerston North, where I visited Red and his Wright Metal Works. It was good to see Red again. He gave me some great advice on places to visit on the north island. Then I headed north again, picking up a German hitchhiker. I left him off in Hastings and I continued to Napier. What a lovely city!
I got a room in a very old prison that has been converted to backpacker accommodations. I declined the cell, but it is cheap just $30 a night. After diner, I went to a couple of bars and met Michael and his fun girl friend, Treina. I found a list of local wineries, and Michael gave advice on which one to visit. I also met three drunk fisherman on their way to a whore house, what a mix!
Wednesday, March 19, 2003
I visited a dozen or so wineries in this the Hawks Bay region. I did drink all that much but it was a glorious day. The sun shone bright and hot all day long. The countryside and vineyards were utterly lovely. Overall a great and relaxing day.
I am not sure if I will continue north or not tomorrow, but that is the likely event.
I will visit the east end of the bay of plenty before going back through Auckland again. I may visit the area north of Auckland too. We'll see. I will need to sell the car in Auckland.
Hope you enjoy the photos.
With crazy George about to blow up the world, take care of yourselves.
I miss you guys.
With much love,
Bill

===============================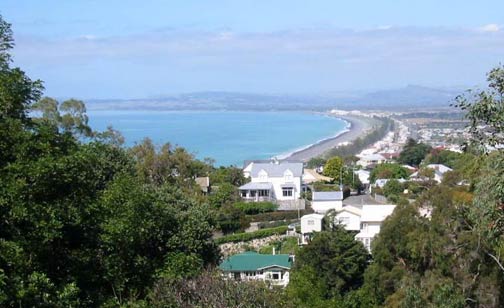 Subject: Back in Auckland
Sent: Saturday, March 22, 2003 8:36 PM
From: Bill Sundstrom
To: Betty
CC: Dain
I made some friends in Napier. Michael was the best of them. I had a great time drinking in his bar and met several of his friends. On of his pals, Nick, wanted me to stay on and I would have if I had met him when I first arrived, but I needed to press on.
Thursday, 20th of March
I got a late start, but drove through Gisborne to Whakatane. The drive was another beauty especially the gorge north of Gisborne. In the evening I saw a really great NZ film called Whale Rider. It is a Maori story about the changing life of the Maori in modern day NZ. I rate this as better than 4 out of 5 stars. Be sure to see it, if it comes to town. It is the kind of film you might find at the Film Society's spring film festival. After the film I spent some time in the bar below my room (just $25 for the night) in the Commercial Hotel. There were a lot of locals in the bar and most Maori. It was great people watching and I talked to a few several people. I really enjoyed the evening.
Friday, 21st of March
I pushed on to Auckland. There was nothing spectacular to see along the way, just lots of farms and some small towns. I pulled off Highway 1 about 6 km. South of the city center, and called the three people I new in town for advice on accommodations and I set up a date to me Jeff Roberts at the Auckland version of the Loaded Hog down in the basin viaduct. I did find a nice B&B for $50 a night that has all the services I like to have, including Internet access.
Jeff Roberts is an American friend of Mary and Judy's who has been living in NZ for about twelve years. I headed down to the city center and connected with Jeff and his wonderful sweetheart Isabela. Isabela is Brazilian beauty, who has been living in NZ a little more than a year. It was great getting to know them over a beer. Soon we were heading for a nice little Asian restaurant for a light supper. We agreed to go out boating on Sunday. They had to catch the ferry back to Devenport at 9 PM and were off. I stayed down in the basin Viaduct area checking out a few of the dozens of bars. Like the rest of NZ they love their brew here. I was done in by 2 AM and called it a night.
Before continuing, I want to tell one of the stories that Isabela told me - the story of how Jeff and Isabela came together.
Saturday the 22nd of March
It turned out to be my best day in NZ - just glorious. I called Merv just before noon and set up a meet for 10 AM Monday. Then I called Jeff to set something up. Jeff said come over ASAP and we'll go fishing. I hurried on over and we put out on the Hauraki Gulf to a spot near the Rangitoto Island. A beautiful day was on with the sun shinning, and with a clear, blue, calm sea. I am not a great fisherman but caught one small snapper, while Jeff caught a dozen of more. Trouble was only one was a keeper. Jeff usually fills out with a limit of nine keepers. We headed back in after a few hours of drinking beer and having great conversations. It was low tide and we almost didn't make it in. We jumped into two feet of water only to sink another foot-and-a-half into the mud. Finally on shore we made our way back to Jeff's place to clean up the boat and ourselves. Isabela fixed the fish, a salad and rice, while we all drank wine. Isabela told me another story. She is a great storyteller. Diner was lovely and the conversation oh so pleasant. I copied a disc full of Argentinean and Brazilian music on to her laptop. This glorious day was not yet, so I headed back to my room to change and go downtown for a couple more hours of fun dancing.
Sunday Morning
Best thing is that I sold my car. We will close the deal tomorrow morning. I hope the closing does not interfere with my meeting with Merv. Later today I will visit the O'Connors.
Well that's all for now. I will try to write one more time before departing NZ.
Much love,
Bill

===============================

Subject: Last days in Auckland
Sent: Monday, March 24, 2003 8:31 PM
From: Bill Sundstrom
To: Betty Cassady
CC: Dain Sidney Sundstrom; Birgitta June Sundstrom
Sunday afternoon the 23rd of March
I headed over to the north shore once again to visit Judy and Robert's friends, Marion and Brian O'Connor. They live in lovely home in Birkenhead and they have a fantastic view of the city. They are a pair of retired technical schoolteachers that have traveled much more extensively than I have both here and abroad. I am sure that it will be many years before I can claim to have seen as many places as they have. The conversation for the evening centered on travel and some immigration. I discovered that I missed many great places on these islands. So, if I ever return I will have lots to do and to see. The talk on immigration was much the same as what I have heard in NZ. People here are against it, and even the O'Connors had little good to say about immigrants. But on there block with 24 homes, eight are occupied by Asian immigrants. They like theses folks and get along with them very well. And that appears to be the contradiction of this country. They are losing population and desperately need immigrants, and even like and respect them on a one-on-one basis. On the other hand, they don't want to see any more coming here. Crazy, eh? Even sounds a bit like back home, eh?
I left about 9:30 PM and headed back to my B&B in Green Lane.
Monday, the 24th of March
I met up early with the Indian fellow that I sold the car to. We went to the post office and transferred the registration and got my $1100 NZD. So the car cost me $180 for the month and a gas cost of $509. The total cost for the month was $390 USD.
He and his friends dropped me at the Auckland Museum. I finally got to see my cousin, Merv Hutchinson. It was really good to see him again. We had coffee and he showed me a bit of the museum. Then I caught a short but very well don performance of Maori singing and dancing. Afterwards I took two or three hours to fully explore the museum. It's best parts are the war memorial and south pacific sections. It was well worth the time spent.
Then without a car, I had to do some walking. It was about 2km into the city. I was going to check on some visa stuff at the Australian consulate, but the wait was way too long and I split. I went to a travel agent and set up my flights to Sydney and Bangkok. I got a very good deal for the two long flights with a total cost of $1120 NZD ($635 USD). After a quick Mexican diner, I headed back to finally say in early for an evening.
Today, the 25th
First I packed and moved from one B&B to another in the city center and the cost was just few dollars more at $55 per night. Then I trekked into the center to pick up my tickets and to get a refund on the ridiculously expensive ticket they forced me to buy when I came to NZ. Of course, I lost $75 USD on the refund. I sat at the waterfront enjoying the sea and sun while I wrote in my journal.
Two more nights and I will be heading for Australia.
I will try to do a summary on NZ in the next couple of days.
Take care and much love,
Bill