===============================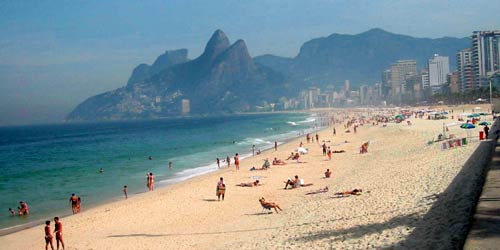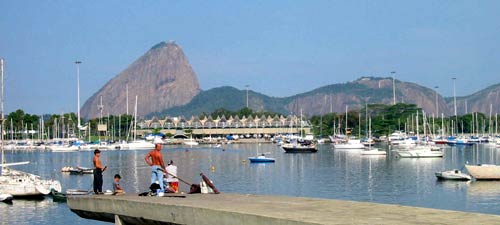 Subject: Rio de Janeiro and more
Date: Wed, 05 Jun 2002 10:07:34
From: Bill Sundstrom
To: Betty Cassady
Cc: Dain Sundstrom
Attachments: Impanema.jpg, SugarLoaf.jpg, VilaVelha.jpg
Friday, May 31st:
I walked about five miles along the shore from Ipanema to the far side of Copacabana. It was a very hazy day, as I have said before, it is very humid here. Still it is was sunny and very warm about 80 (26 c). I stopped to enjoy the few on the rocks at the end of Ipanema on Pont do Arpoador. The beach of Copacabana seemed even grander. On thing is for sure, while South Americans seem in almost every way European, one way they differ dramatically is in beach attire - there is no topless swimming for women. Both in Ipanema and Copacabana the buildings are mostly newer, less than 50 years old, and tall - like 10 stories or more. You feel like you are in a man-made canyon. Then the rocks jump from the ground to form mountains amid the buildings. The rock formations can rise from a few stories to more than 3000 feet. Formations like Sugar Loaf could be even taller. When I got back to my hotel in the late afternoon, I decided to try swimming and lying in the late afternoon sun. The water felt cold for an instance, after all this was winter. But it was warmer than most Minnesota lakes in early June. I struck up a conversation with a teenager sitting next to me on the beach. Seems that she is a high school student from Texas here while her dad is on a one-year assignment. Asked here about clubs, and sure enough she knew one that I went to later that night. I was an English pub called Lord Jim's. I ate mash potatoes and beef stew. Then the beer drinking started. The waitresses were geared to sell beer. After five I just could drink another. The big talk in the pub was all related to the world cup. Thank goodness there were some English speaking people here. I find that not many people speak English here. And I think Portuguese is just impossible to understand in short bursts. I can barely understand directions. If I had a month here and I wanted to learn it I sure it wouldn't be a problem. I kind of miss not being able to hear classish. Usually I can speak classish to people and many understand me, but I never really understand totally their response.
Saturday, June 1:
I explored some of the central part of the city, based on a walking tour published in my Lonely Planet guide, which has turned out to be one of the best guide books to use here. The city is again mostly high-rise modern structures built in the pas 45 years. But I found some great old public building and public areas, as well as an older - more rundown area. In this area you could get a feel for what life must have been like in this city a hundred years ago, with mostly two-story Portuguese colonial architecture. Between the incredible natural elements of lagoons and rock formations, the city is truly a marvel. I went back to Lord Jims; don't ask why, because I don't know why. But again there was a bit of that mysterious serendipity that seems to follow the traveler open to it. I met Miguel Sciaudone. Miguel is a 30-year old American and a Brazilian who has live most of his life in the states. He speaks fluent Portuguese. He is interested in flying so we talked about how he might get inexpensive training in Argentina. Then some how we decided that he would accompany me back to the states. He will share the gas costs. He knows a lot about this country, so in every way he is a godsend. I stayed up way too late.
Sunday, June 2:
I was dragging all day long. I had only gotten a couple of hours of sleep. I just could seem to nod off. Later in the day I fell asleep slept into a bit in the afternoon. Miguel had moved in my hotel and we agreed to leave on Monday. Then I went to bed early.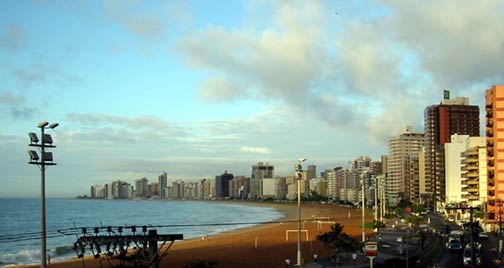 Monday, June 3:
I heard the fireworks and cheer in the street at 6 in the morning as Brazilian cheered their team. Miguel and I get out to Nova Iguazu gassed up and departed landed near Vitoria in Vila Vilha. There was areaoclub and school there and we got a great reception from aeroclub members. They gave us a ride into town and we shatted with a couple of them while we ate a marvelous fish for dinner. Then they showed us the city.
Tuesday, June 4:
We found gas in Caravales much to our surprise. We ended up landing at the wrong field at first, the other one didn't seem right so we headed to Valenca, where the airport authority/owner was a real jerk. It was all a matter of cash - so we split back to the field that did seem quite right but was perfect. We are south of Salvador do Bahia near a village called Gamboa, which is on an island. The place is one of the best little beach resorts that you could imagine. We will be here a few days until it gets boring.
Sorry about not calling.
I still haven't figured out how to use the Brazilian AT&T connection.
It has taken a few days to get to know Brazil. But I must say that it is nothing like I expected. It is in some ways much more inviting, modern, and European than I thought. Yes, it is as hot as I expected.
Love,
Bill

===============================

Subject: Party July 6th
Date: Thu, 06 Jun 2002 10:06:40
From: Bill Sundstrom
To: mailinglist
If you have missed any of my messages over the months, most are available at the following web site:
I hope to be home before June 30th.
Assuming that I make it home safe and sound, my daughter is planning a welcome home and birthday party for me on July 6th.
I want to invite all of you to join us on that day. Once again it will be near the 4th, I hope that does not keep you from showing up if you want to be there. Tell the friends of mine that are not getting this email about the party too.
I even hope that one or two of you from out of the country my show up. If you are planning to come from a long ways off be sure to let me and Birgitta know. We will try to give you a warm welcome.
Bill

===============================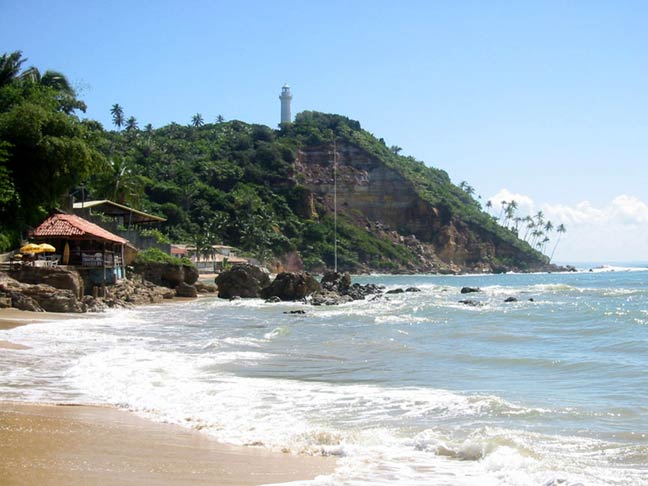 Subject: Morro de Sao Paulo
Date: Sun, 09 Jun 2002 14:41:02
From: Bill Sundstrom
To: Betty Cassady
Cc: Dain Sundstrom
Attachments: BeachMorreDeSaoPaulo.jpg, MainStreet.jpg
Wednesday, June 5th:
Once again I had trouble sleeping, but at least I felt good all day. I went to the Internet place in the morning and after was finally able to make a phone call home. Most of the day I lay on the most wonderful beach and swam. About 4:30 I took a long nap. When I got up we headed down to the plaza, such that it is. The town is simple with one street that no cars can pass on. One and two story buildings line the narrow avenue that is really just fit for walking on. Mules and horses move freight up and down the lane. Once a fishing village, some of the buildings could be as much as 250 years old. There is a very old fort at the bottom of the hill by the lighthouse. This place is where the first Portuguese outpost in the new world was founded about 1550. Between the beaches, surf, sun and village this is an impressive vacation spot. We went to an outdoor theater in the evening to listen to a wide variety of music. Then we went to a disco style party at the lighthouse. About 2 we headed down to the beach and found a campfire burning. We stayed to drinks some beers and head back an hour or so later.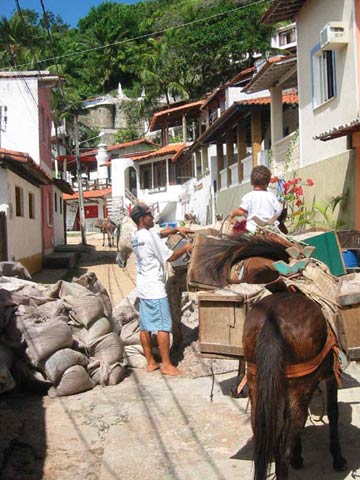 Thursday, June 6:
It was almost a ditto of the 5th, beach in the afternoon, a nap, diner, singing and music making in the square, and dancing on the beach until 3 or 4 in the morning. In the square Miguel played my guitar as part of the music making. I met a lot of travelers from Brazil and the rest of the world. All in all a wonderful day!
Friday, June 7:
I did a boat-ride midday. It was nice to be out on the water. I met a couple that was doctors from Porto Alegre. Then there was Bob Bailey the Englishman, charming, witty, a real cad - and I could believe how much I liked him. We swapped a few stories about Rio and life in general. I spent a couple of hours on the beach before another nap. After dinner I listened to the music makers in the square then headed up to the lighthouse for a night of heavy drinking, dancing and lots of fun. About 5 (notice how the hour is growing later each day) I head back down to the beach. Stopped there for a beer.
Saturday, June 8:
So here it is morning and I am still not been to bed. There was a world cup game on the tube at the bar on the beach, and the dawn was breaking over the ocean. I just cannot seem to sleep after nights like this and the sun is coming up. That, and the late afternoon naps, and then the cheering for the Brazil game. I still made it to the beach in the afternoon, and then I got a well need four hours of sleep between 4:30 and 8:30. I promised myself to have fun but to lay off the booze and go to sleep earlier. I scored on both points and really had a good time. I have been making lots of friends and it is just a constant party - but I always have been a bit of a party animal. So I was asleep before 3 AM.
Today, Sunday, June 09, 2002
I really love this little piece of paradise. It is a fantastic vacation get away and not 40 miles south of Salvador. I was up early, because I was bringing Bob and two English girls, Laura and Victoria, flying. We flew for an hour around the islands and the general area. They all loved it and Bob sprung for the gas. For the rest of the day I just plan to get this message off, catch a few rays on the beach, the an early supper and early to bed - because tomorrow we head north. In just twenty days I will be home, assuming all goes well.
I will write again soon.
Love,
Bill

===============================

Subject: Northern Brazil and the Guyanes
Date: Mon, 17 Jun 2002 19:41 EST
From: Bill Sundstrom
To: Betty Cassady
Cc: Dain Sundstrom
Brazil is a country that continues to surprise me. It is nothing like my imaginings of this place. The land is so green. It is grasslands, and fields and orchards, and plantations. Her people are as varied as any place you could imagine. The temperament is warm and friendly, and hot with passion like the Mexicans. We have been seeing a lot of her from the air just 1000 feet above the ground. And Miguel and I have see here as few have ever seen her. My journal follows, but it does little to really capture what I have seen and what I must go back to and see again. I only wish that I had another six to eight weeks here. If the bugs and the heat didn't kill me, I am sure this would end up being near the top of the greatest places that I have been to.
Monday, June 10:
Miguel and I got a late start. It was very hard to leave Morro de Sao Paulo. But we were off before noon. We stopped at a small airport 26 miles away in Itaparica for gas. Then we flew to Maceio. After a very early supper, I got a long and very good sleep.
Tuesday, June 11:
Maceio sucks, big time! It is dirty, poorly, laid out, had a terrible time getting money from a bank. In general finding ATMs that work for me is a big problem, and the banks frankly refuse to do cash advances. By the time we go money and got going it was way to late in the day. We only flew 2 hours north to Joao Pessoa. We got both good and bad news from aeroclub members. The good news was that they new of a couple of airports that had gas, the bad news was that it was impossible to get out of Brazil with out hitting at least one controlled airport. We found a hotel in town and ate before calling it a day.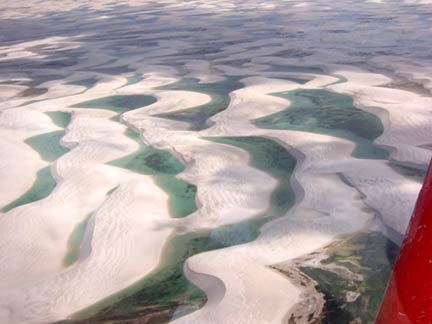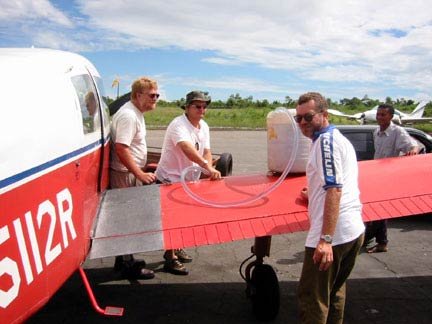 Wednesday, June 12:
With lots of rain in the morning, I filed IFR for Fortaleza. There were no real problems with the flight. Miguel was a little freaked by the weather conditions, but it was easy IFR flying and we were only in the soup for an hour or so. The only thing that bothered me was the $92 landing fee. It is a wonder that there is any GA with gas hard to find and extremely expense and if one must land at a controlled airport pay huge fees. I understand that Brazilians pay something less but still it is very high for them. With the usual, let us waste 2 or 3 hours of valuable sunlight flying time hours, we could not make it to Sao Luis - we left heading up the coast anyway. We saw some the most beautiful beaches in all the world, and dunes that stretched for miles. Near Camocim, we saw some extremely large dunes along the beach. We put down in Comocim for the night. It was a really a beautiful little town. It looked like it only got visitors passing through to other places, but it was a pearl in itself.
Thursday, June 13, 2002:
I was up very early. Miguel wants to sleep late everyday, but it makes for hard traveling, because you really have to travel by daylight - most of the small airports do not have lights. We ate breakfast and were of a little after 9 AM. The dunes along the way were even more stunning. I have never seen anything like it with fresh water pools between the large long rows of dunes. Then we started to se the lush rivers and backwaters along the coast. We put down at an aeroclub near Sao Luis, expecting to buy gas. Well, we did buy some gas, about 6 gallons for $37. A good thing too, because as we flew to Belem we lost some of the huge tail wind we had on the way to Sao Luis. We dodged several rainstorms along the way. And we saw more river and back waters and small farms and fishing villages. Again we got hit with a huge landing fee, this time it was $108. Since I was paying for services not received it is more like extortion than a user fee. It is almost as bad as Peru, but at least here you can escape the tyranny if you stay away from the big airports. Belem more fits my pre-envisioned pictures of Brazil. It sits at the mouth of the Amazon River. It is extremely hot and humid. The town is dirty, but alive with human activity. Yes, I sat on the banks of the Amazon with Miguel and drank beers. It was AWESOME! In the evening we headed for a fun street with a mall of sorts and lots of bars. We sat and drank beers and we struck a conversation with a couple of the local girls, Rosany and Monica. It was late when I finally made it back to the hotel but I slept well.
Friday, June 14:
The morning started out ok. We got to the airport and made a flight plan. I forgot about all the hassles one can have when leaving a country. Like my entry into Brazil the going was problematic, primarily because I had mislaid the customs document that I got when I entered. Some three or four hours after getting to the airport, we were off to Cayenne in French Guiana. We crossed some extremely desolate jungles and swamps and we crossed the equator, flying from south 1(24' south to north 4(50'. Cayenne is a place in two worlds at the same time. First, you are in France. The prices are insanely high, the same or higher than France. For example, it was $21 for the 10 miles from the airport to the city. In the rest of South America it would have been less than $6. Second, you are in South America. It is extremely hot and humid here, just a few degrees north of the equator. It was in the 90's in Belem and 80's in Cayenne with dew points close to 70. In fact, it seems to be raining here all the time. The people are a mix of white French settlers and scientist and the ancestors of African slaves. The most incredible sound could be heard as we walked through the city in the early evening. Miguel believed that they were frogs singing, and I have no reason to doubt that. After a fine dinner of local Creole cuisine, we showered and went out to Harry's Bar, a very interesting place. It seems that here and in the north of Brazil, scotch is a very popular drink. In Harry's I saw a fantastic assortment of single-malt scotches. I was too exhausted from all the goings on of the day, so I headed for our room about midnight while Miguel stay out later to check out the night life.
Saturday, June 15, 2002:
It was misty rain in the morning. I tried to hit the internet but it cost way to much here, $3.60 for 15 minutes. The town seemed alive in the morning which much activity in the streets and in the markets. It seemed to clear up at midday. By mid afternoon the town seemed to die. Almost all the shops closed and there were few people out and about; only the oriental shop owners remained open. We walked along the coast. It was low tide and the mud flats and shallow water seemed to go out forever. There appears little or nothing to do here. The architecture is different: sort of like south Florida a hundred years ago. It adds a lot of interest. The people do not seem as happy and upbeat as the Brazilians despite their relative wealth. Finally, a note on size: this province of France has a very small population; the number of people in Cayenne is significantly less than 100,000. One other thing, Kourou and the Ariana space launch site is about 30 miles away.
Sunday, June 16, 2002:
Finally the airport fees are back where they should be, but gas is still a bit high - a little over $4/gal. The taxi ride to the airport was outrageous again. Miguel has a tendency to pay and not fight, while I say: "Fuck 'em!" We flew through some pretty boring territory, crossing most of the Guyanas to Georgetown. Georgetown is very depressing. It appears and is dangerous. I just hung out at the hotel and went to bed early. The landing fee was $40 and gas is $2.70. What we made up for in price was taken by the landing fee.
We will try to be in the Caribbean by Tuesday. We hope to spend a week there on maybe two islands, and then we will head north for Florida. I will see you in two weeks.
Love,
Bill

===============================

Subject: Venezuela and Bonaire
Date: Thu, 20 Jun 2002 12:43 EST
From: Bill Sundstrom
To: Betty Cassady
Cc: Dain Sundstrom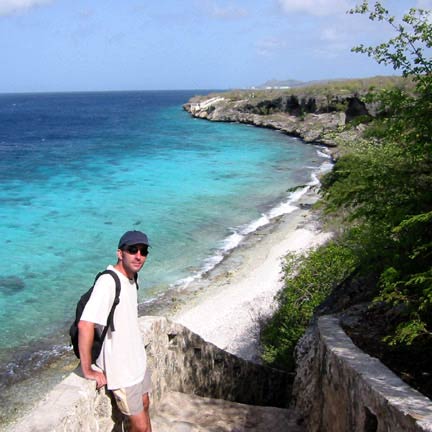 Monday, June 17:
The flight out of Georgetown was interesting, but not a successful as I would have liked. The cloud cover was fairly extensive and I had to get on top of it. We set our sights on over flying Angel Falls. We actually got to within 8 miles of it, but the clouds around the falls made an approach impossible. We saw some beautiful plateaus when we got under the cloud cover. The terrain is extremely beautiful around the falls. In any case, we headed north. Miguel says the area we flew through is called the Valley of the Dead. It is a very impressive valley with a large lake and good number of smaller town. We landed in Ciudad de Guyane. It is a thoroughly unremarkable city. The airport was good, and gas was extremely cheap - around $1.80 per gallon. We were told that there would be a $75 landing fee that later I discovered was mostly parking. Because of the high fees we decided that we would not put down in another Venezuelan airport, despite the cheap gas. The next day when we told them we were going to go directly to Curacao, they added another $30 to the fees. I don't know quite what to make out of all the fees along the way. Evidently most countries do not want visitors in small foreign aircraft. When I get home I am going to see if the USA pulls the same garbage on small foreign aircraft.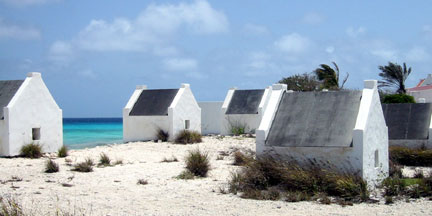 Tuesday, June 18:
It was a long flight to Curacao. As we got near the coast we had to fly up to 12,000 feet to get over the coastal range and the clouds above it. The flight was great in that we had a 25 to 30 knot tailwind all the way. Unfortunately those prevailing winds will hurt us a bit when we fly to St. Croix. After gassing up we flew the 40 minutes to Bonaire that has no gas, which is why we took an extra five gallons with us. Miguel rented a car while I tried to find Pam Teitel (sister to my brother-in-law - Alan). I found out that she was supposed to be at the Sand Dollar Hotel. No luck there, she was in Puerto Rico and is scheduled to be back tonight. We were able to contact her husband, Peter. Miguel and I met him at a local watering hole, the Kantina Agua, for a few beers and small talk. I also met their lovely 3-year-old daughter, Diane. Miguel found a hotel for us to stay at. Then serendipity stepped in once again, when Miguel ran into Ken O'Bryhim, a high school teacher of his from the American high school in Rio de Janeiro. Miguel had been hoping to see him in Brazil, but here he was - living in Bonaire. We ate dinner and talked with him late into the night.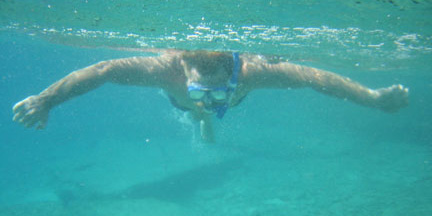 Wednesday, June 19:
This was a very full day. We started out by driving around the north end of the island. We missed the most spectacular view of the mountains and the lake, but still it was very interesting. The shoreline was the best. We stopped so Miguel could snorkel a bit. I tried it a little. The view, the visibility, the coral, the fish, all was unbelievable. We got back about 11:30 to meet Ken. He showed us the other end of the island. There is a fantastic area the is incredibly large where the water is only a couple of feet deep that is a haven for people who what to learn and practice wind surfing safely. I tried to get up on a board, but the winds did not allow me to stay on. Still it is was fun. We had a bite to eat and headed back to town. We grabbed our laundry and headed for Ken's house. We got the laundry going. Then Miguel and I headed for Bongo's beach to do some more snorkeling. This has got to be one of the best places to dive and snorkel. After getting our clothes we headed for town, and dinner. Ken joined us and we had some great talk about life. He has some wonderful stories. I should mention that Ken is trying to get a school off the ground here. The concept is too complicated to talk about here, but one thing that is very interesting about it is that it will incorporate the UN earth charter.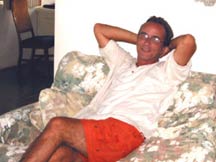 Today:
Well, it is still morning and I'll I have done is write. Later in the day I will do some reading. And maybe I will do some thinking about this trip in general. I have learned a lot, and I think that I have changed. I hope so! One thing that is definitely on my mind is the trip to St. Croix over 400 miles of open water. I'll be check the weather, and recalculating the gas consumption.
I hope to meet Pam tonight. If her plane gets in on time, there is a chance we can meet and talk for a while. I will try call from St. Croix, and for sure on Sunday.
I will write maybe once or twice more. I hope to be in Fort Lauderdale by next Wednesday and home one week from tomorrow.
Love,
Bill

===============================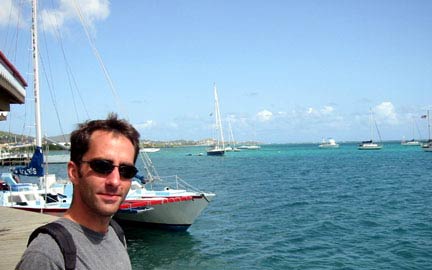 Subject: Coming to Florida
Date: Tue, 25 Jun 2002 17:29 EST
From: Bill Sundstrom
To: Betty Cassady
Cc: Dain Sundstrom
Friday, June 21:
I was way to anxious about the flight to St. Croix. I guess the anticipation was cranking me up. It just seemed like forever before we got going, but it wasn't. We finally pulled out mid morning. Once in the air, I settled down. There were no problems on the four-hour flight. Customs were a bit more complicated, they seemed to be looking at Miguel for some reason - maybe he fit some profile they use. A real FBO was a nice change too. The cab ride into Christiansted was $15 and we paid $90 per night for a room. This was the most expensive on my whole trip and this was the cheapest place to stay on the island. In fact, everything on the island was incredibly expensive - with full meals costing $20 and bar meals $8 to $10. We ate bar food. I met an interesting guy, Austin, from North Dakota that is working in Christiansted while he works on his sailboat - a 32-footer he hopes to sail around the world. The bartender and waitress at the bar that I was drinking at were from Minnesota. The island was not what I expected it to be. First, they drive on the wrong side of the road. Plus, it was not as clean and nice as I thought it would be. The buildings were old, but not kept up like they are in Denmark. And then the cost of everything was so high, like the cab ride being $20.
Saturday:
I tried snorkeling here. It was nice, but nothing like Bonaire. I lay on the beech most of the day. I met a few people. I had an interesting conversation with a Danish woman whose husband lives on the island. She lives with the children in Denmark and tries to visit once a year. A stop at internet place led to another Minnesotan and come to think of it the old guy Charlie at the FBO was from Minnesota and going back this next weekend to visit folks in Hudson. I didn't do much in the evening; all the food and beer had me asleep before 9 at night.
Sunday:
We took off on a grueling flight. We were not planning to stop in Puerto Rico because we wanted to avoid an extra customs stop. But we had a slight head wind and decided I that we best stop in Aguadilla. Luckily there was no additional customs and we took off for Providenciales. This ended up being a mistake. There we found that the cheapest hotel was $120 a night. So we decided to move on. I almost got thrown in jail when I flipped out over another outrageous charge. I cannot complain much about landing and navigation fees. They can be high and unfair, but this place took the case when we were charge not only for customs and immigration even though we technically didn't enter the country, only stopping for gas. Plus we had to pay an overtime fee because we came on a Sunday. Early on during the trip I had learned never to travel on a weekend. Here was another reason to forego travel on the weekend. So we stopped for gas - 27 gallons cost me $185, including all outrageous fees that must be paid before departure. Another mistake was the advice we took to stop at Stella Maris (Long Island, the Bahamas), where there was not a soul. So we flew to a nearby island and the Exuma Airport, which is near Georgetown, where we spent the night. The cab into town was $20 and the hotel another $90. The Bahamas are only for the RICH that is for sure. There were no outrageous fees, only a departure tax of $15 per person. What is a departure tax for anyway? The only places that I saw them was here and in Peru.
Monday, June 23:
Three hours after leaving Exuma International, we were at Fort Lauderdale Executive. The flight was uneventful. Like the day before, we enjoyed the view of the sea and the many islands - the last being Bimini. Then we got a reality shock. The US Customs agents told us that we had failed to notify them of our arrival. No, the flight plan was not enough!?! He asked me if I wanted to pay a $5000 fee or just get a written warning. I selected the warning with the understanding that if it happens again, then I'll be paying the five grand. Customs fees? Landing fees? Immigration fees? There was not even a penny in fees, taxes or other insanities. It felt great to be at a US airport.
Not to say that I had no problems that day. I really had seen no bad weather during almost the entire trip. I have been used to just flying. Weather info is very hard to get abroad so it is mostly fly and see the weather as you go. I just wanted to keep going north. All I could do was see the bed waiting for me in Ocean Springs and wanted to make it there if at all possible. The weather was a problem. I stopped in Belle City to get gas and take a break from the weather. I thought it had cleared so I headed north. I wanted to go northwest, but every time I moved west the weather got worse. Finally, just to the west of Orlando I got trapped between the terminal airspace and the clouds that completely surrounded me. I ended up circling for a while to get an IFR clearance out and to the north. I was lucky to stay out of the terminal airspace but it was close and I know that I was a problem for their approach. All this seemed to take forever, but it probably all happened in the space of less than 15 minutes. The flying was fine to Cross City, where I put down for the night. Fees? Yes, there was a $5 tie-down fee, but - heck - they had a courtesy car that I used to drive to the local motel. Hotels here are three to four time the cost in most of the countries that I have been in but still half to one-third the cost of St. Croix, the Turks and the Bahamas.
Tuesday, June 25, 2002:
Learning from yesterday, I filed and IFR flight plan and flew it to Ocean Springs. My dad was surprised to see me arrive before noon. I have spent the day visiting, talking about the trip.
Tomorrow I am having the oil changed and the plugs cleaned. I will spend the day taking it easy here. I hope to fly home on Thursday. Of course with all the bad weather around here, I could be delayed.
I am exciting about coming home. Take care.
Love,
Bill

===============================

Subject: The final entry - Reflections
Date: Fri, 28 Jun 2002 12:20:05 PM Eastern Daylight Time
From: Bill Sundstrom
To: Travel List
Well, I am back home in the Twin Cities! And this will be my final journal entry for my trip. It really feels great to be home. The linden tree in the front yard is blooming and its scent has really brought it home to where I have returned. It was great to hold Betty in my arms once again.
Many of you have been reading my journal as I traveled through Central (CA) and South America (SA). It was an adventure well worth taking. In some ways I needed another three months to see everything I should have seen - but yet what did happen was an adventure that I will never forget. I learned a lot as I traveled and enjoyed life in an entirely new way. In this final page, I will begin the process of reflection. I have not always been great at looking back. I tend to be a person that lives more in the present and some in the daydreams of a future existence. One of the things I learned was that I really enjoy is living in the present moment. I had no desire to hear the news of the world, what a change! The things that seemed to matter to me was the human links that I forged and then the links to the places where people I came to appreciate and love lived and breathed. I started my trip with a week visiting my dad in Mississippi, and then it was off to Mexico.
Mexico in January and the beginning of February:
In Mexico I learned to love Latin music and a passionate, festive lifestyle. I developed friendships with a half-a-dozen people that I hope will last forever. Lenin, Lalo, Nacho, and Daniel were the best. I learned to speak classish. I ate a greater variety of food than I had in the whole rest of my journey. And the food was by far the best tasting and most exciting that anyone could ever imagine. The Mexican restaurants in the USA do not even come close to matching the variety and flavors. There is no finer cuisine than Mexican in all of the Americas. The people are passionate, fun-loving, partiers extraordinaire. The flying is only a bit more difficult than in the USA: gas costs more; there are landing fees - usually about $5; there are not enough airports.
Guatemala has a colorful, friendly people. It is an inexpensive county to visit. I didn't stay long enough. I will have to return for a three-week visit someday.
Costa Rica in February:
The people, Ticos, are beautiful, perhaps the most beautiful to look at in all of CA. The county itself is fairly expensive to visit compared to the rest of CA, because it is so geared to tourism. I did not meet many Ticos, but I met many tourists from all over the world. Some of these fellow travelers have been receiving my e-journal since then. And, of course this is where I met Javier and Guille. The county is a beautiful place to visit and is worth the trip. I discovered that I like to travel with Paul Speltz. I hope we get a chance to travel together again. I learned that it is best not to arrive in a new county on the weekend.
Ecuador was hot and I enjoyed my visit there. It is a poor country on its way up in the world. I never made it to Quito, too high for my plane. Someday I will need to visit that city. I did discover Guayaquil and the costal regions of the country. Later I learned that it is best not to use a credit card in very poor countries, as someone here eventually used my credit card number to defraud VISA.
Peru in March:
I cannot say that I liked Peru all that much. I will likely never return. Not just because the welcome to small aircraft with foreign registration is non-existent, in fact they do everything possible to ensure that no one would ever want to fly there with their 20¢ USD charge per kilometer of flying. It is wonderful to visit the archeological sites and that should be a must for everyone at least once. I learned that I do not like living at extremely high altitudes. I learned that the only thing that I miss in a long trip is the affection and the warmth of another human being; and it was wonderful to have Betty meet up with me to see the magical Machu Pichu.
Chile in April:
Chile was an entirely different proposition. The flying was great. The people were friendly. The land was beautiful, especially from La Serena southward. By far the best of Chile for me was visiting the Miranda family for three weeks. I enjoyed being with them and meeting their extended family. I hope that the friendship we developed will last forever. I invited them to visit me anytime. I really hope they take me up on it. They were not the only family. I also visited the Zuniga in Concepcion the weekend after leaving the Santiago area. They too treated me to a very warm welcome. I really enjoy staying with families, because it gave me a real sense of the country that I was in. The beauty of Chile south of Concepcion was overwhelming at times: Valdivia, Puerto Varas, and Chiloe.
Argentina in May:
Much to my surprise, I think that I liked Argentina best of all. The entry in to Argentina at Bariloche was stunning. It is by far the most beautiful city that I was in, Rio de Janeiro being a close second. While Patagonia did not impress me, what I saw of the rest of the country did with its green fields and very warm and friendly people. Then there was Buenos Aires. I fell in love with this city. I really hope to return there soon. It is a place that I would like to live in for a while. And then I did not see all of Argentina; I must return to the see the places I missed. The only other place that I visited there was the falls at Iquazu, the most spectacular natural phenomena that I have ever seen and perhaps the most spectacular in the world.
Brazil in June:
I saw so little of this very large country; I feel that I must return. What I did see of the land and the people was so incredibly impressive that it will leave an indelible mark on my memory forever. Rio de Janeiro is a city that is set in the most beautiful natural surroundings and the people are wonderful. The week that I spent relaxing in Morro de Sao Paulo near Salvador in Bahia was the most relaxing week on my entire trip. I stayed in a beach side (10 feet from the ocean a high tide) hotel. I had the time of my life relaxing on the beach by day and partying and dancing the nights away. While I quickly flew through the rest of Brazil I saw so much from 2000 feet up that no tourist ever sees. And the country has got to be one of the most beautiful in the world. I will return to Brazil often for the rest of my life. If for no other reason than I saw so little of this great nation and there is so much more to see.
The islands of the Caribbean:
Other than Bonaire, I was not impressed with them. Even my trip to St Martin several years ago was not as great as what I experienced in South America. As Miguel said to me: I feel like we are getting ripped off here, and I just cannot enjoy that. I will echo that. Perhaps, Hiclassiola is different.
Places that I missed and still want to see:
I over flew every country in Central and South America except El Salvador and Columbia. Also I did not stop Nicaragua, Honduras, Surinam, Uruguay and Paraguay. I only stay for one day in Panama, Guiana, and Venezuela. So there are some place left to see or visit and I want to see them. If I could choose several to visit they would choose the following: I would visit Nicaragua, because of its beauty that I saw from the air. Uruguay is a must because it is between two counties that I love. And then there is Venezuela, because even one night gave me a sense of its great people - and then the flight through the country showed its great beauty.
Well that's it, the last journal entry. I hope that some of you - especially those from Mexico - can be here on the 6th of July. And if you are someone that I met along the way, just remember that my home will be open to you whenever you come to the Twin Cities or to wherever I may be living.
In a few weeks, I will put all the pictures that I took and hopefully Miguel took some place out on the web for folks to download. I let you know when and where. Feel free to share the journal with anyone who likes to travel: http://www.pulsengine.com/john/billsTravel0201.html
Peace and love be with you all.
Bill Sundstrom
===============================