===============================

Subject: Mexico 1
Date: Tue, 15 Jan 2002 14:31:10
From: Bill Sundstrom
To: various
Christmas was great.
New Years was wonderful. I spent it with my folks in Ocean Springs. All the kids except Brian showed up to celebrate their 50th wedding anniversary.
On January 4th I flew to Laredo Texas from the Gulf Coast.
On the 5th, I flew to Monterrey, Mexico.
Left my plane parked at the airport and head for town.
No buses, no taxis at the airport. A airport worker was kind enough to show me how to grab a cab. I got a gypsy - even though the fair was high for Mexico - I gladly paid the $20 to get into town. The first hotel I went to wanted to change more than the travel book said so I went to another - just 211 pesos per noche ($23.45/day).
Late in the afternoon I walked the mile and one-half to Zona Rosa. Along the way the streets were teaming with people around the thousand of small shops and stands the sold all kinds of goods and fresh produce. I was amazed by it all I just wish that I had had a camera. Finally I came to the major pedestrian avenue in the Zona Rosa. It was festive and modern again with thousands on the half- mile street. If only we had such a life in our city. After two plus hours of walking, I looked for the metro and rode back to my hotel and a Mexican diner nearby.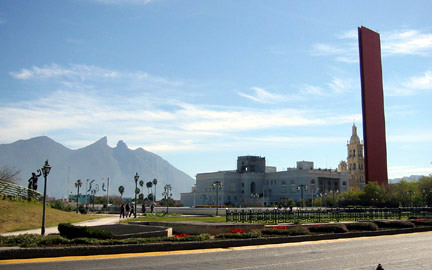 On Sunday the 6th, I planned to get tourist information and spend the day enjoying the Grand Plaza. Scratch the information, the office was closed. On the way to the park, I stopped at a very small city museum A modern artist with modern techniques was shown, but the content was two thousand years old. Will Mexico ever escape its religious shackles?
The park was an entirely different matter. It is a kilometer long and one to two blocks wide. It is a greenway. It has fabulous sculptures and fountains. Yes there are photos. The park is usually full on Sundays with families listen to music and young lover playing. Domingo was the 'Day of the Kings' - a religious holiday. Crowds were even larger. I found a park bench to enjoy the sun and the heat (21c) and study Spanish, which I did for an hour or two. As I sat several children sat with me. I asked their parent to take a picture. It was great.
As so often happens when I travel, serendipity took its toll that Domingo in the park. A young Chilean woman sat down next to me and struck up a conversation in near perfect English. She wanted an interview of an Americans perspective on Mexico. I volunteered but after hearing my story she wanted to do the interview when I got to Chile - I guess so that I would have more to say. We talked an hour or two. Her story was as adventuresome as mine. She had come to Mexico to bring her younger brother home. While in Monterrey she met some dancers and musicians (she claims to be an expert break dancer - which is big in Chile). The musicians were going to play in the park a popular in Monterrey and special type of Columbian music. As she reminded me being on time in not a Latin American concept. Finally she struck out to search for her friends. Luckily they had just arrived at the other end of the park. The music and its dance were charming. Playing drums and accordions they kept the dancers going until 9:00 pm. I have some great pictures of them after they moved to the pedestrian mall. We'll see if the one they took of me dancing turned out. The best part of watching it all were the smiles on all the on-lookers faces especially the children.
It is hard to believe I have only been in Mexico one day as I wrote the above.
With luck, I will find a place to plug in tomorrow.
I plan to stay here until Thursday. If all the days are as great as today maybe I will stay a bit longer.
I really like Mexico except for the air traffic system, its way to bureaucratic for so few airports and almost no flyers.
Monday - January 7th
Not feeling well in the morning. Not enough food on Sunday and too much in the morning. Went for a tour at the Carta Blanca brewery. They make most of the Mexican beers there. It is a huge brewery. Met 3 guys from Chihuahua on the tour. Got picture of us together. Finally found the tourist bureau. By some piece of luck the Secretario de Turismo intervened and suggested that I return before 10:00 AM on Tuesday.
Dinner on the mall. Early to bed.
Tuesday - January 8th - Omar's day
The weather is getting better. 67f at 7:00 PM and lots of sun every day. Omar, the secretary, really came through. Three Americans, Jeff, Lydian and myself, we chauffeured to this fantastic cave on a mountain top. A rail car on a cable took us up - scared all the way. Two Mexicans from Arkansas, that we back to visit family, joined our tour. The caves we spectacular: large, good paths and lighting, and fantastic formations. The view at the mountain top was beautiful.
The whole thing cost us nothing, not to insult the driver the 20 pesos I gave him was for his children. When we got back to town, I bought them coffee. We were headed for the MARCO museum. The 30 peso charge kept them from going in. I wish I had sprung for one of them to see it then they would have seen it.
The one great thing (maybe the only thing) was the wonderful exhibit of modern (1890-1950) Mexican painters. It was stunning in how different they were. And best I liked almost every piece. The only painter I had heard of before was Diego Rivera.
I'll check back with the tourist office again tomorrow. Maybe Omar will have something else for me.
January 10th:
Got a lift to the airport on Omar, what a guy.
Gas for the plane is insanely expensive here, $3.20 to 3.45 a gallon - mainly because of all the extra fees they charge. I also got nick $11 for a landing fee when I stopped for gas. They must really want to destroy general aviation here. It has a huge bureaucracy and little or no traffic. In a country with terrain like they have here I just cannot understand it.
I finally connect with Lenin, after checking in to a hotel.
He had gone to pick-up 17 students in Josephine's program in Mexico City. They used the school bus and I think he went because of his language skills.
I met two of them when we got together. He and Lalo kept me up until midnight. I am not use to that.
I will start to use the phone, now that we have long-distance.
Bill

===============================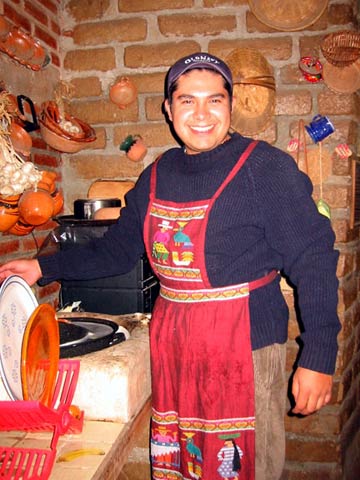 Subject: Cuernavaca
Date: Thu, 17 Jan 2002 14:37:11
From: Bill Sundstrom
To: Betty Cassady
As I told you on the phone, I really love Cuernavaca especially because of the friends we have here. I cannot think of any more gracious hosts the Jimenez family.
Here are some of the things I've been doing this past week:
I am sleeping on the couch. No big deal. It's mainly because two visiting nursing students from Oregon get the guest bedroom until the last tenant of the bungalow gets all his stuff out.
The 11th:
It was a mishmash of stuff. One thing I want to mention here is the new house Noe is building another 2000 feet up the mountain. Its all being done by hand: every brick, door, window, all by hand. In the evening many of Lenin's friends and 3 of the Oregonian students showed up. I had a great time. We drank beer, sang song in classish, and played a Mexican board game that is a bit like trivial pursuits. We broke up into 6 teams and bet 50 pesos per team.. In this game ignorance can win. We all decided that if ignorance won we would use the prize for buy more cervezas. As the beer ran out we were all routing for ignorance. Amid the shouting, changing of rules, and singing we all laughed so hard our stomachs hurt.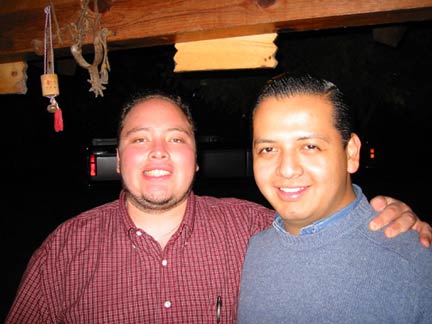 12th of January:
Lenin and I flew to Chimpanzingo - the capital of Guerrero. Lalo's family lives there. The security, cost, bureaucracy of Mexican airports is insane for the most part. I swear they don't want anyone flying here.
Chimpanzingo was a breath of fresh air. It was like a field the most small towns would have.
Do you remember Lalo and his brother Julio from Acapulco the last time we were here?
Julio should us around the town square - Plaza Mayor. It's a really nice small city. Later we had lunch with his family. Just as we were leaving Lalo finally showed up. The whole family had to come to the airport.
Flying is a really big deal here. They got a good look at the plane. inside and out. As we took off they were all standing just to the side of the runway waving. I rocked the wings as we flew over.
Later that night Lenin and I went to a club with Oregonians - drinking and dancing until 2 in the morning. That was all this old dog could take. I swear that I am going to learn to do these salsa steps. I love the music, the feel and the look of the dance.
13th:
It rained all day. I insisted we get some dry wood for a fire. We did and we got some wine and cheese etc. It was one of the coziest afternoons that I have spent in years: Warming by the fireplace, sipping wine, eating cheese and reading. I even had the house to myself in the evening while everyone else had other things to do. The peace and quiet was great.
The 14th until now:
I have established a week-day pattern. I study classish in a class two hours in the morning, go to Daniel and Nachos office in the afternoon to do email, and help them out as I can. Late in the afternoon I head back to the house where it is quiet to study. About 5 PM we jog and exercise. Its darn hard to keep up with a 23-year-old, but I try. Then a light supper and TV or a book.
On Monday night I met with Lenin and his business partners for coffee and tacos at VIPS. Since my classish is not there yet I could not help much, but later I suggested they do market research on ebay to see what they want to export will sell or not.
On Tuesday Lenin and the girls stayed out late, they were really dragging yesterday.
I am not sure if Noe is coming to Minneapolis on Friday or Saturday. Be sure to call Adrian to see what's up. Please do something nice for him. I love him and his family.
Send the battery and photo card with him. I have one roll of film he will take back.
Well, that's it for now.

===============================

Subject: January 16 - 22
Date: Wed, 23 Jan 2002 12:53:37
From: Bill Sundstrom
To: Betty Cassady
Until last Friday, I thought that I was creating a regular schedule of study and light play. As it always is - there is nothing regular about life. We stayed out until 2 in the morning on Thursday. Then Lenin and I talked until 4.
January 18th:
So, no school on the Friday. We did make it to a presentation Lenin's mom - Josephina - was making to the visiting Oregonian students. Later that afternoon I accompanied them to the botanical gardens. The guide was a local healer (corndora) that uses many of the herbs in the garden in her practice. At the end of the tour, the group got a second look (my first) at taking 'the pulse' and the use of touch and massage to find health problems. In the evening, we were to tired to do much more that watch a DVD. I saw the Moulan Rouge for the 3rd time. I swear that it is the most spectacular, and different musical that I have seen since Hair.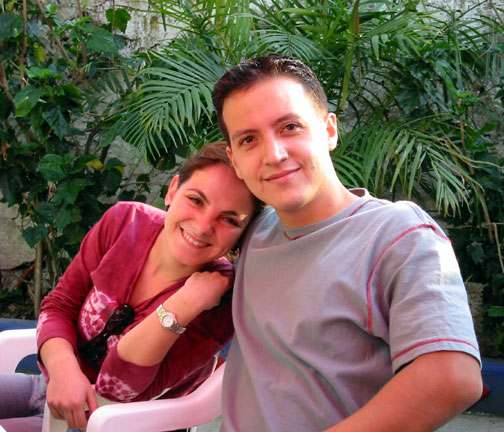 January 19th:
I spent most of the day hanging with Lenin, Daniel and Nacho, goofing off, and having fun while they did some work.
About 3 in the afternoon, Daniel's novia - Lette - joined us on a drive to Tepoztlan. Do you remember our last visit there? Its a place they say UFO's visit regularly. There is a small pyramid at the top of the mountain next to the city. Because it was Saturday, besides the normal market, there were hundreds of small stands in the street selling many many item. The local handicrafts, particularly the fabrics are outstanding: Hand woven items, embroidered panels, etc. We met Josephina and the two Oregonian students staying at the house there. Josephina had purchased a beautiful scarf and blouse. We all went to dinner there. Later they told me I ate a burro steak. It was very good.
January 20th:
Sunday is football day here to. We were suppose to go to game in Mexico City. We packed six of us into Lenin's little car and headed for Mexico. The dive was beautiful as we climbed mountains around the high plateau the Mexico sits on. I did not realize that its airport is more that 7300 feet. This is 3000 feet higher than the Cuernavaca airport. Well, we got there a bit late - and the game was sold out.. We took second best and went to the Anthropological museum. Man is it a great museum. The artifacts are spectacular, especially from the Aztec era. I saw the calendar of the Aztecs. After being there about 3 hours I only saw about one-half of it. We went to the Hard Rock Cafe for super. I much prefer the Mexican food to burgers and fries, but the other needed a North American fix.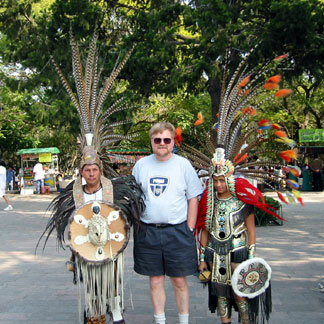 January 21st:
Lenin insisted that I work with him on Monday. So, no school, but I got him to promise to speak to me in classish all the time. In the afternoon we went to Daniels house with a pick-up. He has more than 6 truck-loads of books piled and covered with a tarp in his driveway. Rumor has it that they have been there for more that 10 years. We had to carefully inspect every box of books on the inside and out for scorpions. We found three of them - two were unusually large. By the end to the second truck load we were getting a skitterish about them. We took these 2 loads to Daniel's father's book store. He got us dinner and the boys promised to pay me 10 pesos. I guess that's all a poor gringo can earn down here.
January 22nd:
Again Lenin said no school. I joined him on a journey to the local DMV. Americans have no idea what a bureaucracy is until they come to Mexico. It is at least 50 years behind the times. Its is a blizzard of paperwork. We waited for 3 hours in various lines as each bureaucrat check all the papers again, only to find that we did not have 'proof-of-address' to register the new Jetta in Josephina's name. Why anyone would lie about where to send the registration papers is beyond me.
So the day was a bust. In the evening we went to the Marco Polo restaurant with Nacho and Daniel and the Oregonians. Can you guess what kind of food it was. I'll give you a hint: I ate raviolis. Later that night they came to the house with Lalo to drink a few beers and sing.
I went back to class this morning. I told Lenin I had to do it.
I have only been in Mexico 18 days. By desire and necessity the classish is getting better fairly quickly (according to Lenin). I also find many people are willing to help me learn - by speaking slowly and correcting my mistakes. This is something that I greatly appreciate.
Well, that's it up to now.
I'll try to write again before the week-end.
Love,
Bill

===============================

Subject: 28 January - Three weeks so far in Mexico
Date: Tue, 29 Jan 2002 11:47:28
From: Bill Sundstrom
To: Betty Cassady
Its hard to believe I got here three weeks ago. I am having so much fun that it will be hard to leave. But go I must. I have decided to stay no longer than two weeks more in Cuernavaca. This place really grows on you and it will be hard to leave. But it I am to see the rest of South America I must leave. My classish seems to be moving fairly well. While far from fluent I can carry on a light discussion if everyone is speaking slowly. If I keep at it the next two weeks, I should have enough of a proficiency to get me most places I want to go.
Now let me backup a few days to let you know what has been happening.
Last Thursday, the 24th:
I came down with something. By mid-day the fever started to drag me down. So, I got Nocho to give me a ride back to the house. I stated the antibiotics I brought and slept til 5:00. I was suppose to cook diner with Letti, Daniel's novia. I had told everyone we would eat around 7:00. Due to some minor problems, it ended up more like 9:30. But the food was great. Letti did her famous crepes and I made my favorite Mexican hot dish. Both were greatly appreciated by all present: Daniel, Letti, Josephina, Lenin, Kelly, Lalo, and me. After diner Lalo and Daniel told stories. Luckily about 11:30 they went out to play a game of what I call Mexican Trivial Pursuits. I say luckily because I was wore out from being ill and all the cooking.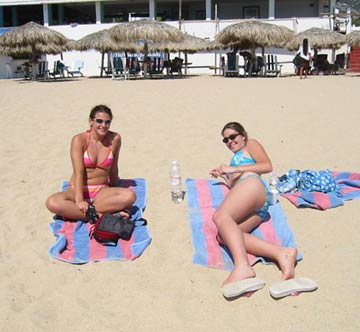 Friday, the 25th:
The fever broke by morning, but I was still not 100% - maybe 85%. It was the last day of the formal classish classes for me and the Oregonians. At the pizza party after the class Alissa, Kelly and I grabbed a slice and ran out to the parking lot to join Lenin. We were leaving early for Acapulco, so that we could stop in Taxco. I forgot what a beautiful little city it is. I didn't buy a silver but Kelly did. It is a shopper's paradise for buying silver jewelry. From there we took the old road to Chilpanzingo and the toll road to Acapulco. I saw some magnificent mountains along the way. The most interesting plant I saw was the organ cactus: One trunk with dozen of large branches that look like the pipes of an organ. I love all the hawks down here. You always see them in the mountains, sometimes with dozens circling and catching the updrafts. We got to the Howard Johnson about 6:00, the same place you and I stayed the last time in Acapulco. Old and not quite up to 2000 standards, it is still one of the cheapest and best located hotels on the strip. We headed for the beach to drink beers until mid-night. America, Louis, and his brother - Ricardo - joined us on the beach about 10:00. As drunk as they were, all but sensible me headed for one of the best discos in town - Enigma.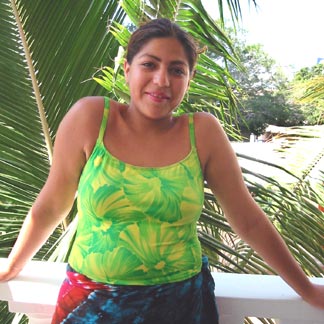 Saturday, the 26th:
Up around 8:30 I exercised and went for an 45 minute walk, half on the beach half on the sidewalk. The sand was tough to negotiate. When I got back I called Kelly and we had breakfast. She gave me a report on the goings on the night before. She said Lenin was really out of it - muy loco. In fact he never made it back to our room, he stayed up in Louis' room. That morning I saw the rest of the Oregonians - all in their bikinis - what a sight. Both Saturday and Sunday I got a chance to really know their professors: Peggy and Becky. We had a lot in common and it was fun to have somebody my own age to talk to. In the afternoon Louis, America, Lenin, Ricardo and me headed for the Princess beach out by the airport. What a fantastic beach. The beach in the bay is course sand with almost no surf. At the Princess beach we got the full Pacific surf, people were even on surf boards. The sand was a smooth and soft as any beach that I have been on including Cancun. We polish off a cooler full of beers and headed back to the hotel to pick-up some of the girls and go to Don Miguel's for dinner. It was a nice sea food restaurant a 1/2 mile away. Most of us had the red snapper and it was good. We headed back to the hotel again to shower and change for a disco - the Alebreage. We got there about mid-night. While not techno - the beat was overpowering. By in large the music sucked. After drinking most of the afternoon and at diner, I did not drink except for one beer. A pity, as the $30 cover charge paid for drinks all night long. Lenin had finally hooked up with Ashely - one of the Oregonians and was having a great time. Lalo told me that I was his best gringo friend and that there would always be a bed and food for me in his home. I considered this a very special moment - its had to explain what a deep effect this had on me. As great as hearing that was, I was done in from the day and music by 2:00 AM. So I headed back to the hotel as the rest partied until 5:30 AM.
Sunday, 27th:
We took it easy and got ready to check out about 3:00 in the afternoon. I finally took some pictures. At 3:30 we head for Chilpangzingo. Lalo had invited me to spend the night with his family. It was the day of the Ascension. When we got to Chilpangzingo we went to a great restaurant. At first I thought it was a county club because of the pool. The large open building with many open window overlooking the pool and grounds. The fresh air blowing though the building was delightful. We had a great meal - sea food again and better than Don Miguel's. After that we went to Lalo's home. In there tiny court yard there were a dozen chairs set up around a nativity scene. Soon many of his uncles, aunts cousins and their children arrived at the house. I was except and welcomed by all of them. They had a small family religious ceremony of singing songs while burning candles and lighting sparklers. After this short ceremony there was food and what I will call rice pudding. I was so full from diner I could hardly eat. Soon they all left except for Lalo's own brothers: Julio and Erik. Erik is doing his service for school now. He has finished his degree and internship to be a doctor. The brothers took me around the quiet streets of Chilpangzingo while we each drank a couple of beers for the drinks-to-go drive up that one of Lalo's cousins owns. By mid-night we head back to he house. Little did I know that we would be staying in another building they own. It was a comfortable bed.
This morning:
I got up about 7:30. No gas, no hot water, no shower. What do I care. I got Lalo up and we went back to his house. His mom was taking today and tomorrow off from work (tomorrow is Julio's birthday). We had fresh orange juice, chulupas and rice pudding for breakfast. It was less than two hours back to Cuernavaca. It is a beautiful drive on one of the most expensive and worst toll-roads in the world.
Tonight there will be a little fiesta to wish the Oregonians good-bye. I think that means that by tomorrow night I will have a real bed.
I haven't seen Noe yet, he got back from Minneapolis last night.
This message will probably go tomorrow. So, there will be a PS at the end.
Love you,
Bill
PS
Nothing much to add.
We went out late to a pizza place.
For some reason somebody order way to much food and the bill was insane.
The girls left today (wednesday), finally I can get off the sofa.
Will write later in the week.

===============================

Subject: The last couple of days
Date: Thu, 31 Jan 2002 12:33:56
From: Bill Sundstrom
To: Betty Cassady
Tuesday:
Had a great tutoring session with Cesar for one hour. Practiced with some of my friends too. Made a big mistake, agreed to go to Chilpancingo for Julio's birthday. He turned 26. It was a just a bunch of guys drinking beer. It was fun for a while. Good food, etc. Lenin and Lalo promised me that we would be back by 10 AM the next day. Alas, tired by 11 PM I got the boys to take me to the family campo to sleep. I slept well in a real bed.
Yesterday, Wednesday:
I intend to make sure the were up and moving by 6:30. I got up around six. Guess what? They were not to be found. I did find Lalo's uncle and asked if he knew where they were. Then he disappeared. I was really stuck. I found the phone but had no phone numbers. I did not know exactly where I was in the city nor where Lalo's parents live. To top things off, I was locked in the compound. All I could do was wait and cuss. Finally at 7:45 Lalo's dad showed up and brought me to his house. Lalo had gotten home about 6:30 in the morning and did not sleep. Lenin got an hour or so of sleep. I kicked butt and we were on the road by 8:20. It still wasn't enough time to get back on time. These guys are so macho - they don't like others to drive their cars. By the mid-way point Lalo was starting to loose it. So, I drove the last hour into Cuernavaca. We thought that we were suppose to buy flowers for the nursing school graduation, so we stopped to get flowers. Eventually, about 10:45 we made it to the school. I missed my tutor session. I was upset: no shower, tired of the drive, and missing my session. We were suppose to go flying. As usual, Lenin diddled the afternoon away. No flying. Last night we moved Lenin from his parents house to the bungalow for privacy and a place to do business. I moved from the sofa to a bedroom on the second floor.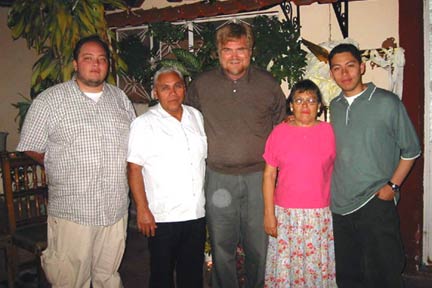 Today, Thursday:
Had a great 2 hours tutoring session. I can use full sentences and express my self in several tenses. The verbs are tough. I can get the idea of most conversation if they are running in slow gear. I could probably leave now, but will stay and leave sometime between next Wednesday and Saturday.
Other notes:
Lenin chickened out on going to Guatemala. He says it is dangerous there and would rather go to Cuba on his frequent flyer miles. However, Noe has decided to retire tomorrow. I am going to invite him to join me in going to Antigua. I hope he will.
We plan to try flying again today. It has been more than two weeks since we went flying. I miss seeing my plane. I really hope we go today. I report on the problems at the airport (there is sure to be some) the next time I write.
The attached photo was taken by Julio last Sunday of me and Lalo's family.
Take care - I love and miss you,
Bill

===============================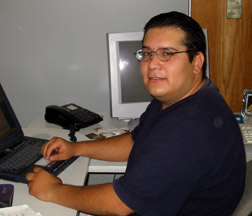 Subject: Flying and A quiet few days
Date: Mon, 4 Feb 2002 12:52:04
From: Bill Sundstrom
To: Betty Cassady
Sunday - 3 February 2002
Nothing much to report for the past few days.
Great tutoring sessions.
Some beer drinking in the evenings.
No fiestas, no clubs.
On Saturday we finally went flying again.
Nocho, Lenin and I went out.
I was at the gross weight. Nacho weighs 220.
At the altitudes I need to fly here, I did not like the way the plane handled.
After 30 minutes in the air it started to climb better.
I won't push the weight again.
We did a big circle around Cuernavaca. We flew over the city, the university etc. and headed for Tepoztlan. We could easily see the pyramid from the air. Then over Cauatla and we headed for Taxco.
Taxco and its airport are not in my GPS or in Flite Soft. I don't know why. If fact a lot of airports are not in these databases. The ONC charts show several of them, but there are no local frequencies on these charts. Not that you really need them. There is virtually no traffic down here. When they have two planes in the air 10 miles apart the controllers get excited. I finally paid a parking bill for the past three weeks. It was more than in the states but less than I expected. Just $3.80 per day. The gas was cheaper too, just $2.75 a gallon. It was a much better experience than at the Toluca airport. I hope to do a bit more flying the next few days. With my leaving by the end of the week, several people want to go out. We'll see how it goes.
Before flying, the boys got sandwichs to go from the best sandwich place in Cuernavaca. They were good! After flying, we went to 'Taco Avenue' for tacos. They are the best in town according to the boys. They say that at 2:00 AM on the weed-ends that there are so many people there to get them the street is partially blocked off. I had two of the regular ones and two made of the bull's oysters. They had the usual organ taste - if you know what I mean.
Last night, Saturday, I want to check out some of the night life, but not Lenin.
So I went to bed early and got up early this morning.
Sunday:
It was an incredible quiet day.
Lenin's dad went to Cauatla to visit his relatives.
His mom was coming back from Merida.
Lenin did want to use his car because of electrical problems.
The pick-ups are no longer legal to drive for lack of registration.
So, I studied most of the day from 10 to 6 PM.
When Noe got back, he made guacamole, and grilled meat and tortillas.
It was great.
Monday:
I am having trouble with my nick card and cable hook-up.
I hope this gets off to you.
Love,
Bill

===============================

Subject: I love Cuernavaca
Date: Thu, 7 Feb 2002 13:04:07
From: Bill Sundstrom
To: Betty Cassady
Not much has been going on.
I plan to leave tomorrow, but Lalo is trying to get me to stay one more day for a party on Friday night. The only question is who would show up on such short notice. I thought I would try to capture some impressions of Cuernavaca and Mexico.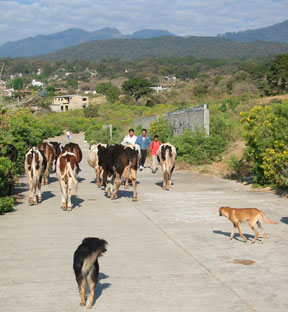 The people:
The people of Mexico are warm and sincere.
They are honest and work hard.
They have extremely strong family ties.
The family protects and nurtures the people. Many are religious.
The people are strong and resilient.
They do not complain enough and they do little to demand better services especially from the government.
Rich and poor can be living next door to each other.
The Mexican people are extremely hospitable.
They are easy to become friends with because of their open hearts, open minds and forgiving souls.
I love the Mexican people.
Technology and business practices:
Mexico is a mix of the old world and the new. It is a mass of contradictions.
Many of their practices are right out of the 40's and 50's to me. They run on cash. Checks are not used. Bills are paid at cashier counters. This means companies loose huge amounts of funds turning on and off services and loosing money for the lost services not to mention the float. Yet the internet is here. You can by stuff from the states on line, but you cannot pay off your charge accounts. You cannot buy gasoline or drugs in a pharmacy with a charge card. But most of the larger stores and hotels gladly take them.
They make and sell more Volkswagens here than any other country. Any country that can produce a JETTE is way advanced.
The government in in 40's. Everything is in quadruplicate. No scanning needed. Need I say more. The university is in the 50's or 60's. Accountants there don't even use simple accounting programs, everything is still done by hand.
Change in these areas will help Mexico immensely. I believe that they are the verge of becoming something entirely different.
But then again - they do make one good point. There is something good about a pocket full of cash.
Animals:
In Cuernavaca animals roam freely. Just this morning as I walked to the university I saw dogs, puppies, chicken and their chicks, horses, cows, and I have also seen may burros in this city and out in the pueblas. Dogs are a problem only because there are so many of them. I have seen them run over, run in packs, dead on the road, breeding and raising pups. Supposedly there is a dog catcher.
As far as the rest go, they add a lot of character to the place.
Cars:
Lots of cars here. They seem to last forever here too.
The roads are not that great but they are serviceable. The road have two main problems: (1) they are very narrow; (2) they have lots of dips and bumps. They also use speed bumps everywhere where we would put a stop sign. They have one toll road between Mexico City and Acapulco. It is wide but it is very easy to bottom out on the dips and bumps. By the way it still has got to be one the most expensive tolls in the world. For a car from Cuernavaca to Acapulco the toll is more that $30 and is less than 150 miles. There are only things about the roads I hate: (1) the speed bumps [yo odio los pinches topes] and (2) the garbage by the side of the road.
Shopping:
It is not my thing, but it is out of this world. The variety and cost of goods is outstand. A place like Taxco is fantastic.
The weather:
I have been here almost one month. Except one day, every (I repeat every day) has been sunny, clear and warm. The evenings cool down a bit but the days are always in the 70's and 80's. Its no wonder that Cuernavaca has changed from a town to a huge city of more than 1,000,000.
The beach:
Outstanding. Outstanding. Outstanding.
Beer:
Mexican beer taste better here than what they ship to the states. I can say that even Corona is good here, not to mention Victoria and Indigo.
I probably left some things out, but that is it for now.
I just have to say,
I love Mexico, a land of beauty with warm and hospitable people.
File these thoughts away and think about coming down here again. I know that I will be back.
Love,
Bill
===============================