===============================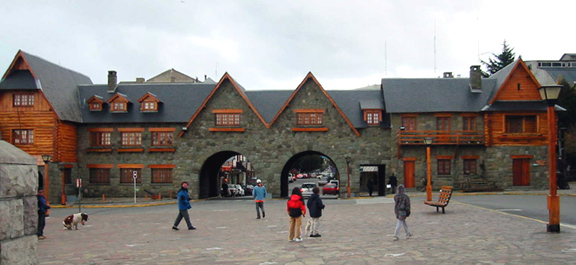 Subject: San Carlos de Bariloche
Date: Sat, 27 Apr 2002 18:01:24
From: Bill Sundstrom
To: Betty Cassady
Cc: Dain Sundstrom
Attachments: Bariloche1.jpg, Bariloche2.jpg, Nahuel_Huapi.jpg
Wednesday the 24th of April:
It was another day lost to the rain and cold. I packed and left for the airport in Castro. It is just an hour to Puerto Montt. I saw some showers as I flew but nothing too dangerous. When I got to Puerto Montt, I got the plan fueled and prepare to go to Argentina. While getting reading the wind really picked up a lot and the weathermen at airport recommended not going, which is exactly what I did. Eventually I made my way into the city and found a room. I stayed in the hospadaje all evening - they even made me supper.
Thursday:
Got to the airport about 9:00 AM. Just had to wait for immigration and customs to show before I left. I was off about 10:30. I crossed the Andes at 10,500 feet - just on the top of a cloud layer. With a 45-knot tail wind it did not take much more than an hour to fly to San Carlos de Bariloche, commonly called just Bariloche. The only problem I have encountered so far is that the ATC insist that I speak classish. Since I don't know the pilot lingo and only have a rudimentary grasp of classish it could become a problem. I lost an hour, because Argentina is three hours from GMT. Why I'll never know: the sun comes up at 8:30 AM here and sets after 7:00 PM.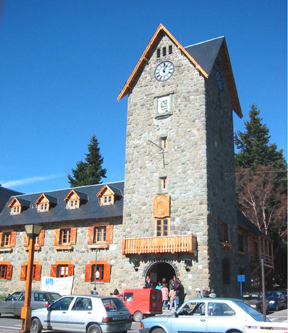 There were no hassles at the Bariloche airport either. We will see what happens when I leave.
I quickly found a great room, the best since Lima, for less than $7/night. I walk around the town both then and today. It is by far the most beautiful place that I have been in so far. It is like a little piece of the Swiss or German Alps. Not only because it is on the very large lake Nahuel Huapi, not only because it is surround by mountains, but also because most houses, civic buildings, hotels, and cottages all look like they were built in Switzerland and shipped here. I have seen them building here and they know how to build beautiful homes. The food to is right out of Europe. I had sour kraut, ham, sausage and smoked pork chops my first day here. And then there is the look here. The people are European, mostly of Italian and German extraction. Finally, I am no longer the giant - I am just big - and I sort of fit in. Due to the exchange rate, everything is very cheap here.
Fantastic dinners including desert and beers cost about $7. I am even thinking of getting a guitar here. Good Argentinean guitars start at $50 and for less than $100 I can get a beauty. I called you that night to let you know where I was - yes it seem that I got the AT&T connection back.
Then I saw an all action flick at the cine - "The Scorpion King" staring the wrestler - The Rock. Seeing how Jessie got to be governor and George W. got to be prez - I figure the Rock will be too.
Yesterday, Friday:
I caught a bus in the morning to Puerto Pañuelo. The drive was beautiful I saw even more of this rustic alpine architecture along the way. I was going to there to take an excursion on Lago Nahuel Huapi. We spent about six hours exploring. First we went to a special forest of arrayan trees. Another place we spent three hours wondering around was Isle de Victoria seeing a wide range of trees like colhues, sequoia, cypress, and pine.
Being on the lake and enjoying the view of the surrounding mountains made xfor a very pleasant day. I check out the pub scene. It was pretty dead. I suspect it picks up in the summer and during ski season from late June xthrough August. I was kind of hoping that I could say that I skied the Andes, but it just isn't possible.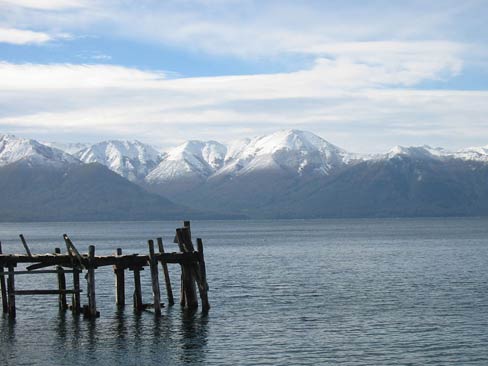 Today:
By the time I got around to checking out car rentals, it was too late to xleave for San Martin. So I set up the rental for tomorrow. I bought a cashmere sweater for $12. I explored a lot more of the city. I met a Japanese guy that has been in SA for a year now - I think he wanted to practice his English. I had trout for lunch. But what I did mostly today was just enjoy the sun and the heat. It was the first warm sunny day that I have seen in weeks. And it is the first time that I could sit in the sun with just a T-shirt since Lima.
The only problem here is that I cannot use the ATM's and the banks are not xalways open. That means that I have to deal with the local moneychangers. xThere is an official state dictated rate, but nobody is using it. What rate I would get from an ATM then is up in the air and could be as little as half the unofficial rates. And those rates vary from one place in Argentina to another. It is good that I still have a few dollars left. And who knows if I can cash a travelers check - we'll see.
I will probably leave this area on Monday. I am quite sure where I am headed but by Wednesday I will be near the Peninsula of Valdes, then north to the Pampas and the beach before going to Buenos Aires.
So I am over the Andes and am about to start north.
Love Bill

===============================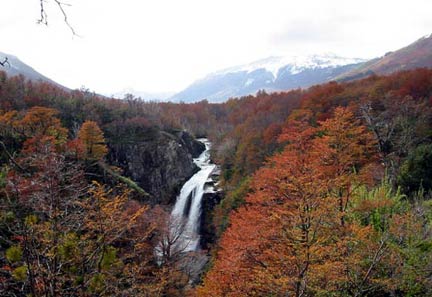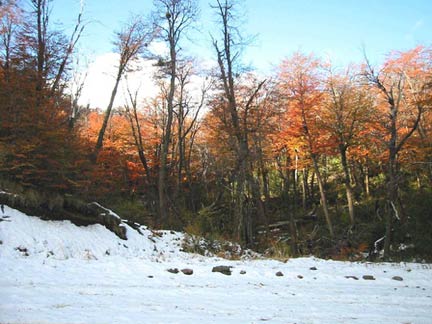 Subject: San Martin de los Andes
Date: Mon, 29 Apr 2002 19:35:26
From: Bill Sundstrom
To: Betty Cassady
Cc: Dain Sundstrom
Attachments: Argentinian.jpg, NearSanMartin.jpg, SnowLine.jpg
Sunday the 28th of April:
Drove my rented car north with my ultimate destination being San Martin de los Andes. I picked up a hitchhiker just on the edge of town. There are a lot of hitchers here. The vistas along the way were spectacular. The first one that I really took notice of was of Bariloche from the other side of the lake. There were many great views of the Lago Nahuel Huapi and the surrounding mountains. Soon I was in Villa La Angostura, where my hitchhiker departed. I passed by a half-a-dozen more lakes on my way. Each was much the same: pristine, clear blue, desolate, and beautiful. Except for the last 20 miles, the entire route was forested. The forest was extremely colorful. The changing leaves left large swipes of red flow through the mountainsides that were covered with trees. I saw no wild life. There were cows in the forest and along some of the pastured river basins. I also say sheep and goats. The last four miles as I descended into San Marin on a mountain ledge along Lago Lacar provided one of the best views of the day.
In San Martin, I dropped into one of there best restaurants, after all this was Sunday. The Tasca serves a wide-range of regional dishes. I finally tasted an Argentinean red, outstanding. I select wild boar. It was severed with mushroom is a sauce to die for. For desert it was apple strudel and coffee. I know you are looking for these places on a map, so here are San Martin's coordinates: 40.10 S and 71.21 W. And for Bariloche they are 41.09 S and 71.19 W.
The return route was quite different and just a mountain ridge away. I felt like I was in Colorado on the edge of the Rockies. I followed river and streams and passed one lake. The rivers and streams lead me up and up to a mountain pass. The trees seemed even more red now as I pressed closer and closer to the precipices of the ridge lines. When I finally reached the top and began my decent, I was suddenly in the snow, wet and melting on the red dirt road. The winding up and down through the canyons was beautiful, exhilarating, and terribly dangerous. The lack of signage, especially reflectors on ledges, was dismal. All I could think was "Thank god, it isn't dark!" The last 30 miles opened to a wide plain between mountain ranges and along a significant river. Although dried and not green, the plain was covered with a tight, low brush that could be a type of sagebrush.
I arrived back at my hostel just before dark.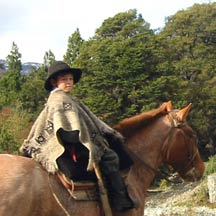 Monday:
I flew to Puerto Madryn (42.47 S, 65.02 W) about midday. The flight was pleasant. The area between the mountains and the coast at P.Madryn was pretty much devoid of human habitation. It was mostly just a semi-arid landscape of sagebrush, no trees, an occasional road and a couple of settlements with less than ten buildings. It must get cold here at night because I could see ice on the occasional pond that I crossed. This landscape persisted right to the coast. Madryn is a nice little city. The archetecture in more like southern California here. It was substantially warmer like in the 60s (high teens in centigrade). I guess I won't need the new sweater. This town was an early Welch settlement. I guess that there are others nearby. I had tea at a Welch tearoom this evening. The cakes were outstanding. The reason that people come to this area is the Peninsula Valdes. I have book an excursion there for tomorrow. I hope to see some exotic beach animals. We'll see.
Just a note about very old Falcons: They must have built them in this county. There are so many 1960 Ford Falcons still around here that it is simply amazing.
Take care and I miss all of you!
Love,
Bill

===============================

Subject: Peninsula Valdes and Necochea
Date: Thu, 02 May 2002 18:53:08
From: Bill Sundstrom
To: Betty Cassady
Cc: Dain Sundstrom
Attachments: GrayFox.jpg, SeaLions.jpg
Tuesday:
It wasn't quite what I expected, but I did tour the Peninsula Valdes. The weather was colder and cloudier and very windy. We started off about 9:00 with a driver who was our guide and the entire trip was in classish. So, I missed a lot. The peninsula is more desert with some grass in places, desert brush and lots of sand. Here and there we saw groups of wild animals, including gray fox, choique ( al large emu like bird), sea lions, a the wild alpaca - the guanaco. When we finally got back, I ate and went to a Johnny Depp movie - El Inferio.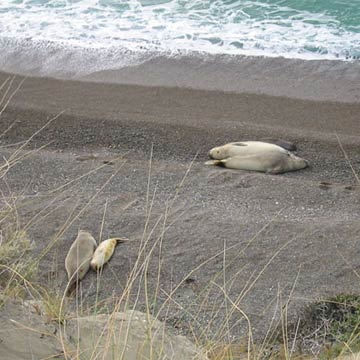 Yesterday - Wednesday - May Day:
I flew to Necochea, which is between Bahia Blanca and Plata del Mar. As I headed north the landscape became greener and greener. The region east of Bahia Blanca is large plain of green fields that are used for wheat and sunflowers. The area greatly reminded me of home, except that as I flew I could see the coastline and the beach. Being May Day, it was a holiday. When I landed I was greeted by a large number of members of the local areoclub. They were friendly and I stay to talk with them for a long time. I discovered they dislike their ATC system as much as I do. The main reason they cannot change it is that it is controlled by the military. They would like to have a system more like Chile. The other things that I have noted is that unless you land at a controlled airport it is impossible to close a flight plan plus they have much less radar here because it rarely is polling my transponder.
Today:
I just roamed around this town and the neighboring Quequen. I probably hiked more than ten miles. Most of the tourist stuff is closed. Got to use my ATM card finally here. I will check the rate later tonight.
Well that's it. Tomorrow is Plata del Mar, and then Buenos Aires on Sunday or Monday.
Love,
Bill

===============================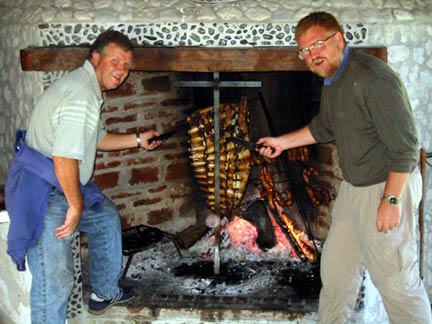 Subject: On to Mar del Plata
Date: Sun, 05 May 2002 17:34:47
From: Bill Sundstrom
To: Betty Cassady
Cc: Dain Sundstrom
Attachments: Barbeque.jpg, Typical_casa.jpg
Before I start on the journal, I really have to say that Argentina is the place to be now and maybe for the next few years. It has been reported to me that 4-star hotels that cost $200 a night at Christmas go for as little as $28 now. I paid 8 pesos ($2.65) a night at the Neptune in Necochea. This is no palace but I got a bed, heat, a private bath, cable TV, and breakfast. We are talking really cheap. You can rent a nice house for $100 a month. My guess is that Buenos Aires is a bit more but not much. If there ever was a time to visit this beautiful, modern country - it is now. Hon, tell your friends to visit soon! The winter is just starting here now but it is in the 60's every day. Spring comes in September. This is a place where it is modern, very European, and very inexpensive. I could live a life of wealth here on just my pension.
Friday:
This was to be the day to go early to Mar del Plata and settle in for a lascivious weekend. You know, plans change and things happen to surprise you. That's what happened when Carlos Marti showed up just as I was finishing breakfast. Carlos is the member of the local areoclub that drove me from the airport and into Necochea. He had promised to provide me with a CD packed with MP3 files of traditional music of folk and tango origins. And there he was with the CD. The music is beautiful. He also invited me to a traditional Argentinean asado or barbeque for lunch. It didn't take me five minutes to figure out that is what I wanted to do. After packing, I sat in the lobby and started on my last book in English, Plum Island.
It wasn't an hour and Miguel Vazquez drives up. Unlike Carlos who speaks pretty good English, Miguel knows almost no English. But I am finally starting to get an ear for the local dialect, so I can actually understand most of what he says - and better yet he seems to have a great deal of patience with my skill set. He showed me a new part of the beach just east of Quequen where there are dunes that stretch to more than a kilometer from the shore. He tells me that the dunes can be found most of the way to Mar del Plata. The wind is always moving the brown, light beach sand around. On the road that we drove, sand was drifting, but we made through every drift. About noon we arrived at the lighthouse. Carlos manages all the lighthouses from Bahia Blanca to north of Mar del Plata. He and his crew were playing soccer. Its great to see a 55-year old guy do better at such a game than many of 20 and 30-year old reports. I climbed the 35-meter tower. The wind pushed hard on me, and the sun shown brightly as I looked out on the surrounding county side. The barbeque was great.
After the feast, Miguel and I headed for his house for coffee and to see his formula-3 racecar. Besides being an aviation enthusiast, he has been building and racing cars for years. Shortly after we arrived, the rest of the family showed up: Susana - his wife - Julieta and Leonardo. Julieta speaks near perfect English, which was nice. On a whim, Miguel decided to come with me to Mar del Plata. At the airport I gave Julieta the books I had finished reading, and we were off. The airport we went to was a small areoclub run facility. I really fell into it by going to Necochea. These clubs are what make GA work here. We put up in Leonardo's apartment. He is normally here studying at the university. Too tired to do any thing after diner we just sacked out about 11:00.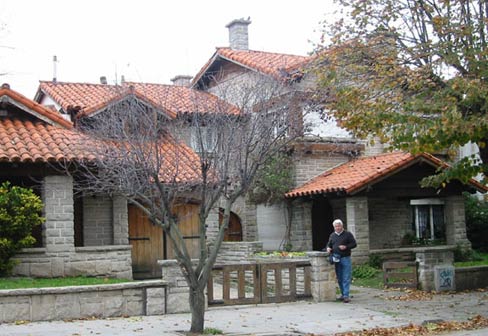 Yesterday, Saturday:
Miguel and I walked for hours seeing many of the places in the city. I visited a museum that must have the largest collection of sea shells in the world, then a beautiful church built in 1912 of the local stone of Mar del Plata with a beautiful marble alter, then there was a fantastic tower - which unfortunately was closed. We walk though the barrio Los Truncas. The most of the houses are made of stone or brick in a French style. Where wood is used and looks very natural. After that we walked along the ocean with its many beaches and rocks. Finally we stopped to eat. After relaxing for several hours, we went to a great little pub. When we arrived about 10 it was nearly empty, but slowly it filled and was packed by the time we left.
Today:
It was a very slow start. Did not really do that much. We had a very simple lunch at a Basque restaurant. Then Leo came back with Miguel's car, so we drove around the city until dark.
The pictures are of Carlos and me at the barbeque and one of a typical house in the barrio that I walked through with Miguel standing in front of the house.
Tomorrow I will fly to Buenos Aires. It is much larger than what I was led to believe. 25 of the 36 million people that live in Argentina live in and around the city. I have been looking at the map and pictures of the city it would take months to really get to know it, but I only have two or three weeks. Oh, well.
I will write near the end of the week.
Much love,
Bill

===============================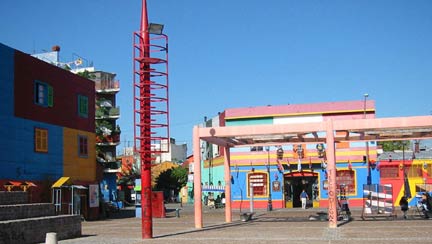 Subject: Buenos Aires
Date: Sat, 11 May 2002 15:27:34
From: Bill Sundstrom
To: Betty Cassady
Cc: Dain Sundstrom
Attachments: Boca.jpg, DeltaView.jpg, EvasTomb.jpg, MechanicalFlower.jpg
Buenos Aires (BA) is a fabulous city: fairly safe, clean, good public transit, lots of parks and open space. It appears to be a great place to live and visit. Well, on to the journal: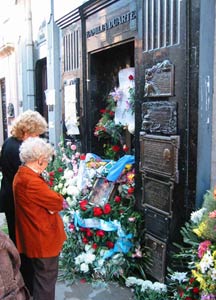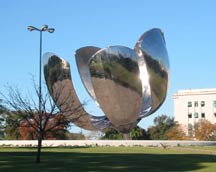 Monday, the 6th of May:
I took a bus to the Batan airport. I prepared to leave and pay for the hanger fees. I expected to pay no more than 5 pesos a day and maybe just 5 pesos for the total - according to my friends in the Necochea Areoclub. But alas, they must have seen a sucker coming, 60 pesos for 3 nights. That's three times what I paid for a hotel room in Necochea. Based on the recommendation of one of the flyers at Batan, I flew to the Quilmes airport, which is about 12 miles from the center of BA. I headed by taxi for the Villa Urquiza neighborhood. The first ten miles or so took less than 20 minutes to transverse, but the last couple of miles to the center and the three or four more to Urquiza took more than an hour more. Luckily the driver had a map that I started to use to keep him on the right track. He only got turned around a couple of times. He really didn't know this part of the city. Finally, I arrived at the home of Javier and Guillermina, who Paul and I first met in Costa Rica. They have given me a room to use and I get to share a small piece of their lives. I say small because they work full-time jobs and are working toward degrees at the university. So, usually both of them are gone before 8:00 AM and the last doesn't return until after 10:00 PM.
Tuesday:
I got a late start, but finally made it downtown by the commuter train. The AMEX bank gave me a horrible rate, nearly 10% less than everywhere else, when cashing some checks. I complained, but what good does that do with these rip-off artists. Best thing is to stop using the damn things. A stop at the 'I'nformation office yield a wealth of things to do in BA. I walked down Florida, the major pedestrian shopping street a ways, then headed toward Javier's office for a 2 o'clock meet. We walked around the Recoleta barrio. We visited the cemetery, where many of Argentina's most famous and richest citizens are buried, including Eva Duarte de Perón. We visit her tomb and this was here birthday. Many of her friends and old Peronist were there. This neighborhood has a lot of parks and open space, filled with monuments, fountains, and great trees. We passed by several museums that we did not have time to explore, but we did get to see a gigantic mechanical flower that is suppose to open in the morning, follow the sun all day and close in the evening. I say 'suppose to' because it is brand new and not functioning at this time. Javier headed off for school about 5ish. In the evening about 10 I met up with Javier and Guille at Mimí's house. She is Javier's mother. I got a chance to meet his family: two brothers, Mario and Martin, and one sister, Andriana. I had a lot of fun getting to know this truly beautiful family.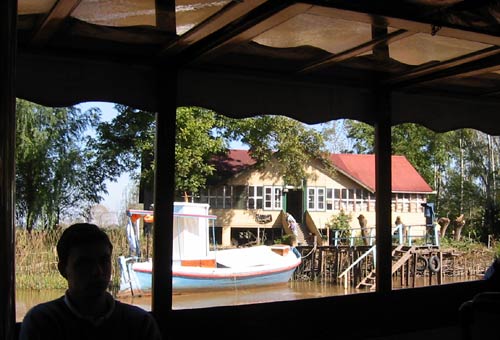 Wednesday:
I took Adriana's suggestion to heart and went to Tigre. At Tigre I got on a boat, a waterbus, to visit the delta region. This is an extremely large are of hundreds of square miles where people - rich and poor - live along the channels, river, and byways of the delta. Looking at a map you might think that no one lived here with no roads or towns, but that would be a very wrong-headed conclusion. It is a beautiful area. If not for the boats this would be a fairly remote area. After four hours on the boat I returned to take the train back into town and I walked from the Belgrano station.
Thursday:
I skip the part about going to the wrong embassy for now. But right after that I headed back to the Recoleta to go to the museums I missed on Tuesday. The national art museum had a Rembrandt show of his pen and ink drawing that was pretty good, but I really went there to see the three or four rooms of Argentinean art. It was a good exhibit and I enjoyed it. From there I went to the decorative arts museum. It was just a big old mansion, and hardly worth writing home about.
Yesterday Friday:
I had a very full day. I finally found the right place to go to apply for a Brazilian visa. They require one because the USA requires one of their citizens. After paying the $56 fee, I got on the subway to the Constitucion station. From here, I walked several kilometers through some working class neighborhoods to a delightful little street, called Caminito, in the Boca neighborhood. I think that this is the birthplace of the Tango, because it is so celebrated here. I stopped for a bit of lunch and was treated to a brief Tango show of two dances. I found the colors and art to be very charming. I stopped at another really good but small museum dedicated to the painter Benito Quinquela Martín. His powerful art and the works of many other Argentines was on display. I like the museum and the discussion I had with a sweet young museum employee, Florance. From here I walked to Puerto Madero. This is the old port with four large docking areas. All but one of the port's warehouses have been renovated into apartments, offices, stores, and restaurants. There were two museums, one being a three-masted sailing ship. I didn't have time to visit them, but the ship and a very interesting suspension bridge were fabulous. The two or three kilometer walk through the port was great and showed me the best renovation that I have seen of such properties. I was super exhausted after hiking for eight hours and god knows how many miles as I approached the Retiro station. I though my ordeal for the day was over. Wrong, the train was pack to two or three times its capacity - rush hour. It was hard to breath, and pushing it was a crushing experience. I had been able to relax for a few hours before both Javier and Guille got home. We went out to the Palermo Viejo neighborhood, and we ate Mexican - a big mistake, nobody makes it like they do in Mexico or the states. Then we went for beers. The area was full of bars and restaurants. The triangular shaped plaza, Placita Serrano, was full of people at midnight. Drummers were at it in the square where penny pinchers drank from bottles of beer from the local market. Those with a bit more money sat in and out in front of the many surrounding bars. A delightful area that I will return to.
Today:
I write and rest. I have been walking three to 15 miles a day. I am getting my clothes washed too. I sat and read in the park for two hours in this wonderful clear, sunny, 75-degree weather. Later on I will go to a wine tasting show in the center with a Jimena who we met in Peru.
Well that's it for now. I hope you enjoy the attached photos.
Love,
Bill

===============================

Subject: Wine, Soccer, and the Tango
Date: Thu, 16 May 2002 13:02:18
From: Bill Sundstrom
To: Betty Cassady
Cc: Dain Sundstrom
Attachments: PinkHouse.jpg, TangoShow.jpg
Last Saturday Night:
I called Jimena Saturday afternoon to see if she was free from work at last. Indeed she was free. We agreed to go to a wine show at the Palais de Glace. When I arrived at her condo, I realized that I had forgotten how incredibly adorable she looks, especially with those large blonde, curly tresses and that angelic glow. She has a lovely two-floor, one-bedroom apartment in the Palermo neighborhood. She had a small pickup style van to use for the weekend and we took advantage of it. There were dozens of vineyards showing off there best wines. And their wine is extraordinarily good. Trying so many wines at one time gave me a chance to get a more complete picture of the wine industry here. I got a chance to talk to a couple of the producers, and it is clear that with the devaluation they will be selling lots of very good wines in the USA. They are really gearing up to market to the US market for the first time. After the show we stopped for a quick plate of ravioli at a nice downtown restaurant, we head over to see more of Palermo Viejo - a place I wanted to see more of. She drove through the Las Cañitas area, and then we stopped in the Palermo Hollywood area. We went to a great standup bar, Unico. My take on this whole barrio is that it is a paradise for the young. A guy like Adam would go absolutely bonkers in a place like this. It is like every bar is a party that can stretch into the streets - something that happens despite the monetary crisis, although I heard that it was a much large party before the crisis. And from a man's stand point the women of Argentina are incredibly good looking. I am truly amaze everyday by it.
Sunday:
It started raining and it has been rainy and overcast ever since. I did have a great day, because I went to my first South American soccer game. I went with Javier's uncle - Alberto - and two cousins - Pablo and Fernando. It was the final game for River Plate to win the division 'A' championship. The crowd knew their team would win because River was playing the worst team in the division (they are on their way down to division 'B.' The real show was not the 5 to 1 win on the field, it was all happening in the stands. It was spectacular. The pageantry was amazing: long plastic sheets of red and white banners (the team colors), huge flags and banners adorned every possible open space, fireworks emanated from the stands - rockets aglow, and finally the singing, always the singing. When the game ended the stadium seemed to explode both literally and figuratively as fifteen minutes of fireworks filled the stadium for 80,000 with smoke. More banners appeared on the field and children spelling out a victory slogan as they laid down with balloons of red and white.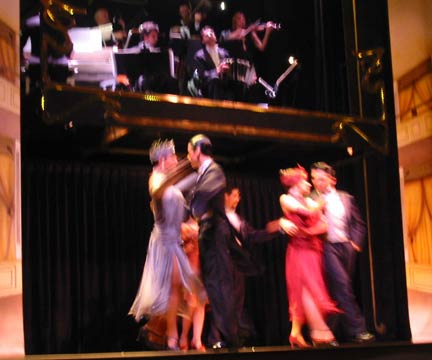 Monday:
As the rain continued, I found travel a bit damp. But I had things to see and places to go. First, I went to the MALBA (Museum of Latin American Art), which just recently opened. It has mostly Argentine, Uruguayan, and Brazilian art of the last 100 years. It was wonderful. I liked all but one of the painters, The moving art was marvelous: a box with lines of black and gold that has a chrome wheel fold in the center about 60-degrees that was turning and created wonderful illusions; another had six or so bands of polished chrome metal about two inches wide the were tied together and were made to change shape to various oval shapes with a light creating reflections; and finally one that I did not like at first, after all it was just a pile of sand about 20 inches high on the floor - just another piece of crazy modern art that was nothing. I continued look in the room when two museum attendants passed by. I watched one take a long pole and reach up to poke a nail into a small hole in the ceiling some 15 feet (4.5 m.) above. He cleared the packed sand and the sand began to drift down in a billowing mist that seemed to flow in a changing path. The pile of sand came alive and so did the piece.
The other thing I had to do was go to the Brazilian consulate to get my VISA.
In the evening Andriana and I went to a dinner show at a wonderful tango theater. The food was outstanding. The wines were excellent. I could not have asked for more. The show was very good. The music was wonderful: piano, cello two concertinas, and a fantastic violinist. The dancers were great. And the tango, well, it must be the most erotic and at the same time most romantic dance of modern dance styles. I really enjoyed getting to know Adriana. We talked for hours after the show about a wide range of things. I think the thing we both like a lot is gardening. She is taking time to set up a career change from the hotel business to something to do with horticulture.
Tuesday:
I rode Guille's bike to San Isidro. It broke down about four times. By the time I got to Mitre I was fed up and the bike was really not working. So, I got down the hill to the line that allows bikes. I grabbed a train to San Isidro where I found a shop that could patch it well enough for the ride back. And what a ride it was along the Rio de la Plata. After looking at some the old buildings, homes and a church, I headed on the bike path that follows the river back to Mitre. The view along the river is peaceful. I stopped at one place where there was a sort of beach. I looked toward the center of BA to see a beautiful cityscape. Two models were on the beach with a photographer working hard at some kind of shoot. I saw a lots of cars parked here some with folks in them other not, and one with two guys lying on the hood of car smoking a joint, ah - youth. I headed back to town and as I got closer to Mitre it started raining. Finally at the train station, I got onboard. When I arrived at the station closest to Javier's, I still had a kilometer to go and suddenly the rain turned into a torrent. I waited a while until it turned to a normal rain, and peddled back through the flooding streets. I was totally soaked by the time I arrived. Thank goodness the rain was not particularly cold. I took a hot shower and rested my weary legs. About 9ish Javier and I went to dinner at his mom's house. I really like his family, such a bright people. They even argued a bit about the monetary crisis. I guess it is on everyone's mind.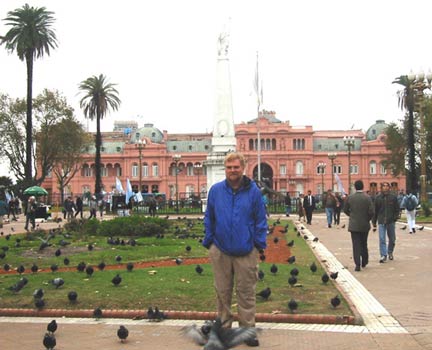 Wednesday the 15th:
I got a chance to get to know Javier's mom, Mimi, better today. She showed me the city center and we did some shopping. We visited the main square to view many government building. The Pink House is the Argentine equivalent to our Whitehouse, and yes, I went to a small museum in it. We had lunch at Café Tortoni. Built in the mid-1800's, it was a great example of old Argentina. Along with the beautiful décor dating back 100 years there were are pieces on every wall and the food was good too. Later as we walk down La Florida, I could see that this city has a special vibrancy. Not only because I could hear the protestors clanging their pots in from of the Scotia bank - that has completely closed down - but also because of the mile-long street of shops full of people. We stopped so I could get a Tango CD and later two books (I just finished DeMille's 'Plum Island'). And Mimi stopped to exchange a sweater vest. Finally, we stopped at the hotel that Adriana is doing some consulting for. We had coffee with her and headed home.
At 9:30 I was at I took my first tango lesson. I should have started last week. Adriana put me on to a tango social club at Armenia 1466. The club offers dance lessons in Salsa, Tango, and old-fashion rock and roll. It isn't bar but they serve liquor. It isn't a restaurant but they serve food. It is all about dance. There must have been more that 200 people from 18 to 80 in a huge room. I found the atmosphere to be interesting and exhilarating and in some ways it reminded me of the DAF. After the dance lessons there was open dancing. Not really being able to do much more than the basic step after the first lesson I just observed and enjoyed a couple of beers. Watching these ordinary Argentineans dance the incredibly romantic tango was wonderful. You know, I really love it here, a great people and a great county.
Well that's it for this time. I will write again soon and I will call on Sunday.
Love,
Bill

===============================

Subject: TANGO - dancing the nights away
Date: Mon, 20 May 2002 11:11:08
From: Bill Sundstrom
To: Betty Cassady
Cc: Dain Sundstrom
Things have really slowed down for me. I have seen much of Buenos Aires. I know many of the major streets and some of the highways around it. I know some of the parks and museums. I have enjoyed the great nightlife. I have suffered a week of intense rains and delighted in the sun and warmth of the city. It feels a bit like Cuernavaca, because I have shifted from strictly being a tourist to actually living here. And the truth is that I like this place just about as much as Cuernavaca. So, if the descriptions that follow seem a bit brief that is why.
Thursday the 16th:
It seems like I am not doing much. I prepared that long last email. Late in the afternoon I head for Av. Cabildo to check out many of the shops and movie houses along it. Mimi told me about a tailor shop where I could get a suit made for $175. I went to the shop and ordered on in a demure blue-gray pattern of Argentinean wool. I go in for fittings tomorrow and Wednesday. A bit latter, I walked over to see Spiderman. I actually liked; the special effect where very good; and William Defoe was a great Green-Goblin.
Friday the 17th:
Again it was raining. Mimi stopped by in the afternoon. We went to check out a wine store where I picked up three bottles. I will try to bring a case home. I got a beard trim from Mimi's barber. I stopped by a shop to see about a new pair of sunglasses. They would cost a little over $100 with graduated bifocals. I will probably get a pair. I continued looking at the shops along the avenue. The only big problem was all the rain. Once again I got soaked, including my shoes.
In the evening, it was back to Tango lessons. I continued to work on the basic step. Adriana was supposed to come by and be my dance partner. She eventually did drop by to let me know that she was with a friend at a nearby restaurant. I said that I would drop by when the lesson was over. About 12:30 I hooked up with her and Mariela about two blocks away. We talked for a couple of hours. It was fun.
Saturday:
I finally got out in the afternoon. Guille's friend Rosita had a car and gave me a ride downtown. I went to exchange a book that I had bought earlier in the week because I figured out that I had already read it.
I also wanted to see the books stores other location that was on Santa Fe. Years ago it had been an old movie house, a bit like the State Theater in Minneapolis. They did a wonderful job of renovating it. I looked at a lot of books. It's hard to find detective books by the authors that I know and have not read. I got two more books, only to later discover that I had read one of them. I think I will just get a CD and forget trying to get another book. It the evening it was another Tango lesson and I tried the salsa lesson. The teachers were not as good but I learned a few moves in the salsa lesson. In the Tango lessons I learned many new steps. I stayed for a bit of the open dancing, then walked a half-mile to Palermo Hollywood and the Unico bar. I stayed there way too late, and didn't have as much fun as when I went with Jimena.
Yesterday, Sunday:
Finally, it stopped raining and we saw some blue skies between the clouds. We got to use Mimi's car in the afternoon. Javier, Guille, Adriana and I drove into town along the river. I saw some wonderful place. We soon were in the San Telmo barrio. This place is famous for its antique stores and its Sunday flea market. I saw lots of neat little things. There were lots of silver items. I liked looking at the cameras and stereographic devices the most. From here we drove to Quilmes. We were planning to do a local fight. It didn't work out. All the rain had left puddles on the grass field that made it dangerous. The only person around let me know that the airport was officially closed. I am sure that we could have taken off, but I was a little concerned about landing with some sort of unusual slipping. So, I opted to play it safe. After that we drove back to nice new park along the river. For the last few years the people of Argentina have be recovering property along the river sold during previous regimes, and acquiring new riverfront properties for parks. Even though it had clouded up there were thousands of people along the banks of the river: walking, flying kites and just enjoying the day. On of the nice things about BA is that they do have a lot of parks and open space.
In the evening I went for a while to a birthday get-together for Guille's cousin. About ten people filled her small apartment. It was a great atmosphere, but I had to leave a bit early. Yes, it was for another Tango lesson. There was different male instructor who was a bit more methodical than the one on Saturday night. I seemed to be getting better and was satisfied. The lessons are earlier on Sundays, so I had planned to leave about 10. A pretty young thing convince me to stay for the open dancing, so I thought I would see if I could learn anything in the rock-swing dancing lessons. By god, I did. And I actually enjoyed the open dancing quite a bit, mostly because I actually tried to do the Tango a couple of times.
And what about the sweet young thing? She found another dance partner before the end of the rock lessons. In any case, I headed home the earliest that I had all week, one in the morning.
That is it for now.
I don't have any pictures to send home. If you want to learn more about the tango or download some tunes check out the site below:
http://www.tangol.com
http://www.tangol.com/ENG/default.asp
MP3´s or RAM files at the one below
http://www.tangol.com/asp/tangomusica.asp
Enjoy!
Love,
Bill

===============================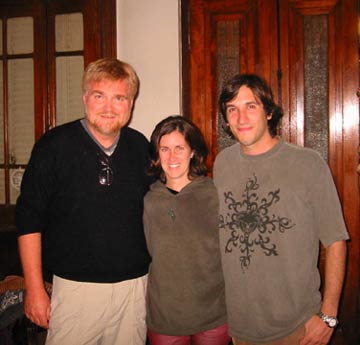 Subject: Number 4 from BA
Date: Thu, 23 May 2002 09:52:32
From: Bill Sundstrom
To: Betty Cassady
Cc: Dain Sundstrom
Attachments: BurgosFamily.jpg, Guille_Javier_Bill.jpg, Mimi_Bill.jpg
Monday:
Was it a blur or what? Oh, yea - I wrote in my journal. I went down town to exchange another book. I am going to give up one looking for something else I haven't read. Even the James Lee Burke that I am keeping is sounding familiar. I am pretty sure that I have read it. So I exchanged for another book on gardens for small spaces that will be a gift for Adriana. She loves to grow things. Later I met with the person that will translate some insurance papers into Portuguese. I hope she finishes them by the weekend. I talked to Jimena too; she has set up a diner with her family for Sunday afternoon, after which we will go to the opera at the Colon Theater. I was home and had a hankering for US comfort food. I got on line and got a simple beef stew recipe. It turned out great and was ready just as Guille got back from work (or was it a class) about 10:00 PM. No dancing, it was a restful day.
Tuesday:
Again it was a late start out of the house. I am starting to plan my route through Brazil. Looking for smaller airports with gas, a difficult but not impossible task. In the afternoon I went down to Sarmiento Street to get information on guitars. I visited a number of stores. Musical instruments here, like most everything else, are fantastic buys right now. Even the imports have not had much, if any, of a price increase. I went to this area based on the recommendations of Javier's brother Martin. He particularly recommended Casa Nuñez. He was right, I got lots of info there and had a great store clerk, Evangelina, show me some wonderful and fairly inexpensive guitars. She also showed me a great concert guitar. I decided to check with Martin and to sleep on the info. Then I ordered a pair of prescription sunglass to replace the ones I lost in Mexico. Then it was over to the tailor's shop for a fitting of the jacket. It looked and felt great. I will be back on Thursday to check on the pants. After this I continued to window shop. Can you believe it; I have been shopping so much. I picked up a pepper mill for Guille and Javier, first-rate quality; maybe I'll go back for one for us. Then it was to my last diner on this trip with the Burgos family. It was in some ways the most enjoyable. The discussion was serious and yet not oppressive. I really love this family. I will miss them when I leave.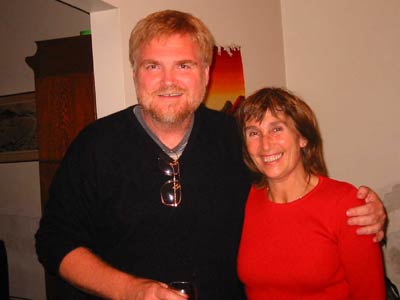 Wednesday:
In the morning I called John Ganapes in Minneapolis to ask about guitars. He suggested that I should get the better guitar if I didn't really need to hang on to the cash. I took his advice. Back to the Antigua Casa Nuñez I went. Evangelina was there and we talked and I got the guitar. It is a beauty. It's a totally blonde guitar, which is a bit unusual. The sides and back are made of cypress. The neck is of both cypress and ebony. The sound is excellent. I still know most of the cords I learned years ago, so at least I won't be starting from scratch, when I ask John to take on another student.
In the late afternoon, I rode the bike down to the river - which about three miles northwest. I ended up just a bit down river from the university. It was sunny almost all day long. The ride was good with a light, cool head wind. On the river I stopped for a while to enjoy the view and the sun, which eventually dipped behind a bank of clouds to the west. I watched a family come to the river and set up to catch fish, some using short poles with no reels, other just a line. I rode the bike along the river until I reached the Jorge Newbery Airport where I turned toward the city. A few block back from the river, I found a wonderful park. Joggers, walkers, lovers, bikers, and all kind of people were enjoying the afternoon. Especially along a large pond or lake. I got off the bike and walked along its bank. The ducks and geese gather around a person with bread. I saw a loon like bird diving for food. The green parrots screeched above. Then I saw otters playing in the water. Finally I continued my ride through the park eventually turning toward the '3rd of Febrero' station. As I waited for the train, the sun dipped below the cloudbank to yield twenty minutes of wonderful light, which cast the few clouds in the east into hues of light violet, purple, and blue-gray. It was a wonderful afternoon. In the evening I went to my Tango lesson. I advanced to the third level. This seems too much for difficult. I figure I would need to stay at this level for a while, but this Saturday will be my last lesson. The number of students was down and so there was more room to dance. Once again in the open dancing, it took my breath away to watch this incredibly beautiful dance.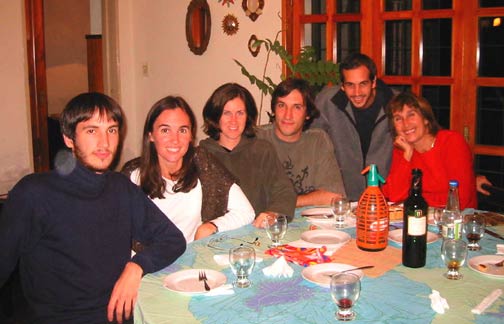 Things coming up:
Not much today: a bike ride, the tailor's shop, and I have several options for the evening, from a movie to renting a movie to a tango bar.
Tomorrow: More dancing.
Saturday: I hope to take Javier and maybe Adriana flying in the afternoon. My last tango for a while will be in the evening.
Sunday: The opera.
Monday: Leave for Iguacu.
Photos are of the Burgos family. From left to right in the photo of the family are Mario, Adriana, Guillermina, Javier, Martin, and Mimi.
I will try to write again before leaving. If not the next time I write will be from Rio de Janeiro.
Love,
Bill

===============================

Subject: Farewell Buenos Aires
Date: Sun, 26 May 2002 20:41:35
From: Bill Sundstrom
To: Betty Cassady
Cc: Dain Sundstrom
Thursday the 24th:
I did a lot of bike riding in the afternoon. It was a warm and sunny day. I took the bike downtown and walked Florida Street one more time. I rode through Puerto Madero to take some pictures I missed the last time I visited this unique area. Then I headed for the ecological reserve along the river. This is an incredible area between the center of BA and the river. It is latterly teaming with wildlife and plants. I saw all the things I saw in the Palermo park on Wednesday plus a whole lot more: swans, turtles, some giant rodent as big as a dog, guinea pigs, storks. Later I went back to Cabildo Street to check how my pants would fit. Then it is was a fairly bad movie called Showtime.
Friday:
I took it easy today. A pedal broke on the bike so I got it and a couple of other things fixed at the bike shop. I took care of a couple of other house keeping things, like picking up my new tailor-made suit, a first for me My dancing is improving. If I were going to stay here I would be in the third level for a week or more. I had told Jimena about the Armenia Street dance club and she showed up to take here first lesson. It is hard to believe that so many people here do not know how to tango.
Saturday:
Javier, Guille, Adriana and I took a taxi out to Quilmes to go flying for over an hour. They thoroughly enjoyed the fight. Javier, Guille and I got out of the return cab in Recoleta, while Adriana went to a study session. We had a very late lunch then visited some of the places in Recoleta that I had not gotten into, including a very old church and the cultural center. The center was loaded with exhibitions. It was really great. Every weekend is like the Upton Art Fair in Recoleta with hundreds of booths selling wonderful pieces of art and handicrafts. When we got back I got about a 30 minute nap before getting reading for the tango club. It ended up being a very late night as I took my last dance lesson. I did fine in the lesson and stayed to watch the open dancing and drink some beers. One of the dances that I saw was a folkloric dance called the Chamamé. There must have been 60 couples on the floor having a great time doing this dance. About 2 in the morning a live band showed to put on a fantastic show of tango music that most of the crowd ended up dancing to. I have had a reoccurring fantasy on the trains and buses here that everyone breaks out into song and dance. Of course, it never happens, but it gives me a mirthful moment. But as I was leaving the club they put on some music that could have been a patriotic song. Whatever it was the entire 300 people in the club stood up and began singing. I was nearly in tears, I could believe it but there it was. As I took the cab home I knew that I must return to this city someday soon.
Sunday:
I did a little packing after getting up late. Then Jimena picked me up to have dinner with Jimena's parents Victor and Mary, and two of their friends.
The food and drink was wonderful. Victor's raviolis were some of the best that I have ever had. After dinner Jimena and I went to the Colon Theater to the opera Joan of Arc. The theater is nearly 100 years old. It is a spectacular facility similar to those in Europe. It is small and intimate in some ways but seem to hold lots of people.
As I have said in nearly every email from here, I love this place. I am sad to be leaving, and will miss it dearly. But tomorrow I am off to Iguazu.
Sorry about no pictures, next time.
I will write from Rio. Take care. Love,
Bill

===============================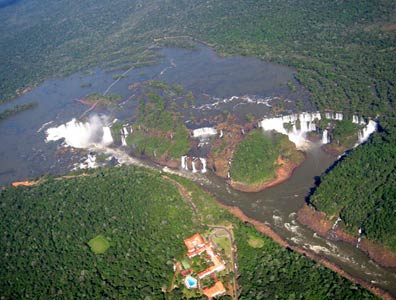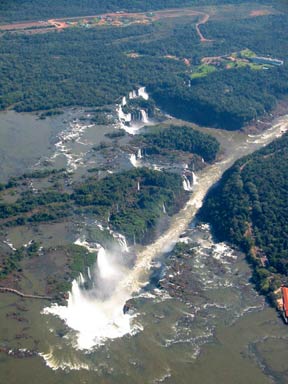 Subject: Iguazu is Magical
Date: Thu, 30 May 2002 18:56:03
From: Bill Sundstrom
To: Betty Cassady
Cc: Dain Sundstrom
Attachments: Iguazu_1.jpg, Iguazu_2.jpg, Iguazu_3.jpg, Iguazu_4.jpg
Monday the 27th:
It seems like it took forever to get going again. I was in a taxi and off to Quilmes before 9:00 AM. Saying good-bye to Guille was hard, I am going to miss both her and Javier. The ride through the city was just as hard. Finally we made it to Quilmes a little after ten. I had to load up, wash the bottom of the wing off, get air in the tires, and figure out exactly what I was going to do. Ignacio, a pilot that I had run into several times at the airport, has very helpful. I finally head off about 11:30. I called and got permission to fly along the river to San Isidro. The view of the city at 1500 feet along the way was breath taking. The view of Tigre and the Delta was pretty unbelievable too. The next time I come back to BA I will have to bring my friends on this route. Eventually, I stopped for fuel in Concordia. I got a chance to see and fly over a bit of Uruguay. I had picked up quite a headwind, usually more than 30 knots, so the going was very slow. At Concordia I could see the clouds and the thunder that lay between me and Cataratas del Iquazu. I had to fly a long ways out of my way to get around the thunderstorm. As was always just on the edge of it, but the winds still buffeted me about. With the wind and the constant lightning strikes within clear view, I was scared. Eventually I worked my way around the storm, but with it and the headwinds making Cataratas was impossible. I landed at Posadas just a sundown. I made my in to the city, had more of the typical Argentinean fare - meat and more meat.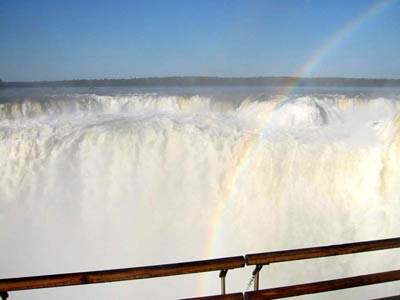 Tuesday:
This ended up being one of my best days in Argentina despite getting to the falls in mid afternoon. I took of about 10:30 from Posadas. Most of the flight was over Paraguayan territory. It looks like Kansas. With a good headwind, it took almost two hours to get to Iquazu. I asked permission to over fly the falls. I squeezed a bit off the legal minimum, but I was still more that 2500 feet (800 m) above the falls. From the air the falls were wonderful sight. Certainly, they are the most awesome that I have ever seen. I took quite a few photos. Once on the ground every thing seems to take forever: paperwork in the airport, waiting for the minibus to leave, all the hotel stops on the way into town, checking into the hotel, riding a bus back out to the falls, then the train ride and hike. It was nearly 3:00 PM before I got to the entrance, where I started to talk to Susana Moreno from Spain. We sort of teamed up for the rest of the as we went to see the major falls at the end of a long walking bridge. After seeing it we hike down to the lower river to take a fantastic boat ride into the falls. We rode right up on several of parts of the falls. The culmination for us was that we were the only ones brave enough (crazy enough) to step up into the bow and let the water tumble down on us: exhilarating, frightening, impressive beyond belief. It was nearly dark and the rangers were trying to hustle us out of the park. After a couple of stops, one for tea at the Sheridan, we headed back to the town. Later we had supper together. I think she is the first person from Spain that I have gotten to know.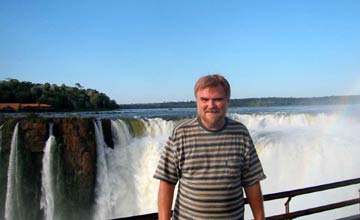 Friday:
It was raining in the morning. I packed and finally headed for the airport where the conditions were OK for a VFR flight across the border to Foz do Iquacu (note that the spelling changed as I crossed the boarder), about 12 miles away. Again I flew right over the falls but now just 1000 feet above them. The paper work at the airport seemed to take forever, but finally it was over. I was only partially prepared for the bureaucratic reality of flying in Brazil. I had heard the fee were high. They are insanely high. They charged me $80 to land at this airport. I went nuts but I had to pay or stay. I had sort of planned to fly to smaller uncontrolled airports when possible, but as I get to the north that becomes impossible. So off I fly to see the first of Brazil. At first I followed the Iguacu River. For miles I could see farms, and small stands of trees or forests. Everything was an iridescent green. The land rose higher and higher with soft rolling hills and beautiful lakes and rivers. The area near Ponta Grossa was of almost no value some 35 years ago, and then they discovered the soybean, which proliferates here. I guess I always saw Brazil as a jungle. Like Argentina, it is mainly an agricultural country with farm small but mostly large. I landed in Punta Grossa, and got gas from the areoclub. That is when I got an even bigger shock. Gas costs $5 a gallon here. That's $225 for a tank-full, which will carry me about 500 miles. There is a gas monopoly here at the wholesale level. That could be the reason or it could be super high taxes or bit of both. I wish I had somebody with to share these insane costs. Oh, well the pain will be over in just a couple of weeks. I met some really great people in the areoclub: Celso and Jonas. Jonas spoke a bit of English and they both seemed to understand my classish. I even start to understand a bit of their conversation, but for sure Portuguese is a very different language. The areoclub had bunks and a shower so I was invited to spend the night in the hanger. Fine by me, I was going to leave first thing in the morning.
Thursday:
I took off about 10:30 in the morning. It was a beautiful four-hour flight. Again the land rose even high and now I saw large hills and many valleys. The sky was very hazy again today because the air is always loaded with water. After two hours as was flying above the plateau and rocky hills and low-lying mountains along the coast. I landed in Nova Iguacu, which is about 50 km from the beach. It was a religious holiday so there were many people at this aeroclub airport. Because of the cost of gas many of the enthusiasts fly ultra-light aircraft that uses car gas. I received a wonderful welcome. They bought me beers and lunch. I got quite a bit of information. I also flew in an open cockpit ultra-light. It was great. One of the club members lives in the Impanema barrio and gave me a ride to a hotel. So, now I am two blocks from the beach. I will try to see as much of Rio and its nightlife over the weekend. I have to say that there is something special about these aearoclubs. Flyer of the world unite!
As I entered the city, I was stunned by its beauty. I have never seen any thing like it before. I will write more about it next time.
Well that's it for now; I will try to send a bunch of photos of Iquazu falls, the most amazing natural phenomena that I have ever seen. Especially from the air!
Love,
Bill
===============================